This popcorn is made with oil and without butter making it dairy free. You can use pretty much any oil you want including coconut oil and olive oil.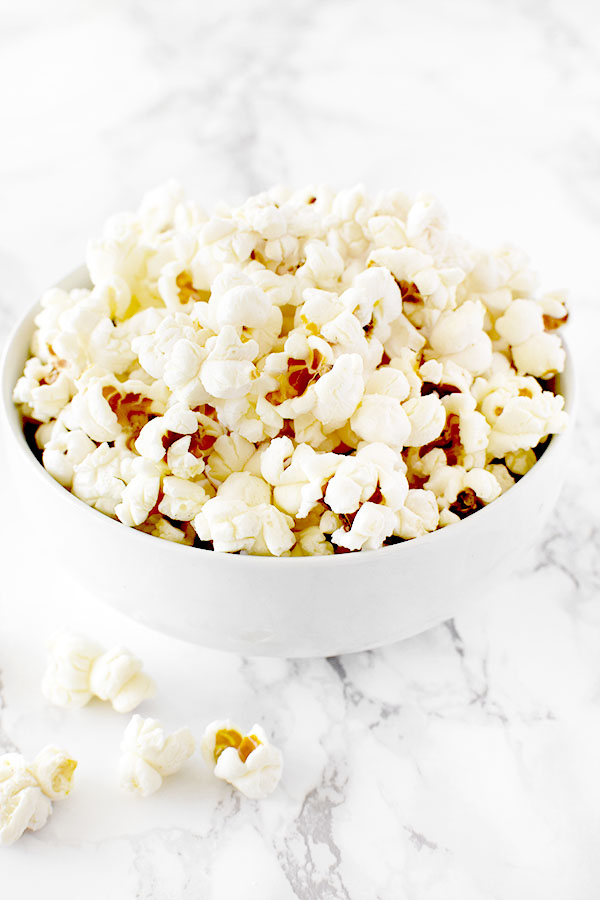 Popcorn is a great healthy snack and perfect for home movie nights.
Stove-top popcorn has one main benefit over microwave popcorn and that is that it stays fresher longer.
Another great and easy movie night snack is kettle corn. I love it's sweet and salty flavor combination but it's less ideal if you're watching your waste-line.
What is the best oil to use for popcorn?
Honestly, it doesn't really matter which oil you use as long as it is safe for cooking and doesn't have a very low smoke point.
I use whatever I have on hand like canola oil, safflower oil, sunflower oil, or olive oil. You can also use coconut oil, I don't really notice much if any coconut flavor.
Is popcorn dairy?
Popcorn itself isn't dairy. However, most popcorn you buy at movie theaters or microwaveable popcorn does include dairy in it.
This recipe is completely dairy free because it only uses oil and no butter whatsoever.
Is popcorn healthy?
Regular popcorn like the one in this recipe is a healthy snack if lightly seasoned.
This is because because it's a whole grain and high-fiber. Similar foods have been linked to a lower risk of heart disease, diabetes, some cancers, as well as other health problems.
SNAFU
The first time I made popcorn on the stove I didn't know to shake it or when to take it off the heat. This lead to slightly stale and overcooked popcorn.