This strawberry salad is served on a bed of baby spinach, sprinkled with candied pecans, and drizzled with poppy seed dressing. This recipe is dairy free and vegan friendly.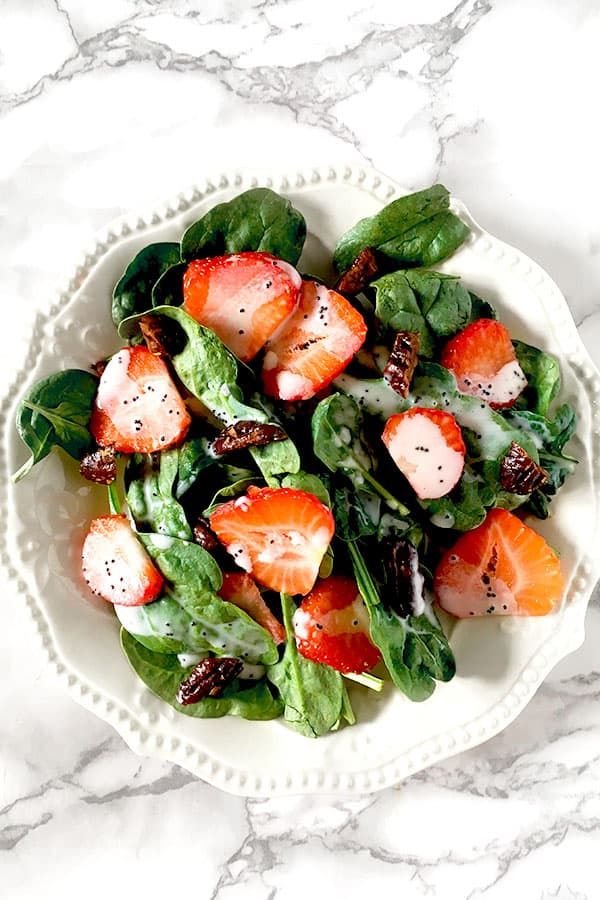 This salad is perfect as both a summer and winter salad.
It's delicate sweet flavor is perfect for hot summer days.
On the other had, strawberries and spinach are in season during the winter making them idea to eat then.
I would love to tell you the history of strawberry salad and how this recipe was significant in its heyday. However, I can't find anything on it.
In fact, the first time I had this salad was when I ran the early childhood program at a camp.
(Don't worry, it was for the kids of staff members.)
As you can imagine, over all the camp food was bad.
Bad isn't really the right word for it… it was terrible.
Even their fried chicken wasn't good and the more people came the worse the food got.
Generally I stuck to the salad bar and eating the fresh berries. However, there were a few things I did enjoy that they made.
I loved their ice cream sandwiches given for dessert, the rosemary chicken served Friday nights, and their strawberry salad which was served as an appetizer to the chicken.
I enjoyed this salad so much I decided to recreate it for you.
It was served on baby spinach and had a sweet creamy poppy seed dressing just like this one.
My one variation are the the candied pecans (it was a nut free camp) which I think are a nice addition.
Come to think of it, this salad isn't all that different from my apple spinach salad which is my go to fall salad.
They are both on a bed of baby spinach and have candied pecans.
However, the strawberries are traded out for apple and cranberries.
Also, instead of poppy seed dressing there is an apple cider vinaigrette.