Potato hash is a simple and healthy hearty vitamin rich breakfast. Serve with a side of eggs and/or toast.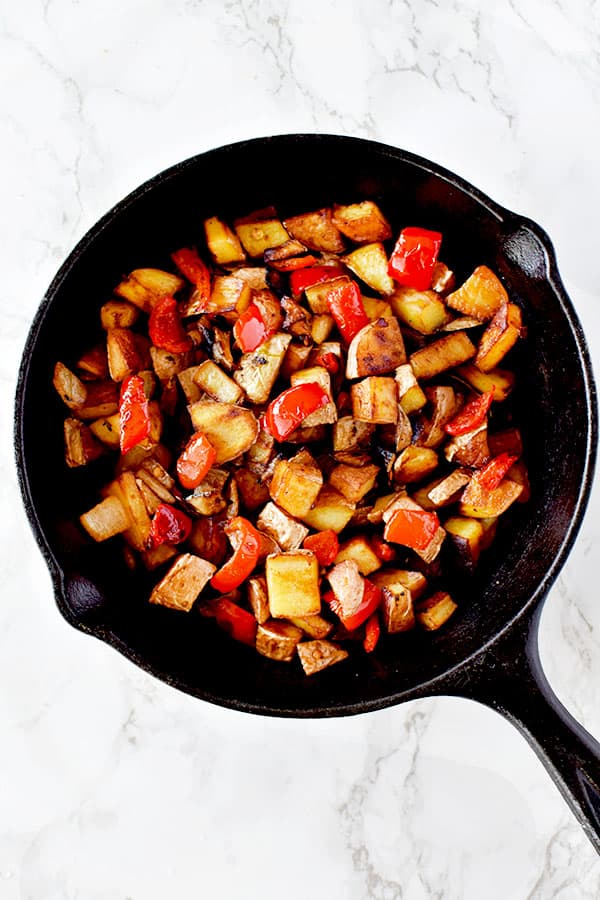 Potato hash is made with home fried potatoes rather than hash browns.
This means potatoes that are cubed rather than grated.
When served for breakfast it is usually served with eggs on the side.
It is also common for sunny side up eggs to be cooked over the hash and then served together.
Growing up my Mom would make fried potatoes with scrambled eggs.
Looking back I guess it was a type of hash, but not a common one.
Essentially we fry potatoes and then pour in beaten eggs and mix them together. This would make the potatoes coated in scrambled eggs.
I still love this for breakfast.
I had this more classic kind of hash when I was staying with friends for a few days in Massachusetts near Plymouth.
After my first spaghetti and pesto dinner, for breakfast my friend made potato hash with onions and orange bell peppers.
I liked it so much I asked him to show me how to make it so I could post the recipe.
History
Hash has been around American culture since the 1700s.
The name is derived from French: hacher, meaning "to chop" and it originated as a way to use up leftovers.
By the mid-1800s there were numerous recipes for hash.
In fact, hash was so popular that there were many cheap restaurants called "hash houses" which specialised in hash.
Hash consisted of chopped up meat, potatoes, and onions fried in a cast iron skillet.
Corned beef hash was (and still is) the most popular, followed by roast beef hash and may be served for breakfast, lunch, or dinner.
Classic American corned beef hash originated in New England as a way to use up the leftovers from a traditional boiled dinner.
Boiler dinner was a common Irish-American dish since the 1800's and is today usually eaten on St Patrick's day.
Canned corned beef hash became especially popular during and after the Second World War, as rationing limited the availability of fresh meat.
Today it is also common to find vegetarian versions which simply leave out the meat.
My SNAFU
On more than one occasion I didn't use a large enough pan to fry the potatoes. This resulted in the potatoes never actually frying and developing a nice crust.
Instead, they steamed as liquid in the potatoes released but didn't have much room to go.
While the photo shows a pan full of potatoes, that is not the way to cook them. I actually moved them to a smaller pan for the photo when they were done.