These chewy brownies are made without butter and are delicious with a rich and deep chocolaty flavor. The fact that these brownies use oil instead of butter also make them extra moist with a perfect crumb.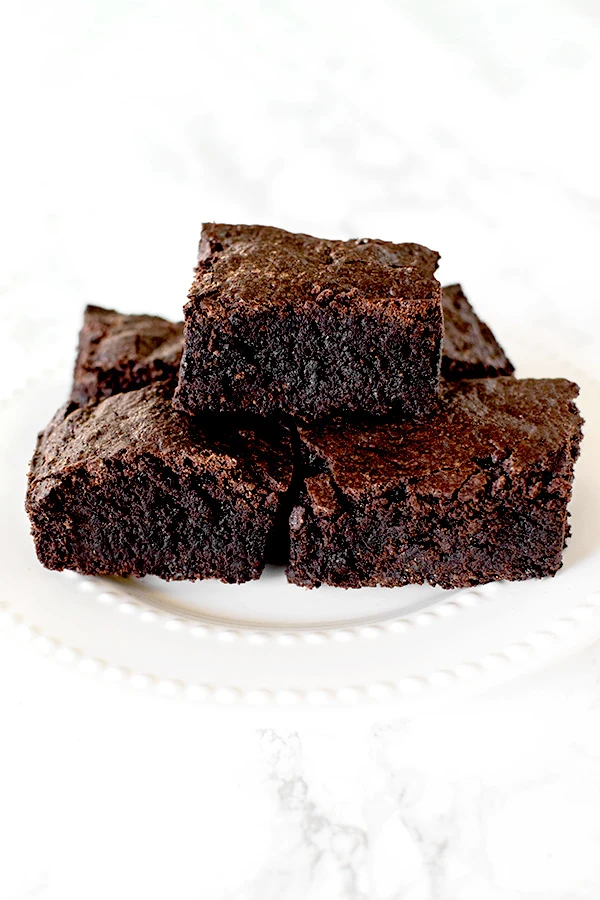 I love brownies. I have recipes for dairy free gooey brownies, fudge brownies with oil, and now these chewy brownies without butter.
The first known recipe for brownies was published in Machias Cookbook. They were called "Brownie's Food" and were created by Marie Kelley from Whitewater, Wisconsin.
The earliest-known published recipes for a modern style chocolate brownie appeared in Home Cookery and Service Club Cook Book in 1904. These recipes produced a relatively mild and cake-like brownie.
By 1907, the brownie was well established and appearing in Lowney's Cook Book by Maria Willet Howard. It added an extra egg and an additional square of chocolate, creating a richer, fudgier dessert.
The recipe was titled "Bangor Brownie". The title appears to have been derived from the town of Bangor, Maine, which an apocryphal story states was the hometown of a housewife who created the original brownie recipe.
If you like this recipe you may also like my dairy free chocolate cake and my dairy free chocolate cupcakes.
Some of the links below are affiliate links, which means that if you choose to make a purchase, I will earn a small commission at no additional cost to you. 10% of all profits are donated to charity.
What You Need
Do brownies have dairy?
Yes, most brownies have dairy because most recipes call for butter and sometimes milk as well.
However, you can replace butter with another fat such as oil, and milk can be replaced with another liquid such as dairy free milk or water.
If using an oil, you can use any cooking oil you want.
Personally, I use neutral flavored oils because I don't want to risk the oil distracting from the chocolate flavor.
How do you convert butter to oil conversion brownies?
Butter contains water and fat. If you are converting butter to oil, you need 3/4 of the amount of oil as you do butter.
This means, if a recipe calls for 1 cup of butter, you need 3/4 cup of oil instead.
Can you make dairy free brownies with cocoa powder?
Sure. In fact, these dairy free brownies are made with cocoa power and don't require melting chocolate like many brownie recipes do.
DIY Dairy free brownie mix
Making your own dairy free brownie mix is easy!
Just take all the dry ingredients in this recipe, mix them together well, and put them in a bag, jar, or a container.
When you are ready to make the brownies, pour the dry ingredients into a bowl, add the wet ingredients, and bake as directed.
Can you make brownies without eggs?
Yup. Just replace each egg called for with 1/4 cup of unsweetened apple sauce.
This recipe calls for three eggs, so you can replace both eggs with 3/4 cup of unsweetened apple sauce.
CAKE FLOUR VS ALL-PURPOSE FLOUR
Cake flour is finer, lighter, and softer than all-purpose flour, as well as bleached, so the color is paler.
Most importantly, it has a lower protein content than all-purpose flour so cake flour produces less gluten.
I use all-purpose flour in all my recipes because it's cheaper and most people have it on hand.
HOW TO SUBSTITUTE ALL-PURPOSE FLOUR FOR CAKE FLOUR
First, you can ignore any place that calls for cake flour and use all-purpose flour at a 1:1 conversion rate. I do this all the time.
The results will be a little less than perfect, but not very noticeable.
How to make your own cake flour
You can do this by removing two tablespoons for every cup of flour. Then replace the same two tablespoons with corn or potato starch.
Doing this will remove enough protein to create a lighter cake.
HOW TO MEASURE FLOUR AND OTHER DRY INGREDIENTS
Using a dry measuring cup, scoop ingredients from the bag or spoon them into the cup.
Next, level off the ingredient by removing the excess with an upside-down butter knife.
The one exception to this is brown sugar. Brown sugar should be packed down, and then any excess should be scraped off as well.
DRY VS LIQUID MEASURING CUP
Ever wonder why measuring spoons often come with a set of measuring cups? I used to. I didn't see why we need a set when we could have one large measuring cup.
After a quick search, I had my answer. I discovered that the large measuring cup is used for liquids, whereas the set is used for dry ingredients.
As it turns out, if you try to measure dry ingredients with a liquid cup, the measurements get messed up.
First, you pour the flour or cocoa in, next you shake it around to get it level, and then you add more.
By shaking it, you are causing the powder to settle, and when you add more, you end up using more than called for.
WHY SIFT FLOUR and Other Powder Ingredients
There are a number of benefits to sifting flour and other ingredients like cocoa:
It removes any unwanted debris and you can get a more accurate measurement than when packed tightly in a bag.
It also removes any lumps that can get into the batter and be hard to break up later, or be missed altogether before baking.
If you sift the powdered ingredients together, it helps combine them and mix more evenly with other dry ingredients like sugar.
BAKING WITH OIL
In general, oil in baked goods makes for a superior texture than those made with butter.
Oil cakes tend to bake up taller with a better crumb. They also stay moist and tender far longer than recipes made with butter.
Furthermore, since oil is lighter than butter, the texture of oil cakes is lighter too.
Also, given that oil is 100% fat while most American butter is 15% water, it creates a more tender crumb.
This is due to the fact that the extra water strengthens the gluten, resulting in a crumb that's more dense.
Which Type Of Oil to Use
I use neutral oils like canola oil, safflower oil, and vegetable oil. However, it's not unheard of for oils with stronger flavors like olive oil or coconut oil to be used.
If using olive oil, I recommend using pure olive oil for its milder flavor and higher smoking point.
Baking with Oil Conversion Chart
If you want to convert your butter recipes to oil recipes, check out my baking with oil – butter to oil conversion chart.
WHICH TYPE OF COCOA TO USE
When a recipe calls for cocoa, always use unsweetened cocoa powder, unless specified otherwise.
This allows you to have better control of the sweetness of what you're making.
There are three basic forms of unsweetened cocoa powder.
NATURAL COCOA POWDER
Natural cocoa powder comes from cocoa beans that are fermented, roasted, processed at a higher heat, and milled into a powder.
It's bitter, with a very strong and concentrated chocolate flavor.
This cocoa powder is acidic and is often used in recipes calling for baking soda, because the two react with each other to allow your baked good to rise.
This is most commonly used, and should be used, in recipes that simply say "cocoa powder."
DUTCH-PROCESS COCOA POWDER
Dutch-process cocoa powder starts with cocoa beans that have been washed in potassium carbonate which neutralizes their acidity.
Since Dutch-process cocoa powder is neutral, it does not react with baking soda.
When baking, Dutch-process cocoa is often paired with baking powder.
Dutch-process cocoa powder can also be used in place of natural cocoa powder in recipes that don't require leavening.
These include sauces, hot cocoa, frostings, ice cream, pudding, etc.
If you only have Dutch-process cocoa powder on hand, you can substitute it for neutral cocoa powder.
Just make sure to add 1/8 teaspoon of cream of tartar, white vinegar, or lemon juice for every 3 tablespoons of cocoa powder called for in the recipe.
RAW CACAO POWDER
Raw cacao powder is different from natural and Dutch-process unsweetened cocoa powder.
It's pure powder from the cacao bean and isn't nearly as processed as both natural and Dutch-process.
Cocoa is processed at high heat, which destroys much of the nutritional benefits of the cacao seed.
Also, cocoa powder is often alkalized during processing to reduce acidity. The result is a product that's less bitter and more soluble when added to liquids.
Cacao powder, on the other hand, is made of fermented – not roasted – seeds that are processed at low temperatures and then milled into a powder, ensuring its nutritional benefits and its bitter flavor are preserved.
You can use raw cacao powder in recipes that don't specify Dutch-process cocoa powder, however it is best not to try to.
Compared to cocoa powder, cacao powder has a stronger flavor, it is not as absorbent as cocoa powder, and it is more acidic, so it will react differently with baking soda.
Understanding Sugar
Sugar may seem very basic if you've baked before, but I've been asked about it in the past – so I'll explain.
There are many different types of sugar, including white sugar, brown sugar, vanilla sugar, powdered sugar, turbinado sugar, and demerara sugar.
When a recipe (any recipe, not just mine) says "sugar" without specifying anything else, it is regular white sugar.
White Sugar
White sugar (sometimes called granulated sugar, table sugar, or white granulated sugar) is made of either beet sugar or cane sugar, which has undergone a refining process.
It is the easiest to find and most commonly used.
Brown Sugar
Brown sugar is white sugar with molasses added to it.
It is commonly used in chocolate chip cookie recipes, and it's rare for a recipe that calls for brown sugar not to also call for white sugar as well.
When a recipe calls for "brown sugar" but doesn't specify what type (light or dark), it is referring to light brown sugar.
In my recipes, you can use whatever type of brown sugar you have on hand, whether it is dark brown sugar, light brown sugar, or demerara sugar – which is very common in Israel.
Just keep in mind that the flavor and color will be slightly different depending on what you choose to use.
Turbinado Sugar
Turbinado sugar is better known as "raw sugar". But, despite this name, the sugar is not really "raw."
Instead, it's partially refined sugar that retains some of the original molasses.
The term "raw sugar" may also give off the impression that it is somehow healthier.
In reality, turbinado sugar is nutritionally similar to white sugar.
Demerara Sugar
Demerara sugar is very popular in Israel and is especially delicious in tea, but is also used for baking.
Unlike white sugar, demerara sugar undergoes minimal processing and retains some vitamins and mineral.
However, it is still not much healthier than white sugar.
Vanilla Sugar
Vanilla sugar is not very common in the States. However, it is common in Israel and parts of Europe.
This is sugar that sat for an extended period of time with vanilla beans, giving it a vanilla flavor.
Caster Sugar
This type of sugar is common in the United Kingdom.
It has a grain finer than white (granulated) sugar and larger than powdered sugar.
Caster sugar is often called for in recipes for delicate baked goods like meringues, souffles, and sponge cakes.
You can use a 1:1 conversion rate between caster sugar and white (granulated) sugar.
Powdered sugar
Powdered sugar, sometimes known as confectioners' sugar, is a sugar with a powdered texture.
This sugar is rarely, if ever, used for baking. Instead, it is used for dusting desserts and making frosting and icings.
In some countries, you can also find powdered vanilla sugar.
It is made the exact same way regular vanilla sugar is made. However, the sugar used is powdered instead of granulated.
Vanilla Extract vs Vanilla sugar
In my recipes, I don't specify what kind of vanilla to use.
The reason for this is that in the States, vanilla extract is exclusively used.
Meanwhile in Israel, along with many European countries, vanilla sugar is common.
In most, if not all recipes, both vanilla extract and vanilla sugar can be used.
In recipes where vanilla sugar can be used instead of extract, you can replace them 1:1.
Replacing Sugar with Honey
If you'd prefer to use honey instead of sugar, you can do so with pretty good results.
Honey can be two or even three times as sweet depending on the honey, so for every 1 cup of sugar, you can use 1/2 to 2/3 cup honey.
Since honey adds liquid, you need to remove some to balance it out. For every cup of honey, remove a 1/4 cup of liquid.
Also, it burns faster than granulated sugar, so you want to lower the baking temperature by 25 F or 14 C. In addition, check it early and often to avoid burning or overbaking.
Types of Vanilla
Vanilla comes from a pod commonly known as a "vanilla bean", which comes from the vanilla orchids.
Vanilla pod has been used for flavoring since the Aztecs, and was introduced to Europe by a Spanish conquistador, along with cocoa.
Vanilla Extract
Vanilla extract is created by soaking vanilla beans in alcohol for some time. This is the most commonly used type of vanilla.
Vanilla Sugar
Vanilla sugar is common in Europe and some parts of the Middle East, like Israel.
It is made from vanilla beans sitting in sugar, vanilla bean powder mixed with sugar, or sugar mixed with vanilla extract.
In some countries, like Italy, you can also find vanilla powdered sugar, which is used for confections.
Vanilla Paste
Vanilla paste is generally a specialty item. It is a thick paste that contains a blend of the scraped-out vanilla pod seeds and vanilla extract.
You can use it as you do vanilla extract and it will leave flakes of vanilla bean like you see in vanilla bean ice cream.
Imitation Vanilla
Imitation Vanilla, otherwise known as artificial vanilla or vanilla essence, is made from synthetic vanilla.
This is the compound that naturally occurs in vanilla beans and gives it its flavor.
Can I use imitation vanilla?
Many will tell you that you should use high quality vanilla, just like they say you should use the best cocoa.
However, most of us will probably not be willing to pay the hefty price that comes with exceptionally high-quality ingredients.
Overall, vanilla is very expensive, so the extract is as well.
So, if you're not going to get regular quality vanilla extract, you might as well use imitation vanilla.
DO EGGS NEED TO BE AT ROOM TEMPERATURE?
The short answer is "no". While a side-by-side comparison shows that baking with eggs at room temperature makes a better crumb, it's not otherwise noticeable.
What are Eggs used for?
Eggs do three things in most recipes: they help bind the ingredients together, act as a mild leavening agent, and they add moisture.
EGG FREE OPTION
Eggs can be substituted with 1/4 cup of unsweetened apple sauce per egg. This means for recipes calling for 2 eggs, you'd need 1/2 cup of unsweetened apple sauce.
The reason applesauce makes a good binder is that it's high in pectin. Pectin is a naturally occurring starch in fruits and berries that acts as a thickening agent and stabilizer in food.
This happens when combined with sugar and acid (if the fruit or berry isn't naturally acidic).
Just keep in mind that it may change the flavor slightly.
ARE EGGS DAIRY?
No, eggs are not dairy. Dairy is milk and any food products made from milk, including cheese, cream, butter, and yogurt.
So, while eggs are an animal product, they are not dairy. In fact, eggs fall under the protein food group.
GLUTEN FREE OPTION
Gluten Free Flour
Substitute all-purpose gluten-free flour in place of all-purpose regular flour cup for cup.
BUCKWHEAT FLOUR
Buckwheat flour is easy to find compared to most other gluten-free flours, and it adds a nice earthy nutty taste.
The downside is that it has a distinct flavor, so the change will be noticeable.
It's also darker, so the color won't be the same. Substitute cup for cup.
RICE FLOUR
Rice flour can also be used and can be found in most Asian and health food stores.
White rice flour has a mild flavor and doesn't change the color of the muffin or quick bread.
Since it doesn't have much flavor, it's best to use it with ingredients that do. Substitute cup for cup.
OAT FLOUR
Oat flour is made from whole oats that have been ground into a powder, which can easily be done at home.
It gives more flavor and a chewier and crumblier texture than regular all-purpose flour.
Substitute 1 cup of all-purpose flour for 1 1/3 cup Oat Flour. To make 1 cup of oat flour, blend 1 1/4 cups of oats in a food processor until finely ground.
Note: oats must be marked gluten-free because they can get cross-contaminated in the factory.
BAKING AT HIGH ALTITUDES
The higher the altitude, the lower the air pressure, and the more difficult it is to bake recipes.
Increase 15 to 25°F. Since leavening and evaporation happen more quickly, the higher temperature helps set the structure of baked goods before they over-expand and dry out.
However, baking at higher temperatures means products are done sooner, so decrease by 5-8 minutes per 30 minutes of baking time.
Adjustment for 3000 feet
Reduce baking powder: for each teaspoon decrease 1/8 teaspoon.
Reduce sugar: for each cup, decrease 0 to 1 tablespoon.
Increase liquid: for each cup, add 1 to 2 tablespoons.
Adjustment for 5000 feet
Reduce baking powder: for each teaspoon, decrease 1/8 to 1/4 teaspoon.
Reduce sugar: for each cup, decrease 0 to 2 tablespoons.
Increase liquid: for each cup, add 2 to 4 tablespoons.
Adjustment for 7000+ feet
Reduce baking powder: for each teaspoon, decrease 1/4 teaspoon.
Reduce sugar: for each cup, decrease 1 to 3 tablespoons.
Increase liquid: for each cup, add 3 to 4 tablespoons.
Baking with Humidity
Humidity can have a big impact on how your baked goods come out.
This is because when humidity is extremely high (think 70 percent or more), baking ingredients like flour, sugar, salt, baking powder, and baking soda soak up moisture from the air.
This can negatively impact the outcome of your cakes, cookies, yeast breads, and quick breads.
There are some things you can do to try to save your baking.
Try to counterbalance the additional moisture
To help counterbalance the additional moisture your dry ingredients soak up from the air, try reducing the amount of liquid in the recipe by about one-quarter.
If the batter or dough looks too dry once all the ingredients are mixed together, add an additional liquid tablespoon at a time until you have the desired consistency.
This is not usually possible to do for cookies, but it does work for cakes and breads.
Store Ingredients in the Fridge
If flour and sugar are stored in the refrigerator or freezer rather than in a cupboard or pantry, they are better protected from humidity.
As an added benefit, keeping these ingredients cool also helps keep them fresher longer, in addition to helping them stay bug-free.
For the best results, let them warm to room temperature before using.
Bake for Longer
If you bake your goodies for a few extra minutes, it can help the liquid to cook off.
To avoid overbaking, continue testing for doneness every couple of minutes for breads, quick breads, cakes, cupcakes, and muffins. Cookies, on the other hand, need to be checked every minute.
Use Air Conditioning
To help lower humidity levels on humid summer days, air condition the room for at least an hour before you start baking.
Cooler air isn't able to hold as much moisture as warm air.
Store your baked goods in an airtight container
Humidity can also ruin your fresh-baked goods because when they are left out, they can absorb moisture.
To avoid this, store them in an airtight container or resealable bag.
HOW TO DOUBLE THE RECIPE
If you double the recipe you will need a 9 x 13-inch pan.
The area of a square or rectangular pan is calculated by multiplying one side times the other side.
This recipe calls for an 8-inch square pan so an 8 x 8 = 64 square inches where a 9 x 13 = 117 square inches.
If you double the 8 x 8-inch pan it would come out to 128 square inches which is close enough to 117 square inches.
HOW TO STORE
UNCUT
For uncut brownies, wrap well in plastic wrap or in an airtight plastic storage bag. Keep at room temperature for up to four days.
CUT
For cut brownies, wrap individually with plastic wrap. Store in an airtight container or an airtight plastic bag.
Keep at room temperature for one to two days.
HOW TO FREEZE
Wrap cooled uncut brownies tightly in a plastic wrap. Wrap again in aluminum foil.
Freeze for up to 3 months. After 3 months, the brownies are still safe to eat, but the quality begins to degrade.