This dairy free country gravy, or white gravy, is made without milk or butter and is perfect to top chicken fried steak and chicken fried chicken. It also makes for a nice vegetarian biscuits and gravy.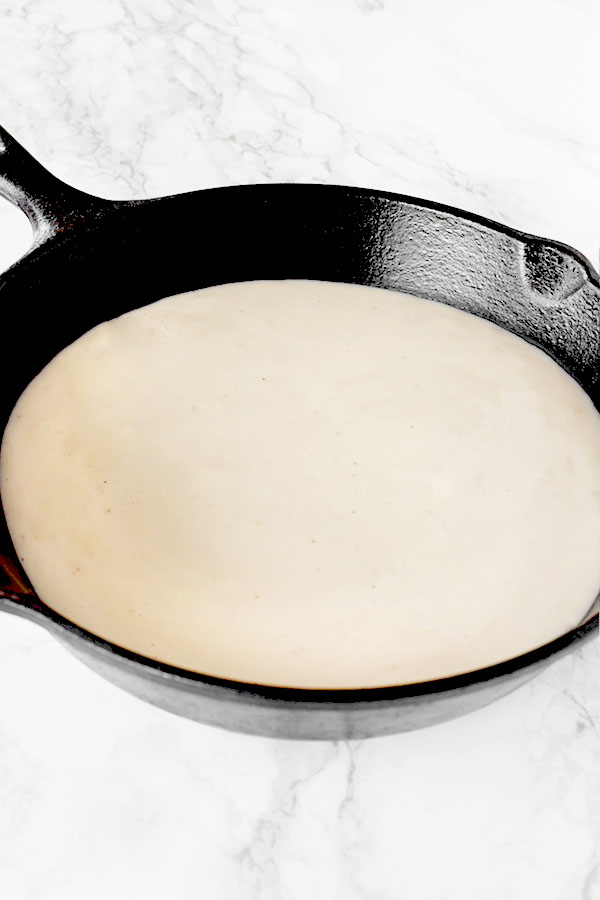 Country gravy, also known as white gravy, is popular in the South.
It can be served over biscuits but is commonly served over chicken fried steak and chicken fried chicken.
It is also used as part of Maryland fried chicken and as a base for sausage gravy.
This dairy free country gravy can be made with any dairy free milk you want but I like to make it with water or almond cooking milk.
What kind of dairy free milk to use
While many recipes can hide mask flavors of dairy free milk, like how you can't taste the coconut milk in my dairy free pumpkin pie, this recipe has too simple a flavor profile for that.
Dairy free milks may add their own flavor to white gravy.
Water has no flavor and almond cooking milk is specifically created to be used in dishes like this so they both work well here.
I also really like mild flavored oat milk for this recipe.
White Gravy vs Brown Gravy
White gravy and brown gravy are just what they sound like. White gravy is white and brown gravy is brown.
However, what gives them their colors also makes a big difference in their flavor profiles.
White gravy is made with milk or water so it keeps the natural color of the flour.
Brown gravy is made from beef stock and is often served over mashed potatoes or dishes like loco moco.
Traditional gravy regular table gravy can be a brown gravy, but is usually made with whatever drippings and stock of whatever it's being served with.
So, brown gravy should be served with beef rather than thicken or turkey. However, there aren't any strict rules about these things.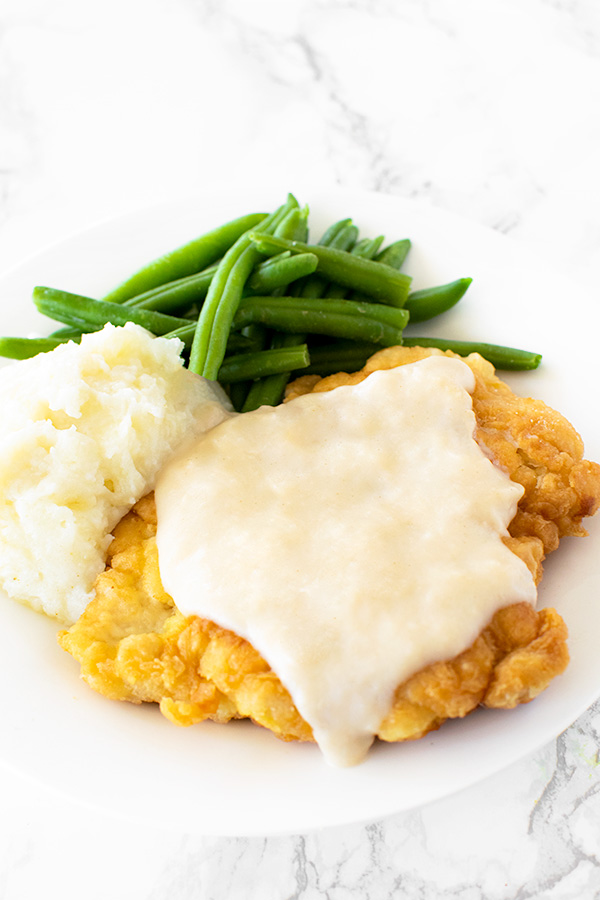 WHAT IS A ROUX
A roux is equal parts flour and fat cooked together until it reaches a specific color.
It is used as a thickening agent for gravy, sauces, soups and stews and have been used in French cooking for hundreds of years to thicken sauce.
The flour is added to the melted fat or oil on the stove top, blended until smooth, and cooked to the desired color.
A roux can be white is used for white sauce, blond for classic gravies, or brown is used in gumbo and jambalaya.
The lighter the roux the more thickening power it has.
Once the roux is the desired color liquids like stock are added.
Browning Flour
People often see instructions like "brown the flour" and avoid this step because they aren't making brown gravy.
Browning flour means you're cooking the flour. This removes the flour flavor so it won't ruin the taste of your gravy.
WHY USE FLOUR TO THICKEN GRAVY
I use flour to thicken gravy because it gives the gravy that classic opaque slightly pail look.
Many people don't like using flour because if it isn't cooked long enough, it can give a floury flavor to the gravy. Also, if not made properly it can become clumpy.
The Good news is, making a smooth creamy gravy is a snap if you turn it into a roux first.
Another benefit some people see with gravy made with flour is that it keeps better in the fridge. This means it can be made ahead of time or use up leftovers.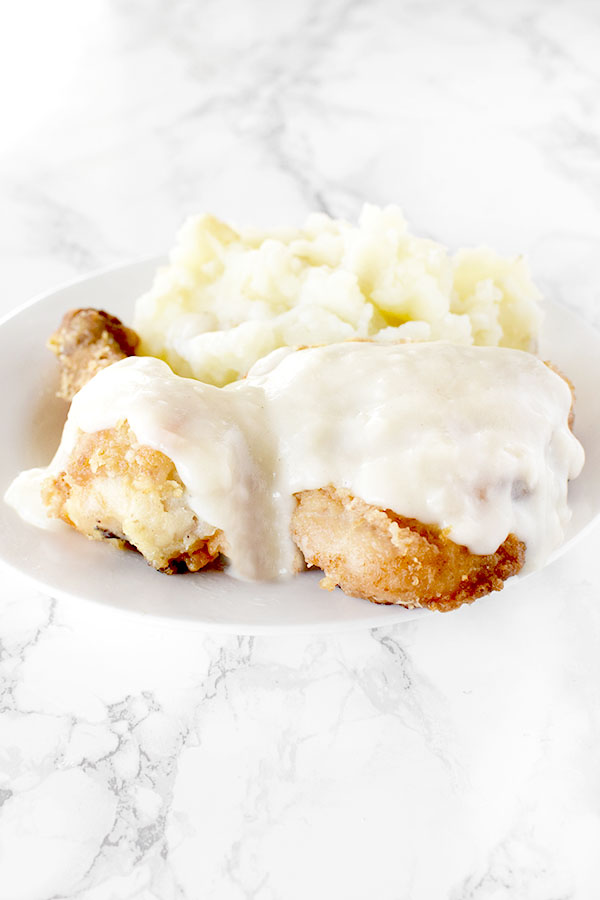 What Kind of Oil to Use
Neutral oils like vegetable oil, safflower oil, and sunflower seed oil work well here.
Flavored oils like olive oil and coconut oil can be used as well but may add an undesired flavor to your dish.
Schmaltz or other rendered animal fats can also be used in place of oil and may add a nice savory flavor.
Gluten Free
For gluten free, you can replace flour with (gluten free) cornstarch, potato starch, or most any other starch.
Instead of making a roux, use a slurry.
WHAT IS A SLURRY
Slurries are commonly used in Asian cooking and Chinese-American cuisine. It is used to make sauces needed for recipes like Beef Broccoli and Pepper Steak.
A slurry, like a roux, is used to thicken gravies, sauces, stews, and soups. However, unlike a roux it is added at the end of the recipe.
It is a combination between corn starch or potato starch and water and provides a silky texture.
While it is less common, slurries can be made out of flour.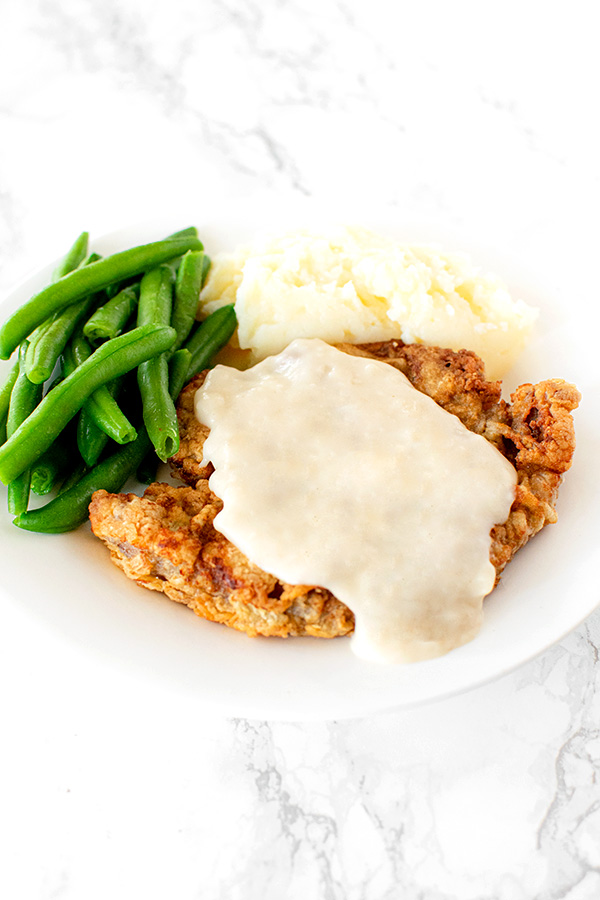 Can it be made ahead of time?
Yes. You can make this gravy a day or two before and simply reheat it shortly before you're ready to serve.
Let sauce cool completely, cover it with wax paper or pour a film of milk over it to prevent a skin from forming.
How to Store
Once the gravy has cooled, place it in an air tight container. Keep up to 5 days in the refrigerator.
How to Freeze
Once the gravy has cooled, place it in an air tight container or a resealable freezer bag.
You can freeze gravy for up to 5 months. After that, it is still safe to eat but the quality begins to degrade.
How to Reheat
Gravy will thicken as it cools. When you reheat it out with additional dairy free milk or water until it is smooth and reaches your desired consistency again.