These dairy free biscuits and gravy are the classic Southern dish made without milk. Serve for breakfast for a traditional Southern experience.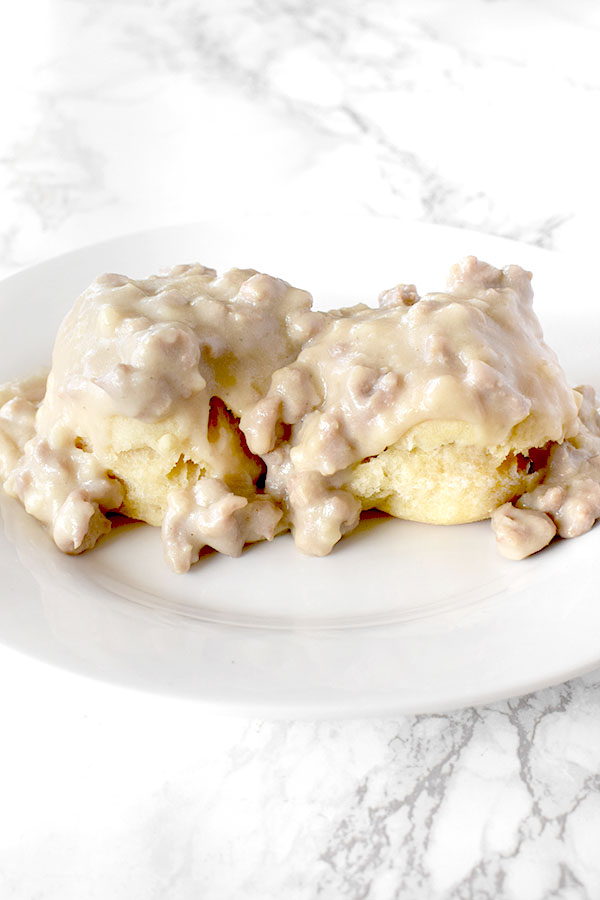 I've always had an interest in foods I didn't grow up with.
As far as American food that basically means Southern Recipes.
So, naturally, I was interested in biscuits and gravy when a friend mentioned she had them for breakfast.
The problem is since I keep kosher so I had to figure out how to make kosher biscuits and gravy.
The meat was easy enough since there are kosher sausages and it is not unheard of to use ground beef in biscuits and gravy.
The making a dairy free sausage gravy was easy enough too since I just used whatever dairy free milk I had on hand.
I'll admit I was a little hesitant to replace it with water like I do in many recipes.
The hardest part was figuring out how to make dairy free biscuits using oil instead of butter.
However, after a good amount of research and some experimenting I figured that out too.
In the end, I was finally able to have my very own dairy free biscuits and gravy
History of Biscuits and Gravy
Biscuits were created in the 1800's before the civil war as a cheap addition to a Southern meal.
This was because that did require yeast, which was expensive and difficult to store.
It also had the advantage of the biscuit over a slice of bread was firmer and there for better for wiping up gravy.
Then, after the Civil War, biscuits and gravy became an actual dish because food was short supply.
Also, a lack of money meant it had to be cheap and nutritious.
This was not unlike the early European settlers in the United States who ate ground wheat and warmed with gravy because it was a source of cheap nutrition.
Breakfast was literally the most important meal of the day in the South for anyone facing a day of work on the plantations.
WHAT IS A ROUX
A roux is equal parts flour and fat cooked together until it reaches a specific color.
It is used as a thickening agent for gravy, sauces, soups and stews and have been used in French cooking for hundreds of years to thicken sauce.
The flour is added to the melted fat or oil on the stove top, blended until smooth, and cooked to the desired color.
A roux can be white is used for country gravy, blond for classic gravies, or brown is used in gumbo and jambalaya.
The lighter the roux the more thickening power it has.
Once the roux is the desired color liquids like stock are added.
WHY USE FLOUR TO THICKEN GRAVY
I use flour to thicken gravy because it gives the gravy that classic opaque slightly pail look.
Many people don't like using flour because if it isn't cooked long enough, it can give a floury flavor to the gravy. Also, if not made properly it can become clumpy.
The Good news is, making a smooth creamy gravy is a snap if you turn it into a roux first.
Another benefit some people see with gravy made with flour is that it keeps better in the fridge. This means it can be made ahead of time or use up leftovers.
WHAT DAIRY FREE MILK TO USE
ALMOND MILK
This is a popular option. However, I'd recommend using specifically almond cooking milk, though regular almond milk can be used too.
Almond cooking milk is thick like actual milk as opposed to regular almond milk which is similar to water.
OAT MILK
I can't speak for all oat milks because I know creaminess can vary between them.
I've used Oatly with very good results as a milk alternative. It is creamy like milk and has little to noticeable flavor alteration.
COCONUT MILK
Coconut milk for its creamy texture which is similar to regular cream.
However, depending on the brand, you are risking adding a slight coconut flavor.
MIX MILKS
Another option is to combine one part coconut cream and one part almond or oat milk.
I should keep the same creamy texture but water down the mild coconut flavor.
IS KOSHER MEAT BETTER?
Yes and no. It is not necessarily healthier as far as bacteria is concerned, since bacteria can only safely be killed with heat. What is better is the quality of the meat.
The salting process used to remove blood, as part of the koshering process, is believed to provide better quality meat. It creates a sort of quick dry brine.
Also, kosher animals are kept in better conditions than not kosher animals due to strict kosher heath requirements of the animals. They are also killed in arguably more humane conditions.
While I've only eaten kosher meat (so I cannot compare), I've been told by non-Jews who do not keep kosher that they've noticed that kosher meat is of superior quality to cook with.
SHOULD YOU WASH MEAT?
According to the USDA you should not wash chicken or meat because washing it spreads bacteria throughout the kitchen.
Water can splash bacteria up to 3 feet surrounding your sink, including onto counter tops, other food, towels and you (i.e. cross contamination).
A study done by Drexel University shows that it is best to move meat and poultry directly from package to pan. The heat from cooking will kill any bacteria that may be present.
One exception would be if there are bone fragments or residue from giblets, as in a roasting chicken. In that case, feel free to rinse if you like. However, make sure you wipe down your sink afterwards.
HOW CAN I CLEAN MY MEAT WITHOUT WASHING IT?
If you want to clean your meat without washing it, wipe it down with a wet paper towel. This will remove anything other than bacteria.
Just make sure the paper towel doesn't touch anything else and to toss the paper towel right away.
HOW TO DEFROST MEAT
IN THE FRIDGE
This method is the most highly recommended. Meat typically takes at least a full day to thaw. Once thawed, the poultry can remain in the refrigerator for a day or two before cooking.
IN COLD WATER
This should take two to three hours. Submerge your sealed meat in a pot or bowl full of cold water. Change out the water every 30 minutes or so.
Do not use warm or hot water. It is unhealthy to do so, can start cooking your meat, and doesn't do so evenly.
COOK IT FROZEN
According to the USDA, you can cook frozen meat. It will take 50% longer to cook, but it's an option. You should also cook it on a roasting rack or over vegetables so the heat can circulate around the meat.
IS IT SAFE TO REFREEZE RAW MEAT
If you have extra raw meat that you didn't use but want to refreeze, you can as long as it was thawed in the fridge.
According to the USDA "food thawed in the refrigerator is safe to refreeze without cooking." However, you do lose quality when refreezing previously defrosted meat.
Every time you defrost meat, it loses moisture through thawing which also leads to a loss in flavor. To compensate for this, marinate the meat to add more flavor and juice."
The USDA also says not to "refreeze any foods left outside the refrigerator longer than 2 hours; 1 hour in temperatures above 90 °F."