This dairy free roux is made without butter and with oil instead. It is perfect for gravy, sauces, soups and stews.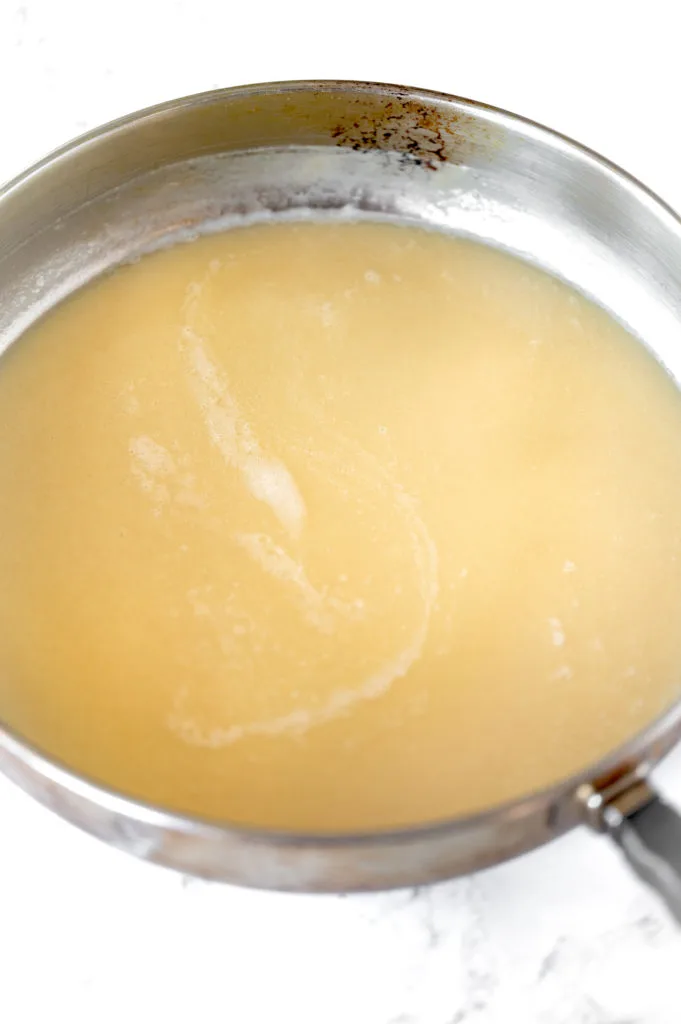 A roux is a simple, but important cooking technique.
It is most commonly used to make gravies, but it is sometimes also used to make sauces, soups, and stews.
It is also used in saucy dishes like lasagna and scalloped potatoes.
The benefit of using a roux is that when combined with liquids, it thickens them.
A roux is an essential part of turkey gravy for Thanksgiving.
However, it is also used for southern classics like white gravy and sausage gravy.
For a dairy free recipe version of these recipes, a roux without butter is necessary, and this roux is made with oil instead of butter.
WHAT IS A ROUX
A roux is made of flour and fat cooked together until it reaches a specific color.
It is used as a thickening agent for gravy, sauces, soups, and stews, and have been used in French cooking for hundreds of years to thicken sauce.
The flour is added with the fat to the stove top, blended until smooth, and cooked to the desired color.
A roux can be white and used for white sauce, blond for classic gravies, or brown, which is used in gumbo and jambalaya.
The lighter the roux, the more thickening power it has.
Once the roux is the desired color, liquids like stock are added.
Browning Flour
People often see instructions like "brown the flour" and avoid this step because they aren't making brown gravy.
Browning flour means you're cooking the flour. This removes the flour flavor so it won't ruin the taste of your gravy.
WHY USE FLOUR TO THICKEN GRAVY
I use flour to thicken gravy because it gives the gravy that classic opaque, slightly pail look.
Many people don't like using flour, because if it isn't cooked long enough, it can give a floury flavor to the gravy. Also, if not made properly, it can become clumpy.
The good news is, making a smooth creamy gravy is a snap if you turn it into a roux first.
Another benefit some people see with gravy made with flour is that it keeps better in the fridge. This means it can be made ahead of time or use up leftovers.
What can I substitute for butter in a roux?
Any cooking fat can be used instead of butter to make roux, like oil and even animal fat like schmaltz.
Can I make a roux with oil instead of butter?
Yes. However, since the butter contains water, and oil is pure fat, the ratio is no longer 1:1.
Is roux better with oil or butter?
It really doesn't make much of a difference if you use butter or oil for your roux except for the flavor. However, if you are dairy free or vegan, it is better to use oil because butter cannot be eaten.
What is the ratio of flour to oil in a roux?
To make a roux with oil, you will want 1/4 less oil than you have flour.
While people often say you can use a 1:1 ratio, they are not factoring in the fact that butter and oil are not completely interchangeable because butter contains water, whereas oil does not.
So, just like when baking with oil, you need 3/4 cup of oil for every 1 cup of butter.
What Kind of Oil to Use
Neutral oils like vegetable oil, safflower oil, and sunflower seed oil work well when making a roux with oil.
However, you can also use oils like olive oil and avocado oil when making a roux, though there may be a slight shift in the flavor if you do.
Why does my roux taste like flour?
Roux tastes like flour when it is not cooked long enough.