These Dairy Free Biscuits are made without milk and oil instead of butter. Still, they are flaky, soft, and crumbly on the inside.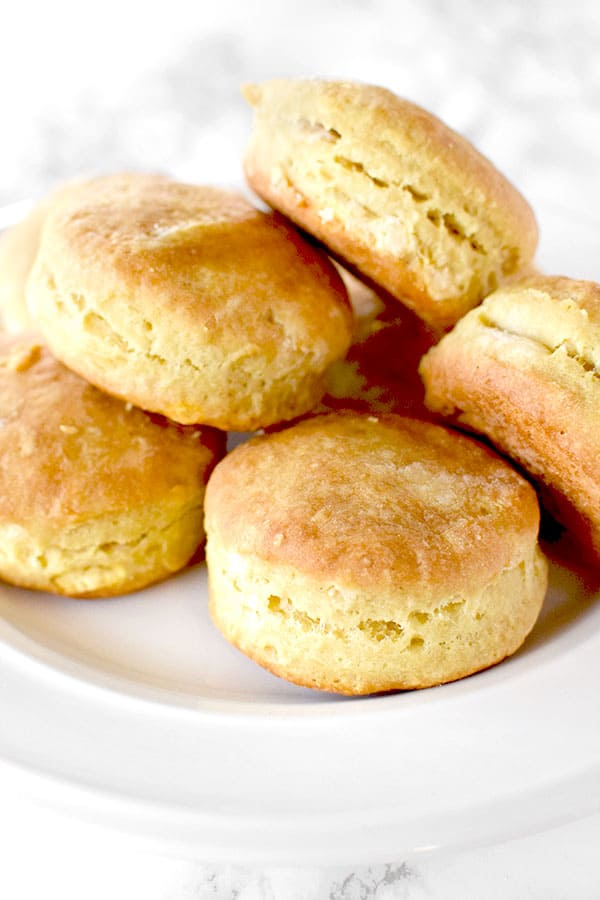 These dairy free biscuits without milk are so easy to make at home.
After trying these you won't miss the canned dairy biscuits anymore.
Originally the term biscuit meant something like a cookie. It is still used this way outside of North America, and in North America you can see it leftover in the term "dog biscuit."
However, today, the term biscuit in America is used to refer to a type of quick bread.
They are a quintessential part of Southern cuisine and most commonly eaten as biscuits and gravy or with fried chicken.
It is also common to find them served at family dinners such as for Thanksgiving.
Biscuits were created in the early 1800's to substitute bread made using yeast because yeast was expensive and hard to keep.
It was a cheap addition to a meal and had the benefit of being easy to use to wipe gravy.
Flour
This recipe calls for all-purpose flour, baking powder, and baking soda.
I do this to make the recipe easy for anyone to make.
However, many people use self-rising flour to make biscuits.
If you'd like to, then use 2 cups of self-rising flour instead of the all-purpose flour, baking powder, and 1/2 a teaspoon of salt.
How to Make Biscuits without Milk
Making biscuits without milk may sound intimidating but actually it's really easy.
In reality, milk doesn't add much to biscuits other than being a form of liquid.
Since this is the case, all you need is another liquid to use in its place.
What can you substitute for milk in biscuits?
You can use water or a dairy free milk.
I like to use water because milk doesn't add flavor to biscuits anyway.
However, if you want to add flavor to your biscuits, you can use almond milk and coconut milk.
BAKING WITH OIL
In general, oil in baked goods makes for a superior texture than those made with butter.
Oil cakes tend to bake up taller with a better crumb. They also stay moist and tender far longer than recipes made with butter.
Furthermore, since oil is lighter than butter, the texture of oil cakes is lighter too.
Also, given that oil is 100% fat while most American butter is 15% water, it creates a more tender crumb.
This is due to the fact that the extra water strengthens the gluten, resulting in a crumb that's more dense.
Which Type Of Oil to Use
I use neutral oils like canola oil, safflower oil, and vegetable oil. However, it's not unheard of for oils with stronger flavors like olive oil or coconut oil to be used.
If using olive oil, I recommend using pure olive oil for its milder flavor and higher smoking point.
Baking with Oil Conversion Chart
If you want to convert your butter recipes to oil recipes, check out my baking with oil butter to oil conversion chart.
BAKING POWDER VS BAKING SODA
I've had a number of comments asking me questions about baking soda and baking powder.
I've also noticed that if the wrong one is used, things don't come out as they should.
Using baking soda instead of baking powder can give your recipe a terrible metallic taste, while using baking powder instead of baking soda leaves your baked goods looking flat.
BAKING SODA
Baking soda is a leavening agent, which means it helps things rise.
It does this by creating carbon dioxide when it reacts to an acid, such as cream of tartar, lemon juice, yogurt, buttermilk, cocoa, and vinegar.
When the carbon dioxide is released, it causes the familiar texture and crumb in pancakes, cakes, quick breads, soda bread, and other baked and fried foods.
Baking soda works well with sourdough because sourdough is acidic. When combined, it makes a lighter product with a less acidic taste, since baking soda is alkaline.
A good rule of thumb is to use around 1/4 teaspoon of baking soda per 1 cup of flour.
BAKING POWDER
Baking powder is also a leavening agent and it's a mixture of baking soda, cream of tartar, and sometimes cornstarch.
Most baking powder sold is double-acting. This means that the leavening occurs in two steps.
The first time it's activated is when baking powder gets wet, which is why you cannot prepare some batters ahead of time to bake later.
The second time is when the baking powder is exposed to heat. This happens when the batter is being baked or fried.
Since baking powder already contains an acid, it's most often used when a recipe does not call for an additional acidic ingredient or too little of one.
A good rule of thumb is to use around 1 teaspoon of baking powder per 1 cup of flour.
WHY SOME RECIPES CALL FOR BOTH
Some recipes call for both baking powder and baking soda when the carbon dioxide created from the acid and baking soda is not enough to leaven the volume of batter in the recipe.
Too much baking soda gives a terrible metallic taste, so baking powder is added to give it more lift.
WHICH ONE IS STRONGER?
You may have already guessed the answer since baking soda is used to make baking powder, and you need more baking powder per cup of flour. But I'll tell you anyway.
Baking soda is four times stronger than baking powder.
That's why you will more often than not see recipes that only call for baking soda rather than recipes that only call for baking powder.
HOW LONG DO THEY LAST?
BAKING SODA
Baking soda is good indefinitely past its best by date, although it can lose potency over time.
A rule of thumb is two years for an unopened package and six months for an opened package.
However, to be honest, I've used very old baking soda with good results.
BAKING POWDER
Like baking soda, baking powder is good indefinitely past its best by date, and can lose its potency over time.
For both opened and unopened, it's ideal to use it within nine months to a year.
While storing it, make sure to keep it in a dry place and away from humidity.
HOW TO TEST IF IT'S STILL GOOD
BAKING POWDER
To test baking powder, pour 3 tablespoons of warm water into a small bowl, add 1/2 teaspoon of baking powder, and stir.
If the baking powder is good to use, it should fizz a little.
BAKING SODA
To test baking soda, pour 3 tablespoons of white distilled vinegar into a small bowl, add 1/2 teaspoon of baking soda, and stir.
The mixture should rapidly bubble if the soda is fresh.
BAKING AT HIGH ALTITUDES
The higher the altitude, the lower the air pressure, and the more difficult it is to bake recipes.
Increase 15 to 25°F. Since leavening and evaporation happen more quickly, the higher temperature helps set the structure of baked goods before they over-expand and dry out.
However, the baking at higher temperatures means products are done sooner, so decrease by 5-8 minutes per 30 minutes of baking time.
Adjustment for 3000 feet
Reduce baking powder: for each teaspoon decrease 1/8 teaspoon.
Reduce sugar: for each cup, decrease 0 to 1 tablespoon.
Increase liquid: for each cup, add 1 to 2 tablespoons.
Adjustment for 5000 feet
Reduce baking powder: for each teaspoon, decrease 1/8 to 1/4 teaspoon.
Reduce sugar: for each cup, decrease 0 to 2 tablespoons.
Increase liquid: for each cup, add 2 to 4 tablespoons.
Adjustment for 7000+ feet
Reduce baking powder: for each teaspoon, decrease 1/4 teaspoon.
Reduce sugar: for each cup, decrease 1 to 3 tablespoons.
Increase liquid: for each cup, add 3 to 4 tablespoons.
Baking with Humidity
Humidity can have a big impact on how your baked goods come out.
This is because when humidity is extremely high (think 70 percent or more), baking ingredients like flour, sugar, salt, baking powder, and baking soda soak up moisture from the air.
This can negatively impact the outcome of your cakes, cookies, yeast breads, and quick breads.
There are some things you can do to try to save your baking.
Try to counterbalance the additional moisture
To help counterbalance the additional moisture your dry ingredients soak up from the air, try reducing the amount of liquid in the recipe by about one-quarter.
If the batter or dough looks too dry once all the ingredients are mixed together, add additional liquid tablespoon at a time until you have the desired consistency.
This is not usually possible to do for cookies, but it does work for cakes and breads.
Store Ingredients in the Fridge
If flour and sugar are stored in the refrigerator or freezer rather than in a cupboard or pantry, they are better protected from humidity.
As an added benefit, keeping these ingredients cool also helps keep them fresher longer, in addition to helping them stay bug-free.
For best results, let them warm to room temperature before using.
Bake for Longer
If you bake your goodies for a few extra minutes, it can help the liquid to cook off.
To avoid overbaking, continue testing for doneness every couple of minutes for breads, quick breads, cakes, cupcakes, and muffins. Cookies, on the other hand, need to be checked every minute.
Use Air Conditioning
To help lower humidity levels on humid summer days, air condition the room for at least an hour before you start baking.
Cooler air isn't able to hold as much moisture as warm air.
Store your baked goods in an airtight container
Humidity can also ruin your fresh-baked goods because when they are left out they can absorb moisture.
To avoid this, store them in an air tight container or resealable bag.
Recipe Tip
I think it's very helpful to make these biscuits on wax paper like I do my dairy free pie crust made with oil. It makes for easier cleanup and doesn't stick as much.