This dairy free oil pie crust is made without butter. Still, it's incredibly flaky and is perfect for both sweet and savory pies, not to mention super easy to make.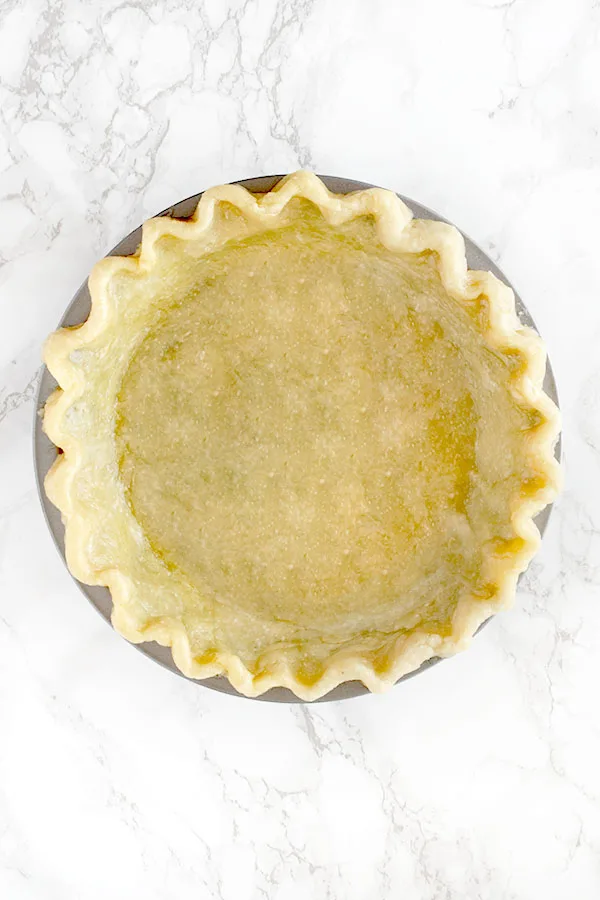 What I love about this oil pie crust is that it's so easy to make.
In part, this is because this pie crust is made with oil instead of butter.
I've never successfully made an easy butter pie crust from scratch.
Then again, I didn't really have much practice because I have little use for butter crusts.
Another thing that makes it easy is that it is a dough you can roll out.
I hate doughs that expect you to spread it with your fingers. They seem unnecessarily complicated and hard to shape.
This dairy free pie crust, however, comes together really quickly, and then all you do is roll it out and place it in the pie pan.
It really couldn't be simpler.
Can you substitute oil for butter or shortening in pie crust?
While you can make an oil pie crust, you can't just substitute out butter or shortening for oil in a regular recipe.
This is because the technique for making a pie crust is a little different than regular pie crust.
Types of Pies to make
Really this crust is perfect for anything from Apple pie to Chicken Pot Pie and everything in between.
It doesn't matter if your pie is sweet or savory, this flaky crust will be perfect for it.
My personal favorite pies to make with it are Pumpkin Pie and Pecan Pie.
What's great about this crust is that it can really stand up to these pies without getting soggy.
Is the crust flaky?
Yes! This crust is incredibly flaky.
BAKING WITH OIL
In general, oil in baked goods makes for a superior texture than those made with butter.
Oil cakes tend to bake up taller with a better crumb. They also stay moist and tender far longer than recipes made with butter.
Furthermore, since oil is lighter than butter, the texture of oil cakes is lighter too.
Also, given that oil is 100% fat while most American butter is 15% water, it creates a more tender crumb.
This is due to the fact that the extra water strengthens the gluten, resulting in a crumb that's more dense.
Which Type Of Oil to Use
I use neutral oils like canola oil, safflower oil, and vegetable oil. However, it's not unheard of for oils with stronger flavors like olive oil or coconut oil to be used.
If using olive oil, I recommend using pure olive oil for its milder flavor and higher smoking point.
Baking with Oil Conversion Chart
If you want to convert your butter recipes to oil recipes, check out my baking with oil – butter to oil conversion chart.
Why use baking powder
Baking powder allows the crust to become golden brown the way a butter-crust would.
Why Use Vinegar
Vinegar helps protect against over working the dough and allows it to roll out more easily.
According to an experiment done by King Arthur Flour, it also helps prevent against dough graying when made ahead of time.
HOW TO MEASURE FLOUR AND OTHER DRY INGREDIENTS
Using a dry measuring cup, scoop ingredients from the bag or spoon them into the cup.
Next, level off the ingredient by removing the excess with an upside-down butter knife.
The one exception to this is brown sugar. Brown sugar should be packed down, and then any excess should be scraped off as well.
DRY VS LIQUID MEASURING CUP
Ever wonder why measuring spoons often come with a set of measuring cups? I used to. I didn't see why we need a set when we could have one large measuring cup.
After a quick search, I had my answer. I discovered that the large measuring cup is used for liquids, whereas the set is used for dry ingredients.
As it turns out, if you try to measure dry ingredients with a liquid cup, the measurements get messed up.
First, you pour the flour or cocoa in, next you shake it around to get it level, and then you add more.
By shaking it, you are causing the powder to settle, and when you add more, you end up using more than called for.
WHY SIFT FLOUR and Other Powder Ingredients
There are a number of benefits to sifting flour and other ingredients like cocoa:
It removes any unwanted debris and you can get a more accurate measurement than when packed tightly in a bag.
It also removes any lumps that can get into the batter and be hard to break up later, or be missed altogether before baking.
If you sift the powdered ingredients together, it helps combine them and mix more evenly with other dry ingredients like sugar.
Baking the Pie Crust
Generally speaking, you will bake the pie with whatever filling and as the recipe instructs.
However, for no bake pies where the pie crust needs to be cooked, you need to blind bake the pie first.
How to Blind Bake
First, Pre-heat your oven to 425°F or 220°C and line the pie with a large square of parchment paper or aluminum foil.
Next, pour the pie weights into the pie dish. Make sure they press against the sides of the pie.
(The weights on the bottom will keep the pie from puffing up and the weights against the sides will keep the sides from sagging as the crust bakes.)
Bake for 12 to 15 minutes or until the edges of the crust are just starting to golden.
Can you make it ahead of time
Yes. You can make this crust up to two days in advance. Just make sure to wrap well and store in the fridge until you are ready to use it.
Can you Refrigerate pie crust overnight?
Sure. Just make sure to wrap well and store in the fridge.
How to Freeze
You can easily freeze pie crust to keep until you are ready to use.
Wrap tightly in heavy-duty aluminum foil or freezer-weight plastic wrap. Then seal in a resealable freezer bag.
Freeze for up to 3 to 6 months. After that, it is still safe to eat but quality will begin to degrade.
How to double the recipe
Oftentimes, recipes will be a little funny when doubled. So, I find it easiest to just make two batches and go from there.
However, this one seems to double fine.
Just shape the dough into two balls.
Then, roll them out separately and use one for the bottom crust and the other for the top crust.