These French fried onions are made without buttermilk and are easy to make at home. They are a tasty snack to munch on, a great addition to a burger, and the perfect topping for green bean casserole.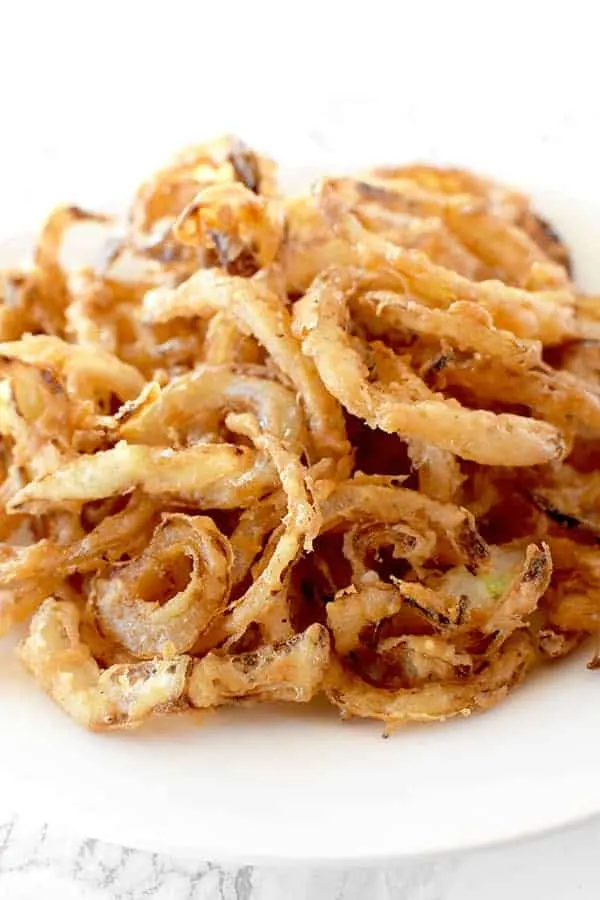 Living abroad, I don't have easy access to French fried onions like I did in the States.
If I looked hard enough, I could probably find them, but at a large mark up. So, I've started making my own French fried onions without buttermilk at home and I'm glad I do!
Fried onions are easy to make and I like knowing exactly what's in the food I'm serving.
It's also nice because it makes my dairy free green bean casserole look prettier and more impressive.
Really, who doesn't like the ohs and ahs that come from guests, especially when it didn't take much effort? I certainly do.
WHICH TYPE OF OIL TO USE
I use neutral oils like canola oil, safflower oil, sunflower oil, and vegetable oil.
Which DAIRY FREE MILK TO USE
You can use any preferred unsweetened dairy free milk.
I use coconut milk because I already have a can open when making dairy free green bean casserole.
However, you can use oat milk, almond milk, and can probably even get away with using water.
GLUTEN FREE OPTION
Gluten Free All Purpose Flour
This is probably the most popular option.
Since you don't need to worry about anything rising like in baking or using it as a thickener like with sauces, you can use it fine here. Substitute cup for cup.
Starch
Potato starch, cornstarch, and tapioca starch can be use instead of flour for frying.
Potato starch is actually used to make Japanese fried chicken called karaage, while cornstarch is sometimes used in Southern fried chicken recipes to make them extra crisp.
This is one of my favorite substitutes for flour.
Substitute cup for cup.
Make sure the starches are gluten free so you don't have to worry about cross contamination during production.
RICE FLOUR
Rice flour can also be used and can be found in most Asian and health food stores.
White rice flour has a mild flavor and doesn't change the color of the muffin or quick bread.
Since it doesn't have much flavor, it is best to use it with ingredients that do. Substitute cup for cup.
SNAFU
I once tried making a batter first to then dip the onions in. Instead I got a ball of dough I threw out before going back to following my own instructions.