Dairy Free Green Bean Casserole is made without milk is nice to eat throughout the year but is especially popular during Thanksgiving and for the holidays.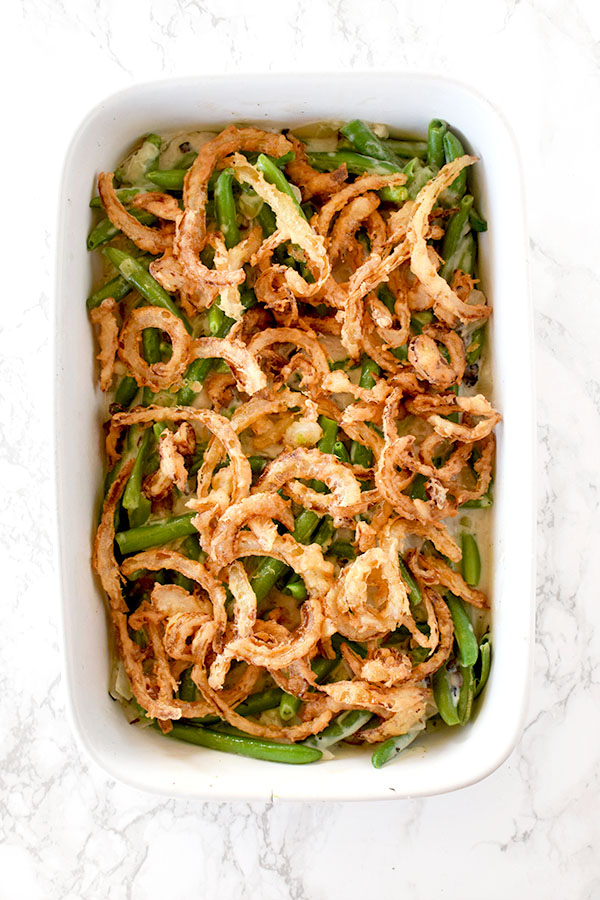 Green bean casserole was created in 1955 by the Campbell Soup Company and was originally called "Green Bean Bake."
The idea was "to create a quick and easy recipe around two things most Americans always had on hand in the 1950s: green beans and Campbell's Cream of Mushroom Soup."
When I was a teenager I saw a Campbell's commercial for green bean casserole where a pine tree reached through the window took a scoop of some fresh out of the oven.
I don't know what it was about the commercial but after that I wanted to green bean casserole.
So, the next Thanksgiving my mom and I decided to make some. We bought dairy free cream of mushroom soup, canned green beans, and fried onions.
To be honest… I was pretty disappointed. The flavor was okay but over all it was pretty mushy. Still, I didn't give up.
As an adult I saw homemade version online and decided to make my own.
This time, I used frozen green beans, made my own sauce, and made my own fried onions (I didn't have any on hand) which I only put on top instead of mixing in.
This time it exceeded my expectations – and everyone else's to be honest…
Now it is a staple at our Thanksgiving spread and a part of my Dairy Free Thanksgiving Recipe collection.
WHICH DAIRY FREE MILK TO USE
ALMOND COOKING MILK
This is a good option. Almond cooking milk has a thicker milk like texture, unlike regularly almond milk, and is still low in calories
COCONUT MILK
I really like coconut milk because it is so creamy. However, depending on the coconut milk you use, you may end up with a light coconut flavor.
OAT MILK
Oat milk can also be a good option. It is the most environmentally and ethically friendly of all the milks and unlike most dairy free milks, it has a creamy texture like actual milk.
Mix Milks
Another option is to combine one part coconut cream and one part almond cooking milk or oat milk. I should keep the same creamy texture but water down the mild coconut flavor.
Gluten Free
Gluten-free flour isn't known as a great option as a thickening agent. Instead, you can use gluten free potato starch or gluten free cornstarch.
Can I use frozen green beans?
Sure. I use frozen whole green beans more often than not for this dish because they are a great time saver.
I use whole green beans but you can use cut if you want. If you do, then you can also feel free not to slice them down the middle. I never do.
Homemade Fried Onions
Fried onions are easy to make yourself. I like them in part because they look nicer and in part because this way I know what when into them. They are also an especially great option for anyone gluten free.
Can I leave out the mushrooms?
While cream of mushroom soup is traditionally used, I don't think there will be much if any flavor loss or texture change if you leave them out.
Can I skip baking?
Sure. Since everything is already cooked you don't actually need to bake it, especially if you're using frozen green beans rather than blanched green beans. I often only bake it as a way to heat it up.
Make it ahead of time
You can make the green beans, the sauce, and mix them a day or two beforehand. Then, when you're ready, you can add the fried onions shortly before serving and bake (if desired).
Can I make and freeze head of time?
Yes. You can make the green beans, the sauce, and mix them a day or two beforehand.
Then, wrap well with plastic wrap and foil or place in an airtight container or resealable plastic freezer bag. Freeze for up to 2 weeks.
The night before, move to the fridge to defrost. Shortly before you're ready to serve top fried onions and heat.
How to Store
Let the casserole cool to room temperature. Wrap well with plastic wrap and foil or place in a air tight container. Store in the fridge for 3 to 5 days.