These mashed potatoes with sweet potatoes use both white potatoes and sweet potatoes.
This gives the mashed potatoes not only great flavor and but a wonderful touch of color to your table.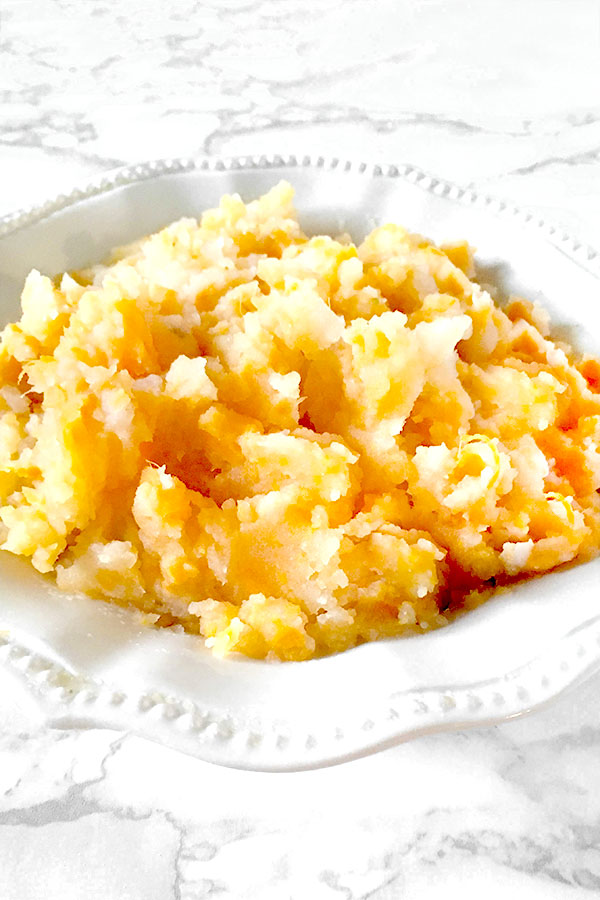 I love mashed potatoes but I hate all the calories that come with them. Add cream, butter, and even cheese and you go from a relatively low calorie side dish half a days worth of calories wasted.
Now, full disclosure, I like potatoes enough that I can eat them without any additives. On the other hand, a little extra flavor is always nice right?
Then of course there is the additional problem of it not being dairy free. Whether you keep kosher and there for don't eat meat and milk together or avoid eating dairy over all, this is a problem.
I mean I'm not eating mashed potatoes as a side to a vegetarian salad right?
By mixing mashed potatoes with sweet potatoes gives just the right amount of flavor without adding many – if any – more calories.
I particularly like making mixed mashed potatoes in the autumn and for Thanksgiving because of the orange color the sweet potato adds to the dish. Though I do eat it all year round because I enjoy the flavor so much.
TYPES OF POTATOES
There are generally three types of potatoes: waxy, starchy, and those in between.
WAXY
Waxy potatoes, such as Red Bliss and fingerlings, have a smooth skin and creamy, almost shiny flesh. Because waxy potatoes are relatively low in starch and high in moisture, they stay intact when they're cooked.
These potatoes have a nice potato flavor and hold up when boiled or baked even if sliced or cubed.
STARCHY AKA FLOURY
The most common examples of starchy potatoes are sweet potatoes and russets aka Idaho potatoes. As you may have guessed by their name, they're higher in starch and lower in moisture than waxy potatoes. They have matte-skinned and fall apart when boiled.
Starchy potatoes are ideal for adding creaminess to puréed soups or providing the airy, whipped texture to a mash. They are also good for roasting and frying.
IN-BETWEEN
These fall somewhere between the waxy and floury making them the "all-purpose" potatoes. The most commonly known of them are Yukon Golds.
Because they hold their shape when boiled, grated, or fried and yield to mashing, they're very versatile.
BEST FOR MASHED POTATOES
Since the waxy are most flavorful but the starchy are airiest, for the ideal mashed potatoes use half and half. This is a tip I picked up from the New York Times.
This works really well in this recipe because sweet potatoes are starchy so if you have waxy potatoes you're all set.
However, if you only have an in-between type or another starchy, you can feel free to use those.
Creamy Mashed Potatoes
While I like plain mashed potatoes just fine, I will admit they aren't as creamy as when you add, well… cream to them.
My trick to super creamy mashed potatoes is actually a little bit of mayonnaise like I do in my dairy free mashed potatoes.
Another potion is to add a little coconut milk.
You want to make sure to use full fat unsweetened coconut milk. Full fat coconut milk will give a similar texture to if you were to use heavy cream.
You obviously don't want it sweetened because sweet mashed potatoes probably wouldn't go too well with steak or turkey.
Don't worry about the coconut flavor. You use so little of it compared to the amount of potatoes, not to mention the flavor from the sweet potatoes, that you don't taste the coconut at all.
Another trick is to add 1 tablespoon of mayonnaise per pound of potatoes along with a tablespoon and a half of water.
Water Temperature
Believe it or not, it's best to begin cooking potatoes in cold water. It doesn't have to be chilled, just the cold side from the tap.
While this may sound counter intuitive, cold water helps the potatoes cook more evenly.
Also, if it's better that way, why waste the gas and cooking time by boiling the water?