Green beans, almonds, and cranberries makes a great light side dish and a snap to put together while adding both flavor and color to your table.
Serve alongside chicken during the week and Turkey on Thanksgiving! And don't forget the mashed potatoes.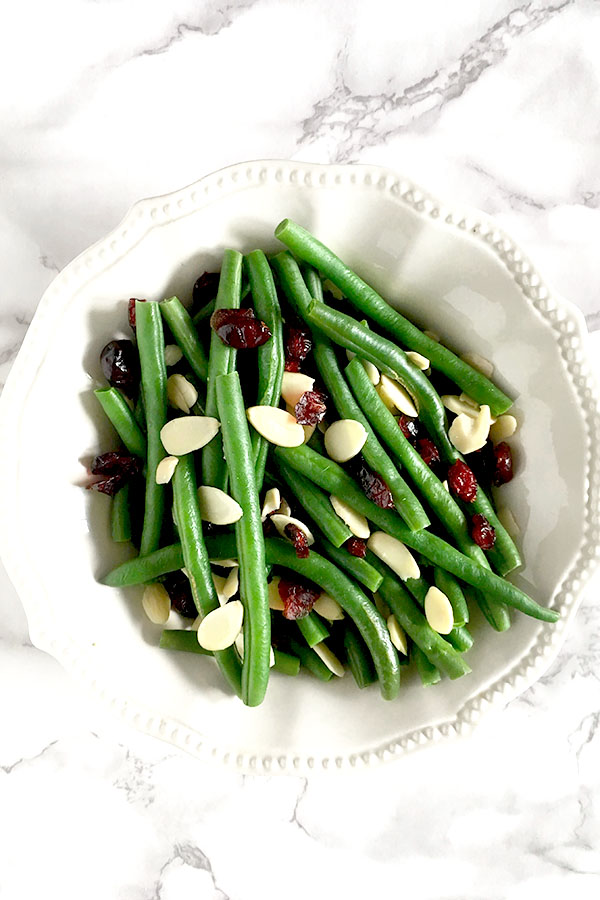 The first time I had green beans with almonds and cranberries for Thanksgiving was actually not on Thanksgiving or in the States.
My first autumn in Israel I was dejected for week missing New York. It got worse once I realized that I was not going to be with my family for Thanksgiving.
Hearing how depressed I was – okay fine, I was sobbing in my bed – a friend recommended I go to a Thanksgiving event in Tel Aviv.
The event was a lame attempt with terrible food to the point of hopeless acceptance. I told myself that next year I would do something nice with my friends.
Then I was invited to a Thanksgiving Shabbos meal for Friday night in the Old City section of Jerusalem. One long table spanned the open space and we took the far end of it.
It wasn't the same as being with my family, but I was surrounded by friends. The food was also very good; we had juicy turkey, mashed potatoes, and pumpkin pie just like my Mom makes.
It wasn't perfect, but it was close.
Something else that was at the table which I never had but was taken with right away. It was a bowl of green beans topped with sliced almonds and cranberries.
From the first bite and decided from then on I wanted to have it a part of my Thanksgiving spread.