These scrambled eggs are made without milk and butter so they are completely dairy free. Still, they are lightly, fluffy, and delicious.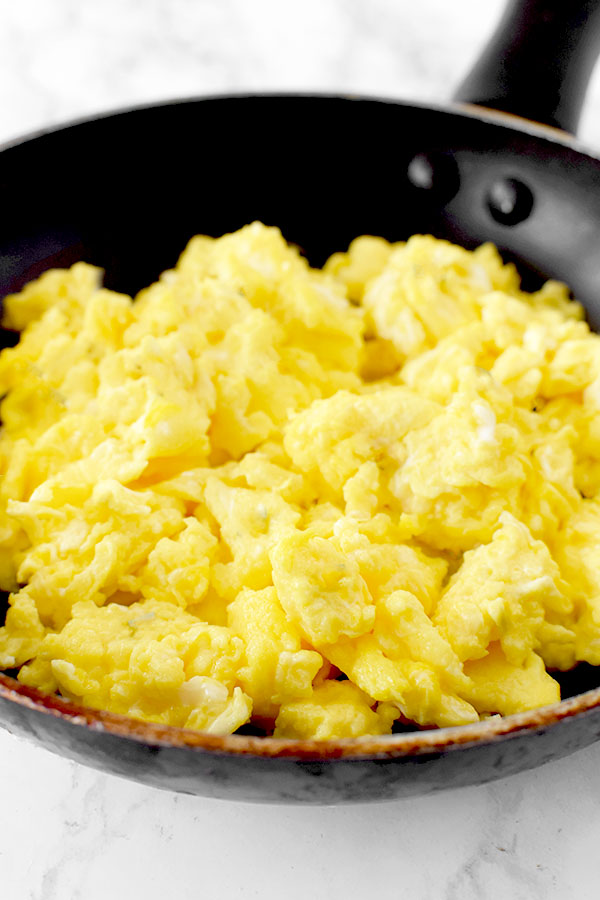 When I first moved back to Israel I lived in an absorption center in Jerusalem where I made friends from all over the world.
One of my funniest memories was when I was in a Russian friend's apartment for breakfast.
I was making scrambled eggs when I one of his Ukrainian roommates looked over my shoulder into the frying pan and said "you ruined the omelette."
I was a little confused and told him I was making scrambled eggs.
Then he was very confused and I was very confused by his confusion.
Needless to say, it was a confusing situation.
Luckily, my Russian friend walked back into the room and I asked him how to say "scrambled eggs" in Russian.
Fun fact, many Ukrainians speak Russian more fluently than Ukrainian.
He explained to me that there is no such food in the former soviet union (another Russian I know disagrees and says they do exist in Russia).
Then he turned to his Ukrainian roommate and explained that scrambled is an American way of making eggs.
To which the roommate made a disproving face and walked away.
Do you need to add milk to scrambled eggs?
Nope. In fact, I grew up eating scrambled eggs made without milk.
I was intrigued when I heard that many people do add it to eggs.
Can you scramble eggs without milk?
Absolutely! It's very easy to make scrambled eggs without milk.
What can you add to scrambled eggs besides milk?
Many people add water or dairy free milks. However, it is not necessary to add any liquid at all.
Is it better to add water or milk to scrambled eggs?
Supposedly the fat in milk separates the protein strands from the eggs, resulting in fluffier eggs. If this is true, then milk is better than water.
However, in my testing, I haven't found it to make a difference.
In fact, I haven't found the addition of milk or water to make eggs any fluffier than if it is left out all together.
ARE EGGS DAIRY?
No, eggs are not dairy. Dairy is milk and any food products made from milk, including cheese, cream, butter, and yogurt.
So, while eggs are an animal product, they are not dairy. In fact, eggs fall under the protein food group.
What do people put in eggs?
People put all sorts of vegetables and herbs in eggs.
Most common additions are mushrooms, peppers, and spinach – not all at once.
Do you have other breakfast recipes made without milk?
Sure! My dairy free French toast and Pancakes without Milk are two easy to make classics.
My banana chocolate chip muffins are my most popular but I actually have a whole collection of dairy free breakfast recipes.