These scrambled eggs with almond milk are the perfect way to start a dairy free day! They are light, fluffy, and oh so delicious.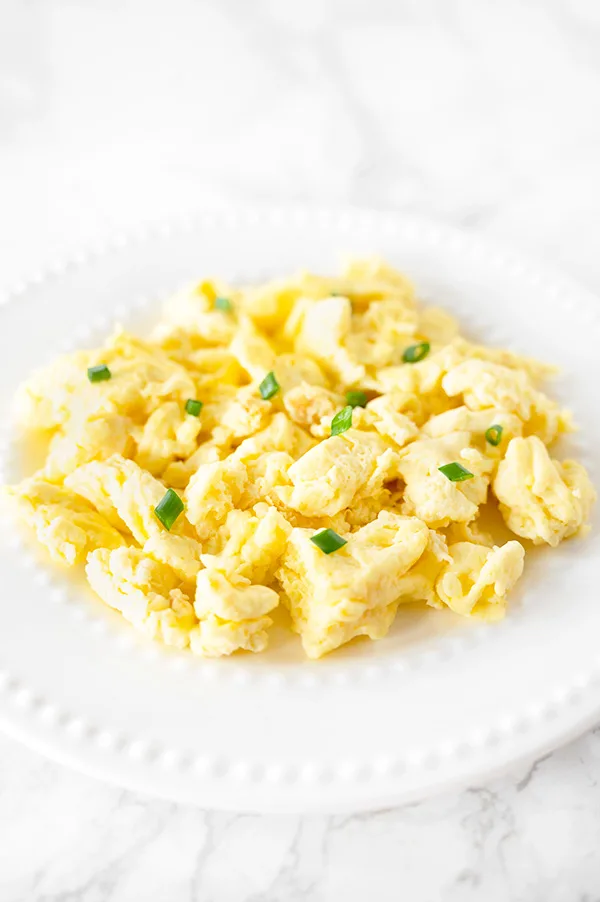 I honestly cannot make scrambled eggs without remembering the time I was cooking breakfast by my friend's and his Ukrainian roommate looked over at my pan of scrambled eggs and told me I ruined my omelet.
I was so confused until he made a comment to my friend in Russian with a disapproving expression about my eggs. My friend responded with what I could only assume was an explanation to my odd American ways.
Then, he turned to me and explained that in Russia and Ukraine scrambled eggs aren't a thing.
Well, I am glad to be from the good old U.S. of A. because I enjoy scrambled eggs in the morning.
In fact, every chance I get to try a new way of making scrambled eggs, I take it.
I've made scrambled eggs without any milk, I've made them with dairy free milks like these scrambled eggs with almond milk, and I've even made scrambled eggs with mayonnaise which are oh so creamy!
If you like these scrambled eggs with almond milk, you may also like my scrambled eggs with oat milk.
ARE EGGS DAIRY?
No, eggs are not dairy. Dairy is milk and any food products made from milk, including cheese, cream, butter, and yogurt.
So, while eggs are an animal product, they are not dairy. In fact, eggs fall under the protein food group.
INTERNATIONAL VARIATIONS
Scrambled eggs are eaten all over the world and each culture has their own unique version of this simple dish.
HUEVOS A LA MEXICANA
Huevos A La Mexicana are Mexican scrambled eggs. They are made with onions, hot peppers, and tomatoes.
To make it, saute before adding the eggs:
4 tablespoons white onion, chopped
1 Serrano pepper, finely diced
2 Plum tomato, diced
HUEVOS EN SALSITA
Another Mexican variation is scrambled eggs with salsa.
To make this dish, heat 2 cups of mild salsa and add the scrambled eggs to it.
HUEVOS PERICOS
Huevos Pericos, or parrot eggs, are popular in Colombia and Venezuela.
This dish is made with sautéed diced onions, bell pepper, and tomatoes. Scallions are a a common substitution or addition to the onions in Colombia.
To make it, saute before adding the eggs:
1 tomato, diced
1 tablespoon onions or scallions, diced
POQUI POQUI
Poqui poqui is a Filipino eggplant and scrambled eggs dish. To make this, you need:
2 eggplant, grilled and shredded
1 small onion, sliced thinly
2 cloves of garlic, minced
2 large Roma tomatoes, diced
Saute the onion and garlic. Then, add tomatoes and cook until soft. When ready, add eggplant. Finally, add the eggs and scramble.
ISRAELI BREAKFAST STYLED SCRAMBLED EGGS
While there is no unique way Israelis make scrambled eggs, it is often served with Israeli salad on the side. Alternatively, it is served with slices of cucumbers and tomatoes.
JAPANESE STYLED SCRAMBLED EGGS
In Japan, soy sauce is added to scrambled eggs to enrich their flavor.
To make this style of eggs, add two teaspoons of soy sauce to the beaten eggs.
STIR-FRIED TOMATO AND SCRAMBLED EGGS
This scrambled egg dish is popular in China. To make it, you need:
3 ripe tomatoes, chopped
3 cloves garlic, minced
1 pinch sugar
Once the scrambled eggs are prepared, sauté the tomatoes and garlic until the tomatoes are mushy. Add the scrambled eggs to the tomato mixture and sprinkle with sugar.
POPULAR ADDITIONS TO SCRAMBLED EGGS
People put all sorts of vegetables and herbs in eggs.
Most common additions are mushrooms, peppers, and spinach – not all at once.
How to make SCRAMBLED EGGS extra creamy
It may sound crazy, but adding a tablespoon of mayonnaise when beating your eggs actually makes the perfect scrambled eggs!
I didn't put this amazing tip in the recipe because mayonnaise can seem like a very strange addition to most recipes.
That said, it is my secret ingredient for some of my favorite recipes, like my incredibly creamy mashed potatoes without milk!
When you add mayonnaise, it yields the perfect scrambled eggs in a quarter of the time that it normally takes.
And think about it, mayonnaise is eggs and oil, so why wouldn't it be a good addition to scrambled eggs?
If you're worried thar it will have strong mayonnaise flavor, don't be! The eggs taste rich and luxurious.