This dairy free heavy cream is rich and creamy! It can be used for both cooking and baking recipes and is perfect in soups and sauces.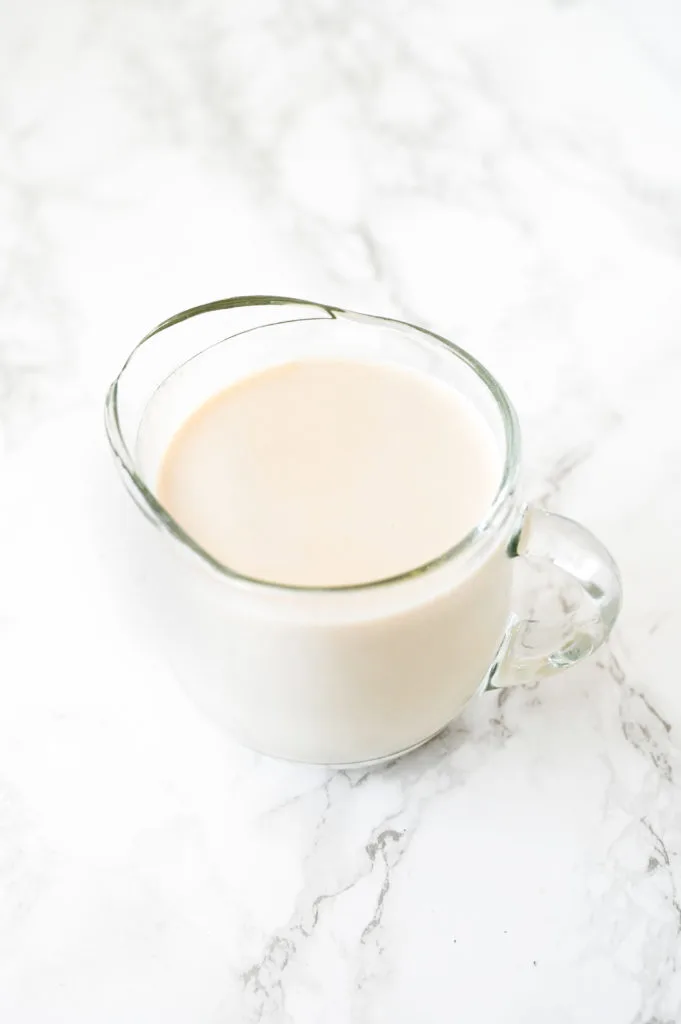 Heavy cream is a crucial ingredient in many recipes. This can seem like a real problem if you are dairy free, but it doesn't have to be.
While one of the most popular uses for heavy cream is making homemade whipped cream, heavy cream is also used to add moisture and tenderness to baked goods, make mashed potatoes creamy, and add richness to soups and sauces.
This dairy free heavy cream is perfect in soups, sauces, and for baking, but won't whip up the way traditional heavy cream does.
What is Heavy Cream?
Heavy cream is the fat that collects on top of fresh milk if it hasn't been homogenized.
According to FDA standards, heavy cream must contain between 36% and 40% fat. Typically, you'll only find heavy cream that is 36% fat in a grocery store. Restaurants get the really good stuff – 40%.
Are Heavy Cream and Whipping Cream The Same?
While heavy cream and heavy whipping cream are similar, they are not same thing.
Both will whip up to a whipped cream that you can use to top pumpkin pie or hot chocolate.
However, whipping cream will deflate sooner because products labeled "whipping cream" may have a fat content as low as 30%, and it's the fat that helps it keep its shape when whipped. Instead, it often contains stabilizers that help the liquid remain aerated when beaten.
What Is the Difference Between Heavy Cream And Half And Half?
Half and half is simply a mixture of equal parts whole milk and heavy cream.
The percentage of fat in half and half varies between 10.5% and 18% depending on the cream. Since cream can be 36% to 40% fat, that accounts for the variability in half and half.
Why Oat Milk?
Mild flavored full fat oat milks like Oatly and Alpo Not Milk are the best substitutes for milk on the market.
You can, of course, use whatever brand you want, but these are two brands I've used and liked.
What Type of Oil Should I use?
The purpose of the oil is to add fat to the milk to turn it into a heavy cream, so technically, you can use any oil.
Olive oil or coconut oil are great if you want that flavor. However, a neutral oil like safflower is ideal for most recipes.