This Dairy Free Sausage Gravy is quick and easy to make. It is perfect for Southern dishes like dairy free biscuits and gravy.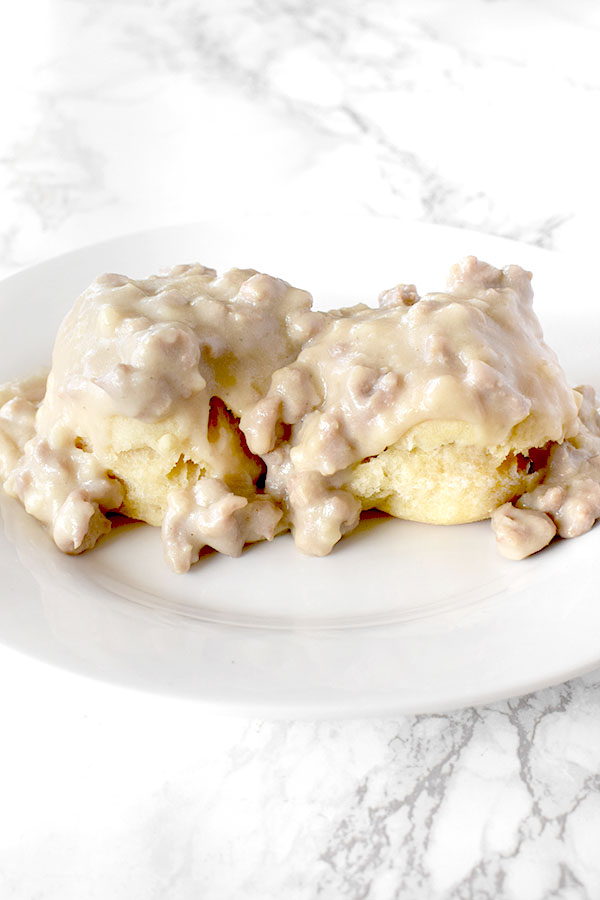 Sausage gravy is usually made by first cooking the sausage, then removing the meat and using the fat to make a roux.
At this point milk is usually added, but for this Dairy Free Sausage Gravy you can use either a dairy free milk or water.
If you don't have sausage, you can easily use ground beef instead.
What Type of Dairy Free Milk to Use
My favorite option is an oat milk that has a mild flavor. My preferred oat milk is Oatly because it's consistency is very similar to milk.
Another option is unsweetened almond milk. This is good if you are looking to cut some calories from this hearty dish.
Technically you can use coconut milk, but I don't recommend it.
Coconut milk is unnecessarily thick for this dish and can potentially add a coconut flavor.
You can also skip the dairy free milk altogether and just use water.
The color may be a little different if you use water, but the flavor will be pretty much the same.
HOW TO STORE
Once cooled, place in an air tight container and refrigerate. Store for 3 to 4 days.
HOW TO FREEZE
Freeze leftovers within 3-4 days. Place in an air tight container or resealable freezer bag.
Freeze for up to 6 months. After that it is safe to eat however the quality begins to degrade.