This dairy free turkey gravy is your is made without milk, without butter, and without cream. It is also very easy to make and perfect for Thanksgiving!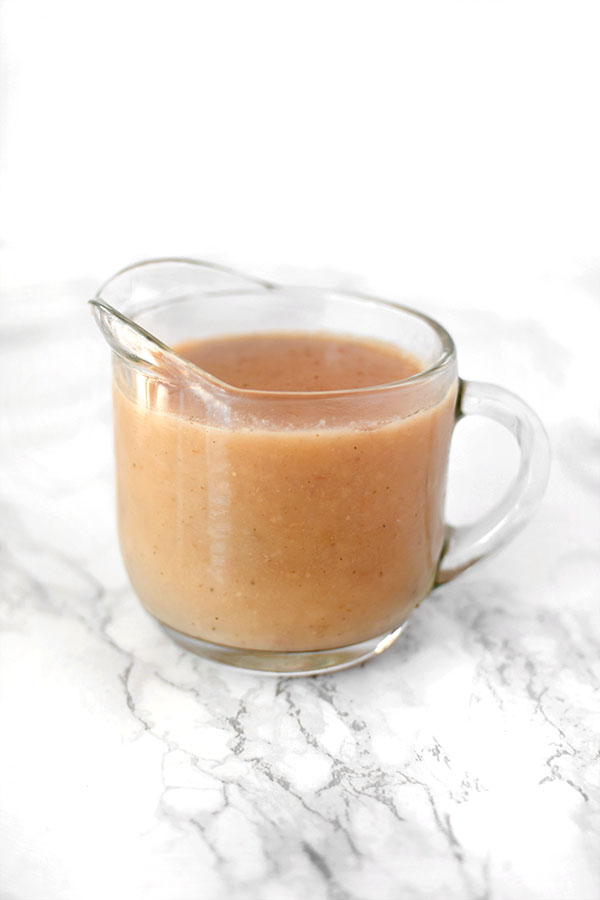 I make turkey gravy one time a year and that is on Thanksgiving.
The reason for this is because a good turkey gravy needs turkey drippings and the only time I make roasted turkey is on, you guessed it, Thanksgiving.
That being said, this dairy free turkey gravy is so delicious, especially over my dairy free mashed potatoes, I really wish I had an excuse to make it more often!
WHAT TYPE OF STOCK TO USE
You can use turkey stock, chicken stock, or even vegetable stock.
Personally, I use chicken stock instead of turkey stock if that is what I have on hand or and is easy for me to get.
You can make turkey stock but I usually have that on hand after Thanksgiving when I repurpose the leftover bones.
BULLION POWDER AND CUBES
Bullion powder and bullion cubes work fine for making stock.
Because I do so much Israeli cooking, I always vegetarian chicken bullion powder on hand. So, I've used them often in recipes, including gravy, instead of stock.
STOCK VS WATER
I personally like using stock because it adds flavor. However, it is not uncommon for people to use water to make gravy.
WHY USE FLOUR TO THICKEN GRAVY
I use flour to thicken gravy because it gives the gravy that classic opaque slightly pail look.
Many people don't like using flour because if it isn't cooked long enough, it can give a floury flavor to the gravy. Also, if not made properly it can become clumpy.
The Good news is, making a smooth creamy gravy is a snap if you turn it into a roux first.
Another benefit some people see with gravy made with flour is that it keeps better in the fridge. This means it can be made ahead of time or use up leftovers.
WHY USE STARCH TO THICKEN GRAVY
Both corn starch and potato starch can be used to make a gravy.
Gravy made with starch is considered by many to have a silkier texture than gravy made with flour.
This option is perfect for anyone who is gluten-free (make sure the package is marked gluten-free).
Just like with the gravy made using flour needs a roux to avoid clumping, gravy made using starch needs a slurry.
Gravy made with starch is clearer, darker, and shinier than gravy made using flour.
CORNSTARCH VS CORNFLOUR
Cornstarch and cornflour are the same thing. In North America cornstarch is the term commonly used where in Europe it is refereed to as cornflour.
POTATO STARCH AND OTHER STARCHES
This recipe calls for cornstarch just because it is the most common. However, you can use potato starch or any other starch you have on hand.
POTATO STARCH VS POTATO FLOUR
Potato flour is made from whole peeled potatoes, cooked, dried, and ground into a fine, beige-colored powder.
Potato starch, on the other hand, is "washed" out of crushed potatoes, then dried to a fine, bright-white powder.
Potato flour is great for adding moisture and flavor to breads while potato starch is the right choice for gravy.
WHAT IS A ROUX
A roux is equal parts flour and fat cooked together until it reaches a specific color.
Rouxs have been used in French cooking for hundreds of years to thicken sauce.
The flour is added to the melted fat or oil on the stove top, blended until smooth, and cooked to the desired color.
A roux can be white is used for country gravy, blond for classic gravies, or brown is used in gumbo and jambalaya.
The lighter the roux the more thickening power it has.
Once the roux is the desired color liquids like stock are added.
WHAT IS A SLURRY
Slurries are commonly used in Asian cooking and Chinese-American cuisine. It is used to make sauces needed for recipes like Beef Broccoli and Pepper Steak.
A slurry, like a roux, is used to thicken gravies, sauces, stews, and soups. However, unlike a roux it is added at the end of the recipe.
It is a combination between corn starch or potato starch and water and provides a silky texture.
While it is less common, slurries can be made out of flour.
HOW TO USE FLOUR AND STARCH
If you want both the benefits of the flour and the starch you can use both.
To do this, use 2 tablespoons of flour and drippings to make a roux. After the stock is added, use one tablespoon of starch to make a slurry and slowly it to the sauce.
DRIPPINGS
Drippings are what you find at the bottom of a roasting pan. Usually there is less than a cup left, so stock or water are added until you have 2 cups.
This recipe only calls for 1/4 cup of drippings because you're almost definitely going to have that much. However, I personally like using as much drippings because they have so much flavor.
DEGLAZING THE PAN
Deglazing a pan involves adding liquid, such as stock or wine, to a pan. Then a wooden spatula is used to loosen and dissolve bits, known as fond, that are stuck to the bottom after cooking or searing.
Fond is a great source of flavor and mixture produced by deglazing can be used to make a sauce. This is a great way to add flavor to your gravy.
WHAT TO DO IF YOU DON'T HAVE ENOUGH FAT DRIPPINGS
If you collect the fat drippings from the bottom of the roasting pan and find you don't have enough for this recipe don't worry.
All you have to do is add more fat until you have the right amount.
This can be animal fat like schmaltz or a neutral oil.
CAN IT BE MADE AHEAD OF TIME?
Yes. You can make this gravy a day or two before and simply reheat it shortly before you're ready to serve.
HOW TO STORE
Once the gravy has cooled, place it in an air tight container. Keep up to 5 days in the refrigerator.
HOW TO FREEZE
Once the gravy has cooled, place it in an air tight container or a resealable freezer bag.
You can freeze gravy for up to 5 months. After that, it is still safe to eat but the quality begins to degrade.
How to Reheat
Gravy will thicken as it cools. When you reheat it out with additional stock until it is smooth and reaches your desired consistency again.