Schmaltz is rendered chicken fat and has been essential to Eastern European Jewish cooking for centuries. It is traditionally used for frying or spreading on bread but you can use it for so much more.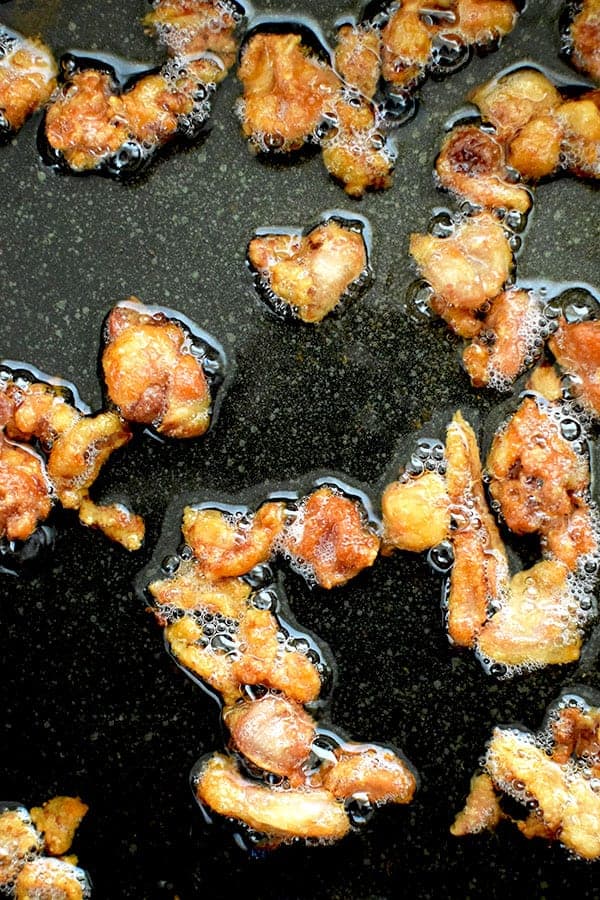 Where Christian communities often used lard in their cooking like Southerners still do today, Jew's had to improvise.
So, in Mediterranean countries Jews used olive oil, in France goose fat was all the range, and in Eastern Europe schmaltz was favored.
There is also another aspect to why Jews used chicken fat to their cooking.
Not only did it add a great flavor, it helped poor shtetl Jews make use of parts of the chicken.
They could not afford for anything to go to waste which inspired a lot of culinary creativity.
However, it became a staple in Jewish cooking and was often eaten as a spread on bread.
Schmaltz fell out of popularity when saturated fats became the enemy.
For as long as I can remember there were campaigns warning against butter and meat fats.
However, nowadays people are starting to see the light, and fats are coming back into culinary style.
Classic schmaltz is made with chicken skin and an onion.
I also add in fat I trim from my chicken – I still can't quite get passed the idea that animal fats are worse than olive oil.
The skin when fried turns to gribenes which are added to chopped liver or munched on alone.
Another option is to leave the onion out.
I do this when I want a more mild flavor.
Traditional schmaltz adds a great savory flavor, but I believe you can add it to just about anything if you leave out the onion.
Right now I'm still experimenting, but I promise to give you a list of recipes with which you can use schmaltz.
How to render chicken fat
There are two different ways to render chicken fat.
One is to add enough water to cover the chicken and cook it until the water evaporates.
My issue with this is that it causes a lot of splatter.
Another way is to just let the fat melt down with little to no water.
I've done this by not adding any water at all and it worked fine.
However, I think having a little water to begin with may help the skin from cooking too quickly in the beginning.
So, I add just a tablespoon.
That amount of water evaporates quickly leaving the fat to do its thing without any mess.
If you try this recipe, let me know! Leave a comment, rate it, and don't forget to hashtag a photo #thetasteofkosher on Instagram.