Shawarma is Israel's favorite street food along with falafel. This version has all the classic shawarma flavor but is easy to make at home. Serve with Israeli salad and mujadera or Israeli rice and beans.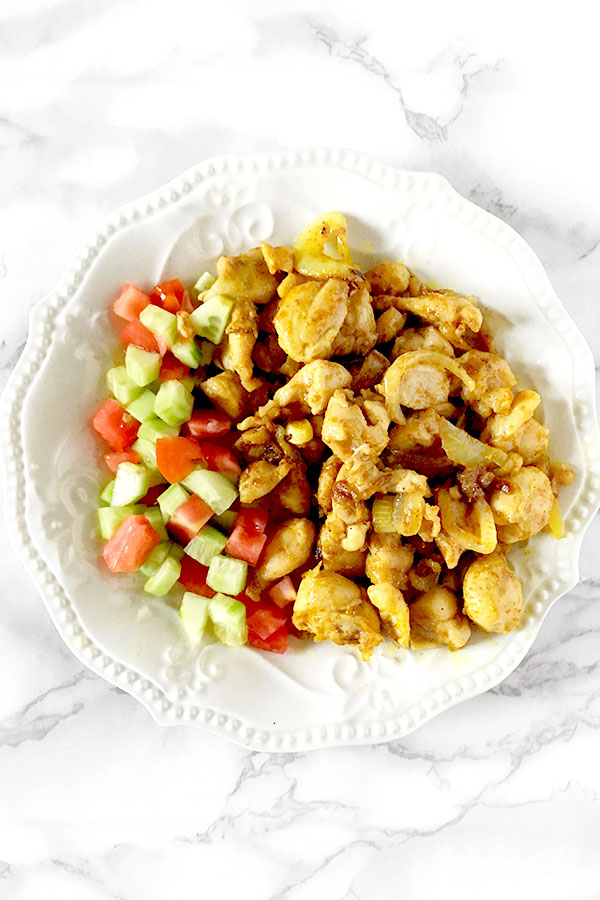 In Israel you can find a shawarma shop just about anywhere you go. In Jerusalem you cannot walk a block in the center of town or the market without passing one.
Shawarma was originally made of lamb but today in Israel, it's usually made from chicken or turkey, though lamb shawarma and even goat shawarma are available.
In fact, the turkey version is so common that Israelis eat more turkey per capita than any other country in the world.
Due to Thanksgiving America comes in second. However, the average Israeli eats about more than double the amount of turkey than the average American.
While in Israel shawarma is considered street food and you'd be hard pressed to find a sit down restaurant serving it. In the States however, things are different.
Israeli restaurants serve shawarma often as a platter and rather than in a pita or wrapped in a lafa. It also is often not made using a shawarma rotisserie but in a pan or on a griddle.
This version is particularly easy to make at home because you have all the equipment you need and the chicken is cut before cooking.
It's what you'd find labeled as "baby chicken shawarma" on a menu at an Israeli restaurant in New York.
Don't worry no chicks were harmed in the making of any shawarma.
The misnomer comes from the word "pargit" which someone mistranslated as a baby chicken when it's really a pullet.
However, since all fully grown chickens on the market today are pullets, pargiot has come to mean boneless skinless chicken thigh.
Why I only use shawarma seasoning
Simply said, shawarma seasoning makes for better shawarma.
Any recipe that suggests the spices individually cannot give amounts small enough for a proper blend with subtle flavors.
That's why I only buy or make my own seasoning.
You can buy shawarma seasoning in most any Jewish supermarket. Or, you can make your own using my recipe using easy to find ingredients.
My seasoning is exactly the same those you'd find in Israeli supermarkets.
Oh, and stay away from marinades. No actual shawarma uses a marinade, only seasoning.
How to eat Shawarma
The two classic ways to eat shawarma are in a laffa or a pita.
A laffa is a Levantine flat bread similar to naan but much bigger and is not as common to find in the Western Word as pita is.
In a Pita
Street food styled shawarma is never eaten alone.
A basic version is with humus (hummus) spread on the bread, shawarma, Israeli salad, topped with fries, and techina (tahini).
Other optional additions are onions or sliced pickles to name a couple.
I don't like tomatoes so unless they have cucumbers separate from the tomatoes (which some places have taken to doing) I often have sliced pickles instead.
On a Plate
In the States its common way to serve shawarma is as a shawarma platter. This is plate with shawarma and either rice and fries or Israeli salad on the side.
My Mom and I always made a special request for Israeli rice and beans though which they always accommodated.
I really like this way when serving it this way if I'm serving it to guests or for Shabbos dinner instead of casually in a pita as I would during the week.
Things that do not belong with Shawarma
You may be wondering what difference it makes but I'm half Israeli and we take our shawarma seriously. We have our purists.
However, there are some things no one would put in.
This is a list of things I've happened to see in recipes that call themselves shawarma.
Dairy
First and for most is dairy is never put in a shawarma.
It doesn't matter what kind of dairy or cheese product. Dairy is never used.
I saw this in a picture online once and as an Israeli I was horrified.
Here in Israel we love cheese of all kinds but it does not belong in a shawarma.
Lemons
Lemons also do not belong anywhere near a shawarma.
That's Greek if anything and I'd bet money that as much as Greeks love their lemons they don't put it with their gyro.
Olives
Israelis love olives and you'll find them served at any meze (in Hebrew it's called salatim which means salads) as part of a sit down meal where meat is served.
However, it would never be put with a shawrama. Oh and if they are black olives they don't even make it onto the table.
Lettuce
I'm not even sure what lettuce is used for in Israel.
I see it in stores sometimes but it's not a big thing here.
The idea of a salad with lettuce is relatively foreign concept.
It's certainly not put in sandwiches and it would never be put in a shawarma.
Large pieces of cucumbers and tomatoes
Large pieces are never used.
It doesn't matter if they are sliced or cut into chunks, they aren't used.
Only diced cucumbers and tomatoes for an Israeli salad are used.
IS KOSHER CHICKEN BETTER?
Yes and no.
It is not necessarily healthier as far as bacteria is concerned, since bacteria can only safely be killed with heat.
What is better is the quality of the chicken.
The salting process used to remove blood, as part of the koshering process, is believed to provide better quality meat.
It creates a sort of quick dry brine.
Also, kosher animals are kept in better conditions than nonkosher animals, due to strict kosher health requirements of the animals. They are also killed in arguably more humane conditions.
While I've only eaten kosher meat (so I cannot compare), I've been told by non-Jews who do not keep kosher that they've noticed that kosher chicken is of superior quality to cook with.
SHOULD YOU WASH CHICKEN?
According to the USDA, you should not wash chicken or meat because washing it spreads bacteria throughout the kitchen.
Water can splash bacteria up to 3 feet surrounding your sink, including onto counter tops, other food, towels and you (i.e. cross contamination).
A study done by Drexel University shows that it is best to move meat and poultry directly from package to pan. The heat from cooking will kill any bacteria that may be present.
One exception would be if there are bone fragments or residue from giblets, as in a roasting chicken. In that case, feel free to rinse if you like. However, make sure you wipe down your sink afterwards.
HOW CAN I CLEAN MY CHICKEN WITHOUT WASHING IT?
If you want to clean your chicken without washing it, wipe it down with a wet paper towel. This will remove anything other than bacteria.
Just make sure the paper towel doesn't touch anything else and to toss the paper towel right away.
HOW TO DEFROST CHICKEN
IN THE FRIDGE
This method is the most highly recommended. Chicken typically takes a full day to thaw. Once thawed, the poultry can remain in the refrigerator for a day or two before cooking.
IN COLD WATER
This should take two to three hours. Submerge your sealed chicken in a pot or bowl full of cold water. Change out the water every 30 minutes or so.
Do not use warm or hot water. It is unhealthy to do so, can start cooking your chicken, and doesn't do so evenly.
COOK IT FROZEN
According to the USDA, you can cook frozen chicken. It will take 50% longer to cook, but it's an option. You should also cook it on a roasting rack or over vegetables, so the heat can circulate around the chicken.
IS IT SAFE TO REFREEZE RAW CHICKEN
If you have extra raw chicken that you didn't use but want to refreeze, you can, as long as it was thawed in the fridge.
According to the USDA,"food thawed in the refrigerator is safe to refreeze without cooking." However, you do lose quality when refreezing previously defrosted meat.
Every time you defrost meat, it loses moisture through thawing, which also leads to a loss in flavor. To compensate for this, marinate the meat to add more flavor and juice."
The USDA also says not to "refreeze any foods left outside the refrigerator longer than 2 hours; 1 hour in temperatures above 90 °F."
SHOULD YOU BRINE?
No. Brining actually doesn't do anything to help poultry. In fact, it makes it soggy rather than juicy, with watered down flavor.
Aromatic brines and stock don't help with flavor either. This is because the salt pulls water molecules in, leaving most of the flavor behind.
DRY BRINING
A dry brine loosens up muscle fibers, allowing them to retain more moisture as without adding any excess liquid.
Initially, the salt draws moisture out, then it dissolves in this liquid, creating a concentrated brine, which eventually gets reabsorbed. This leads to more intensely flavored results.
An added benefit is that it also requires less space and mess than a water brine. Not to mention the fact that it allows for crispier skin.
CAN YOU DRY BRINE KOSHER POULTRY AND MEAT?
Yes. Food experts are often under the impression that kosher meat and poultry cannot be brined and dry brined.
This is because of the koshering process which involves salting the meat to remove the blood. However, the process is not nearly as long as the dry brining process, and unlike a dry brine, the poultry is soaked to remove the salt.
So, since the process is quite different than a dry brine, it is fine and even recommended to dry brine kosher poultry and meat.
HOW TO STORE CHICKEN
Place cooled chicken in an airtight container or wrap in heavy-duty aluminum foil or plastic wrap. Store in the fridge for up to 4 days.
HOW TO FREEZE CHICKEN
Freeze leftovers within 3-4 days. Place cooled chicken in an airtight container or resealable freezer bag.
Freeze for up to 4 months. After that, it is safe to eat. However, the quality begins to degrade.