Hummus is an integral part of middle eastern food culture. Here in Israel it is eaten on a regularly and at every gathering. Serve as an appetizer with pita for wiping.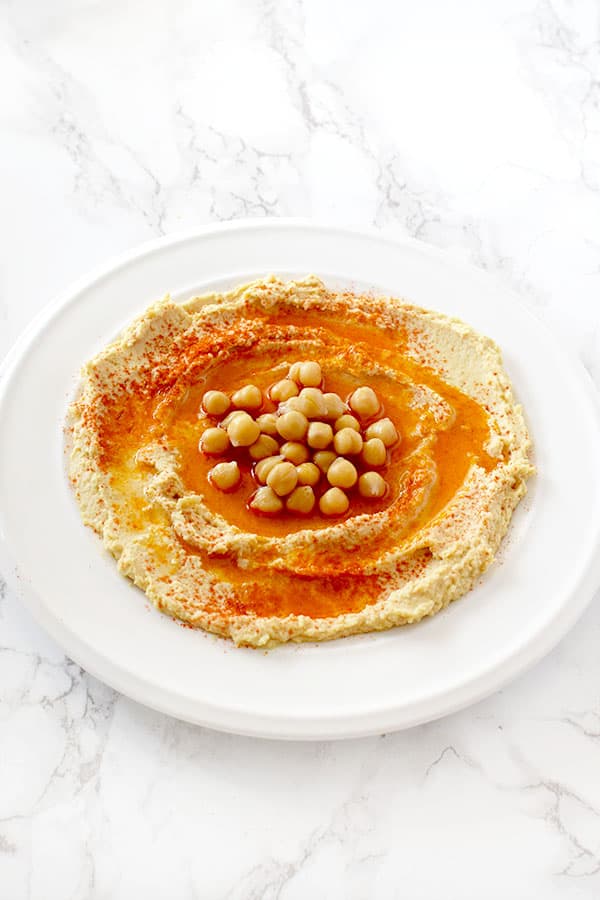 I was so young the first time I ate hummus that I don't remember the experience.
You may already know this but hummus is a staple in Israeli cuisine as Israeli salad or couscous.
Alone, hummus served as an appetizer with pita as part of a mezze (which we call it salatim not a mezze, which means salads).
Otherwise, it can be spread on the inside of a pita or a lafa before it is filled with shawarma or falafel.
Believe it or not, hummus is such a part of the culture that there are hummus restaurants.
There it is the main dish is hummus which is always drizzled with olive oil served with a pita.
Fun fact, hummus is the word for chickpeas in Hebrew and Arabic. That's where the name comes from.
This recipe is actually a translation of a very highly reviewed Israeli hummus recipe.
How to pronounce Hummus
First, it's not a "u" like in "up." There is no sound like that in Hebrew.
It's more like "oo" in "soon." Just fixing that will solve 2/3 of your pronunciation problems.
Next, the H is guttural like if you were to clear your throat. This is like how Germans say CH in the name Bach or Loch like a Scot would say Loch Nes.
In fact, when Jews tend to spell hummus as chumus because it is more exact.
By the way, pita is pronounced like peeta. Not "i" as in "it" because that sound doesn't exist in Hebrew. It's "i" like in "pizza."
Also, tehini is the same H and i sounds we discussed however the last i is actually an a. So, techina.
How to eat Hummus
To eat it in a traditional way, you can take some on to your plate and wipe it with a pita you ripped off from the whole pita.
If you are with one or two people you are close to, you can eat from a main plate. Just break off a part of the pita and wipe the hummus with it. Eat and repeat.
If you are eating it with a shawarma or a falafel, spread it on the pita or lafa before filling it. Or do the same with a pita or baguette and fill it with schnitzel.
Other Toppings
It is common to have falafel balls around the edges or fried ground beef in the center instead of chickpeas like in this recipe.
Is flavored hummus a thing?
I'm pretty sure that is something food bloggers or a cooking show made up. So, while I love pumpkin, there is no way I am going to put it in my hummus.
How to use it in a mezze
A mezze is a traditional Middle Eastern way of eating. In Israel it is the first course to a meal in a restaurant, at an event, or a Shabbos meal.
However, if you said a mezze to an Israeli they would have no idea what you're talking about. In Hebrew we call it salatim (again i like in pizza) which means salads.
To do this by simply putting it in a bowl with no fuss.
Along with this will be a collection of other small bowls. In one will be olives, Israeli style pickles in another, and a variety of side salads in the rest.
Such salads include:
Russian salad
Beet salad
Eggplant salad with mayonnaise
Baba Ghanoush (in Hebrew this is called eggplant salad with techina i.e. tehini)
Tabbouleh
Matbucha
Spicy pepper salad
You'll notice that variety of countries represented in this list. That is because Israel is a very diverse country and many cultures brought by immigrants have had some level of influence on the food.
Can I use canned chickpeas?
Sure. Just use 3 cups of cooked chickpeas per cup of dried. That means 6 cups of cooked chickpeas for this recipe.