Israeli salad is a simple vegetable salad which you will almost always find served at meals in Israel. You can eat it as a starter, a side salad to pretty much anything, or added to a pita sandwich.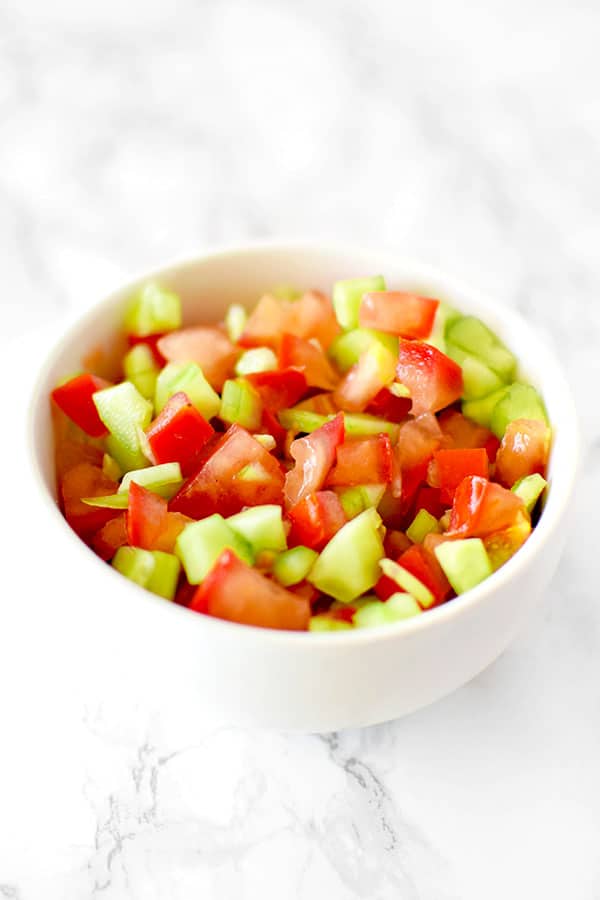 As a food blog that has quite a few Israeli recipes, I couldn't possibly leave out Israeli salad.
In Israel, this salad is simply known as a "salad" or a vegetable salad.
Whenever you order pretty much anything at a restaurant in Israel, this will be served on the side.
What is Israeli salad?
At its most basic, it's nothing more than chopped cucumbers and tomatoes mixed together.
This is most commonly seen in falafel and shawarma shops.
In Israel, it is actually even more common to only mix these as they are being put in the pita.
When it is served as a side salad or as part of a mezze (which in Israel is called salatim which means salads) along with Israeli cabbage salad, hummus, matbucha, and more, it's only slightly upgraded.
When served like this, it includes onion, olive oil, salt, ground pepper, and a splash of lemon juice added.
On occasion, you may find a little fresh chopped parsley as well.
That's it.
However, if desired, you can also add a lettuce to it for a more Americanized version.
I have seen this on occasion at tourist oriented cafes.
What does not belong in Israeli salad
One of my biggest pet peeves is seeing recipes that claim to be Israeli salad but aren't.
In fact, this has lead my friends and family to hear a number of rants on the topic.
It won't have Italian seasoning – I've never even seen Italian seasoning In Israel.
Actually, Italian seasoning is American not even Italian.
American recipes like to use bell peppers. No pepper is a standard in this salad.
Really, I've only seen red bell peppers added once.
While bell peppers are not a normal part of Israeli salad, despite what Wikipedia says, hot peppers are completely unheard of.
In contrary to the common misconception, Israeli food isn't generally spicy.
I've even seen a recipe that called for fish! If you see any of this, close the recipe immediately.
Rant over.
How to eat Israeli Salad
It can be eaten with just about anything.
While it is most commonly seen in shawarma and falafel or as part of a meze, as mentioned before, it is considered a healthy and natural side to pretty much every dish.
Israeli salad is often served with meat and poultry for lunch or dinner.
It can also be served alongside grilled cheese, eggs, or yogurt for a healthy breakfast.
A cafe I was at once even brought a bowl out with an order of shakshuka.
It pretty much suits anything and can be put anywhere you'd imagine a green or garden side salad could go.
How to store
Place in an airtight container or wrap with plastic cling wrap. Store up to 4-5 days in the fridge. However, it is best if eaten within 1 to 2 days.