Israeli cabbage salad is a classic Israeli appetizer and side dish. Not unlike American coleslaw, this dish is sweet and creamy. Serve alongside dinner, lunch, or at a cookout.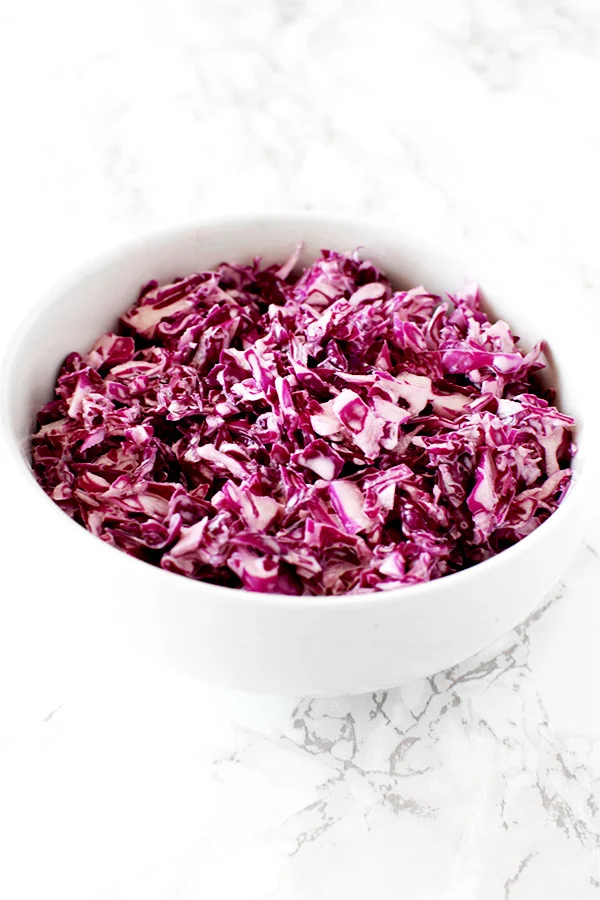 Growing up, my mother would make this Israeli cabbage salad. Before it was served, I would grab a fork and steal bites of fresh and crisp cabbage.
I'd continue to pick at it any time until it was served, so by the time it was put on the table, there was a good amount of it missing.
This salad is a favorite in Israel. Walking through an Israeli supermarket, you can find dozens of purple containers filling the shelves right next to the hummus.
I've seen it served at Shabbos meals and events as part of a meze, at events, in restaurants, and at cookouts.
In Israeli mezzes, which are just known as salatim (meaning salads) is a common first course. Israeli cabbage salad served in a bowl along things like
matbucha
baba ganush
Russian salad
pickles
olives
When the salad is made fresh, Israelis serve it right away while it still has some crunch to it.
However, it is also common to buy it soft and creamy from the store where it has been sitting a while.
Either way, it is delicious.
If you'd prefer the creamy version, let it sit for at least an hour in the fridge before serving.
Recipe Tip:
When you first make this salad, it will be firm and won't taste as sweet.
However, after a short while, it releases liquids and becomes softer and the dish becomes sweeter and creamier.
This is the way it is found in stores and most often served.
I will gladly eat it either way.