Challah egg in a hole is a great way to use up leftover challah bread. It also makes for an easy and tasty Sunday morning breakfast. Serve with orange juice or class it up with a mimosa for brunch.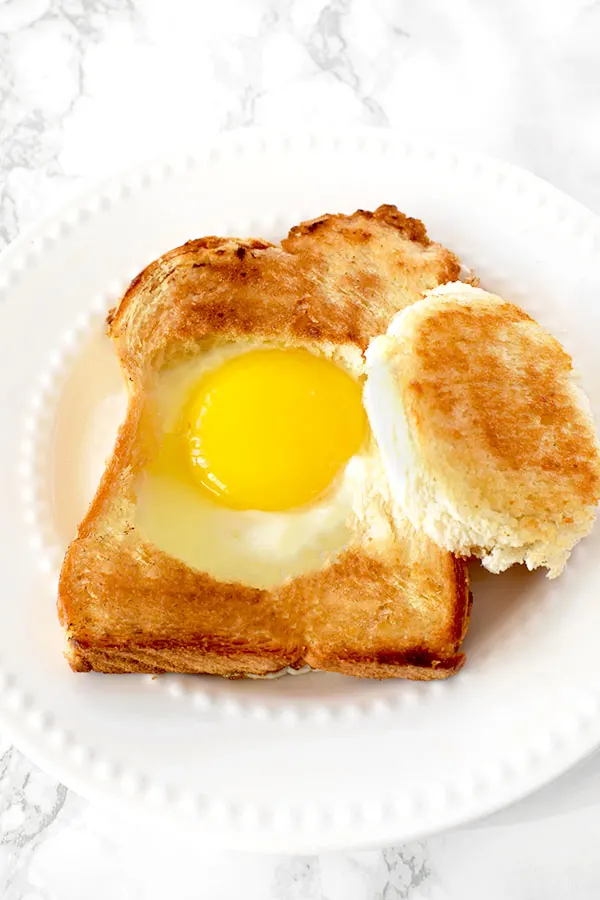 Challah egg in a hole is one of my go to recipes for Sunday morning breakfast.
Whether you have just one slice of challah left or half a loaf, it can be a great solution to using up leftovers and an answer to what to make for breakfast.
All you need is leftover challah, a little butter or oil, and an egg.
The first time I had egg in a hole was the summer before I moved to Israel.
I had spent the weekend in the Catskills at a friend's family's summer house. It was a beautiful Shabbos spent away from fast pace city life and surrounded by green trees and the smell of fresh pine filled air.
Sunday morning, before we all left, someone from the group took the leftover challahs and made egg in a hole for everyone.
To be honest, I'm not much of a fan of sunny side up eggs so I wasn't sure how much I'd like it. To my surprise, I liked it a lot.
Since then, when I only have a couple slices of challah left from Shabbos my mind goes right to making challah egg in a hole.
It is simple, tasty, and looks impressive when I have someone over.
To me, recipes with these qualities are the best to have on hand.
Another recipe like that is my shakshuka – or shakshuka for one if I am just making for myself – but egg in a hole takes even less time to make, so in that way, it's a little better.
Recipe Tip:
If you prefer your eggs over easy rather than sunny side up, you can easily do that with this recipe.
Simply flip the bread and egg over at the end and let it cook for about ten more seconds.