This dairy free french toast is made without milk or butter. It also uses challah bread because it makes makes the best french toast.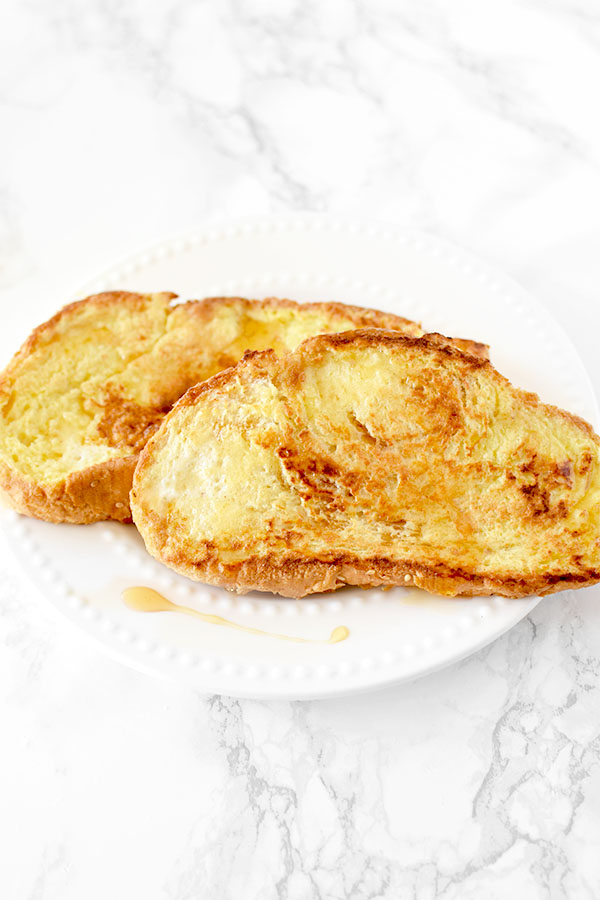 If you're anything like me, you always have leftover challah when you buy store bought. Without fail I have at least half a loaf left when I don't make challah.
I hate waste, so I am always finding new ways to put it to use. That is how I started making challah croutons, challah egg in a hole, challah bread crumbs, and challah bread pudding.
My favorite though is to make this dairy free French toast made without eggs or butter. This is how my Mom made it growing up.
The original recipe just called for eggs and bread. Vanilla made its way in when I was a teenager and has been a family favorite ever since.
Why do you need milk for French Toast?
You don't need milk for French toast. All you need is a liquid to soften and saturate the bread.
Since this is done with egg in French toast the milk is not necessary. It's mostly used to water down the eggs.
Recipe Tip:
If you want you'res soggy in the middle, double the water in this recipe. Then let each piece sit in the mixture for a number of seconds before removing.