This dairy free French toast is made without milk or butter. It also uses challah bread because it makes makes the best French toast.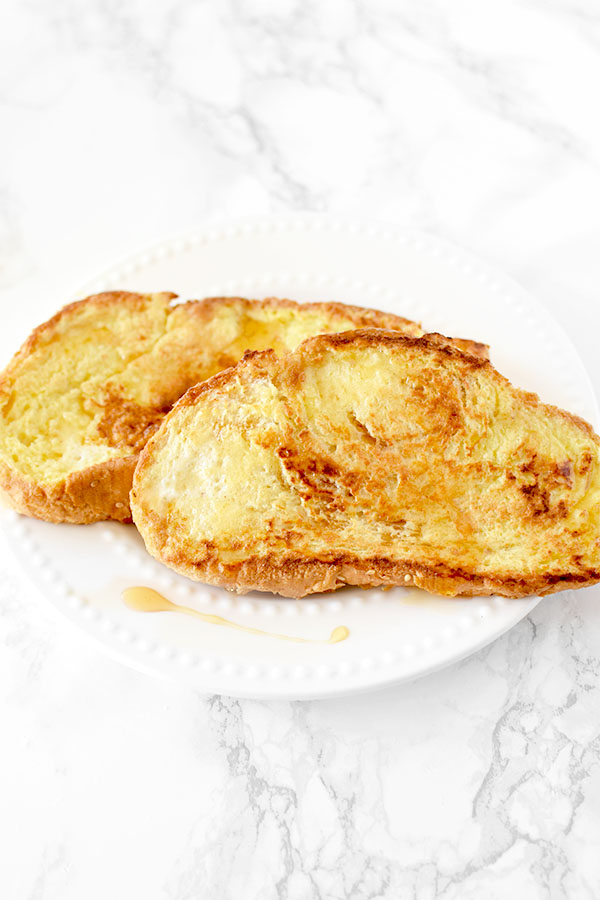 My family loves pancakes but I prefer French toast made using leftover challah bread.
Growing up my mom made this dairy free French toast made without milk or butter and it's my favorite way of making it to this day.
My mom's original recipe just called for eggs and bread. However, vanilla was added in when I was a teenager which I think makes it perfect.
Did you know, that French toast actually dates back to ancient Rome?
A recipe from the recipes the 4th or 5th century says to fry bread soaked in milk and beaten egg in oil and cover with honey.
There is also a 14th-century German recipe called "poor knights," a 14th century French recipe, and an Italian 15th-century recipe.
Today it is known in France as as pain perdu which means "lost bread," because the stale bread that is used for it would otherwise be "lost."
There are 15th-century English recipes for pain perdu, which means it's had this name for a long time and the dish made it's way to England and from there, to America.
While in America it is a breakfast dish, in France it is for breakfast, for afternoon tea, or for dessert.
Sometimes cheese is incorporate into the recipe and then it is served as a starter or main course for lunch or dinner.
It is also often topped with sugar or powdered sugar in France unlike in North America where it is usually served with syrup.
Why do you need milk for French Toast?
You don't need milk for French toast, and French toast can be made without milk. All you need is a liquid to soften and saturate the bread.
Since this is done with egg in French toast the milk is not necessary. It's mostly used to water down the eggs.
Recipe Tip:
If you want you'res soggy in the middle, double the water in this recipe. Then let each piece sit in the mixture for a number of seconds before removing.