This Shakshuka for one is an individual portion just like you'd find served in most Israeli cafes. Not only is this recipe tasty, but it is also extremely healthy, filling, and low in calories!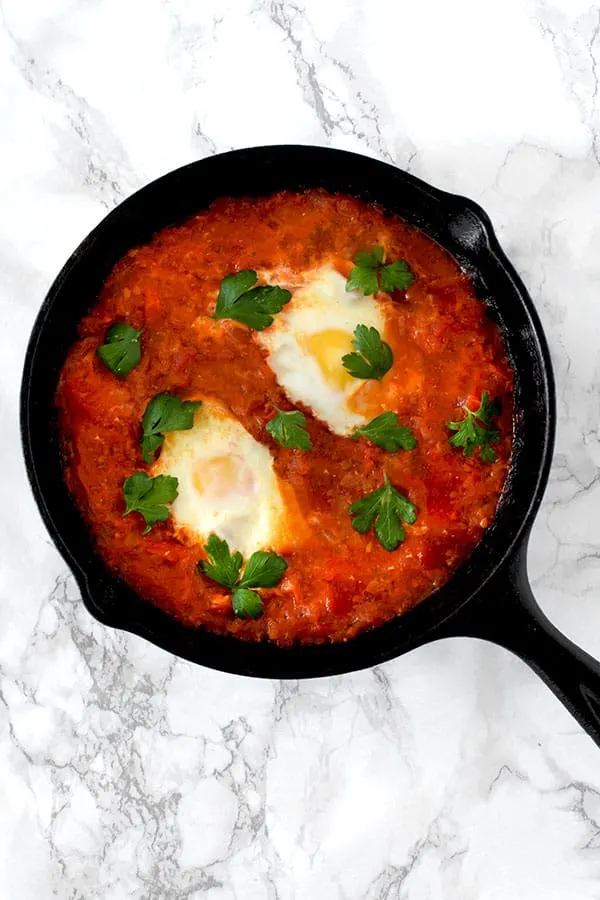 I've been making Shakshuka since I was a teenager.
Now whenever I make it, I think of my favorite cafe.
It's a charming hole in the wall hidden on one of Jerusalem's back streets in the heart of town.
To find it, you have to know where you are going and climb a flight of stairs marked by a simple sign.
When you do reach it, you are welcomed by a small sitting area with a handful of little two-person tables.
Despite being located in the center of town, this cafe is as quiet as it is quaint.
There are also two doorways that lead to the most warm indoor sitting areas I've ever seen.
What is striking about this space is that there are used books everywhere.
I've always wanted to sit in these spaces to eat in one of the cozy armchairs, and each time I promise myself that I will next time I come. However, there is nothing like sitting in the bright Jerusalem sunlight and I can never help myself.
Whenever I eat there, I order a delicious breakfast of fresh bread and an array of spreads. However, without fail, any friend I am with orders the Shakshuka for one and which is almost as good as this recipe.
Some Shakshuka recipes call for bell peppers and feta cheese and you may even find such a thing served in Israeli cafes for tourists.
This recipe does not because it is an authentic Israeli Shakshuka recipe like you'd find in Israeli homes and cafes.
For a larger recipe to serve when you have friends and/or family over, try my regular-sized Israel Shakshuka. It never fails to impress.
Recipe Tip
While cast iron isn't traditional cookware used in the Middle East, I find that it is great for serving Shakshuka.
Unlike other metals, cast iron keeps the dish hot longer, so it's kept hot until it's done.
Whenever I make this recipe, I cook it in my 8" skillet and eat right out of the skillet.