Israeli Shakshuka is extremely easy to make, and this recipe is bound to impress. Shakshuka can be eaten any time of day and is perfect for brunch. In addition, this Israeli classic is filling, healthy, and incredibly low in calories.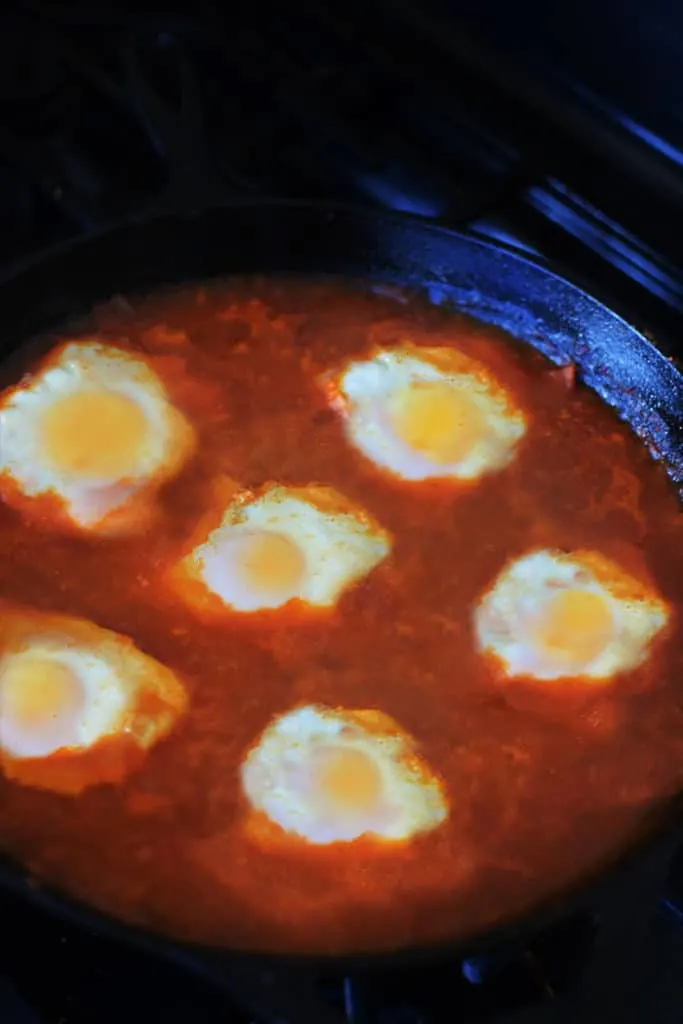 I love Shakshuka! I love everything about it! Really, what's there not to love? It's easy to make, low in calories, and impresses anyone I serve it to.
Most of all I love that it is pretty much impossible to mess up and makes for a great breakfast, brunch, and lunch.
Oh, and did I mention that this dish is my specialty? I don't even order it in restaurants because it never compares to mine.
Shakshuka is one of Israel's most famous dishes, and if you've never tasted it, you're really missing out. It has an extremely rich tomato base, lots of cooked onions, and delicious gooey eggs.
You can make it spicy or mild and it is great either way. For me it just depends on if I have hot peppers on hand. In Israel it is most commonly served not spicy.
Shakshuka is my specialty. I've been making it since I was about 16 or 17 years old. Any time we had a few soft tomatoes, I'd make myself Shakshuka for one.
Recipe Tip:
If you want to drastically cut the cooking time on this dish, use canned tomatoes.
Also, covering the frying pan with a lid or tinfoil after adding the eggs will really shorten their cooking time.
However, covering the egg will also cause them to look poached instead of like Sunny-Side-Up.
Shakshuka SNAFU:
The big mess-up I did when making this dish is that I didn't make sure the sauce was very thick.
This caused the eggs to sink into the sauce and take forever to cook.
The quick fix for this is either to lift the eggs out of the sauce once they start to cook or to cover them like in the tip above.