Israeli rice and beans is a delicious savory dish flavored with cumin and sweet paprika. It can be eaten on its own or as a side to complement meat or chicken.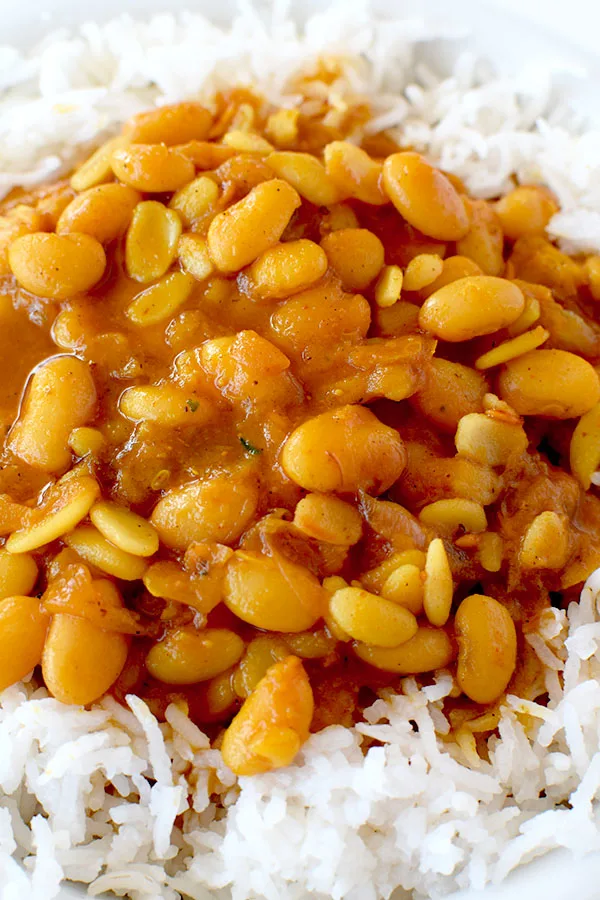 Israeli rice and beans was created by Sephardic Jews in the Old City of Jerusalem. Later, adopted by Jews across the country.
To this day it is still a common side dish made in Israeli homes including by my great aunt.
It is one of my favorite side dishes and I often eat it on it's own.
Every year on my birthday, my mom and I go out to eat, just the two of us. I look forward to the one on one time away from the business of life all year.
Before moving to Israel, the restaurant of choice was always Israeli and we'd always order the same thing: chicken shawarma with rice and beans.
Rice and beans is actually not something you'd see on the menu.
For reasons unknown to me, they only list bean soup, which is a less popular dish in Israel.
So, my Mom would ask for them to pour the soup over the rice.
I was always amazed by how much these beans enriched the whole meal.
To this day, Israeli rice and beans is one of my favorite foods!
You can serve it with regular rice, Israeli white rice, or Israeli Yellow Rice.
SORT BEANS
Sorting beans is a good way to make sure that there aren't any pebbles mixed in. While I've yet to find any, my friend has. Better safe than sorry.
DO YOU NEED TO SOAK THE BEANS?
The short answer is, for this recipe, yes.
Not all beans need to be soaked. Smaller ones with thinner skins, like black beans, lentils, and black-eyed peas, can usually skip the soaking step.
At most, you'll have a slightly longer cooking time.
Heftier beans like chickpeas, navy beans, pinto beans, and more, on the other hand, do need to be soaked.
You can sometimes get away with not soaking those beans, but not always.
The older they are, the more likely they will need to be soaked.
However, since we rarely know how old our dried beans are, soaking them is almost always a smart move.
FLOATING BEANS
It's been held for centuries that floating beans are a sign that bugs may have burrowed a hole in it. I always remove floating beans.
Adding Salt
Salt not only adds flavor, but helps beans keep their shape. Bullion powder usually has plenty of salt so I just add a pinch extra.
I also generally believe in adding salt to the finished product or letting each person add their own salt.
As my friend Shosh says, it's much easier to add salt than take it away.
DO YOU really NEED BAKING SODA?
Again, the short answer is yes. There are two reasons for this.
The first is that baking soda softens beans by creating an alkaline environment that helps speed the breakdown of pectin.
Pectin is used by beans and other plants to keep them strong.
Another reason is that areas with hard water are high in calcium and magnesium which slow and even prevent beans from softening.
Baking soda adjusts the pH level of the water, fixing this problem.
All you need is a pinch of baking soda for a pound of beans. Be careful about adding too much.
I once forgot to add the baking soda and the beans took longer to cook. When I remembered, I added it, but within a short amount of time, the beans became so soft really quickly that they ended up a paste.
Pressure Cooker
I love using my pressure cooker. It cuts the cooking time of whatever I'm making down drastically.
Also, if you don't release the pressure valve and let it decompress on it's own, you'll end up with a nicer end product.
I use a pressure cooker for Israeli bean soup, Israeli rice and beans, chicken soup, stews, and more with great results.
HOW TO STORE
When cool, place both rice and beans in separate containers or in an resealable airtight bags. Store in the fridge for 3 to 5 days.
HOW TO FREEZE
Let beans cool completely and place airtight container or a resealable freezer storage bag.
Store for up to 3 months. After that, they are still safe to eat but the quality begins to degrade.
It's best to defrost overnight in the fridge before reheating. However, when I'm in a pinch I do defrost it on the counter.
REHEATING Rice
FRIDGE
When reheating, place the rice in a pot, sprinkle a teaspoon of water over the top to help loosen stuck, dried grains.
Warm over medium heat stirring constantly to keep the grains moving, but be careful not to mash them.
FREEZER
Frozen grains can be added directly to hot dishes like stir-fries. If you're planning on eating it on its own, follow the steps above.