Candied kumquats are both sweet and tart and another layer of flavor added by the rich chocolate. If you want to take it even further sprinkle a pinch of large grained salt on the chocolate.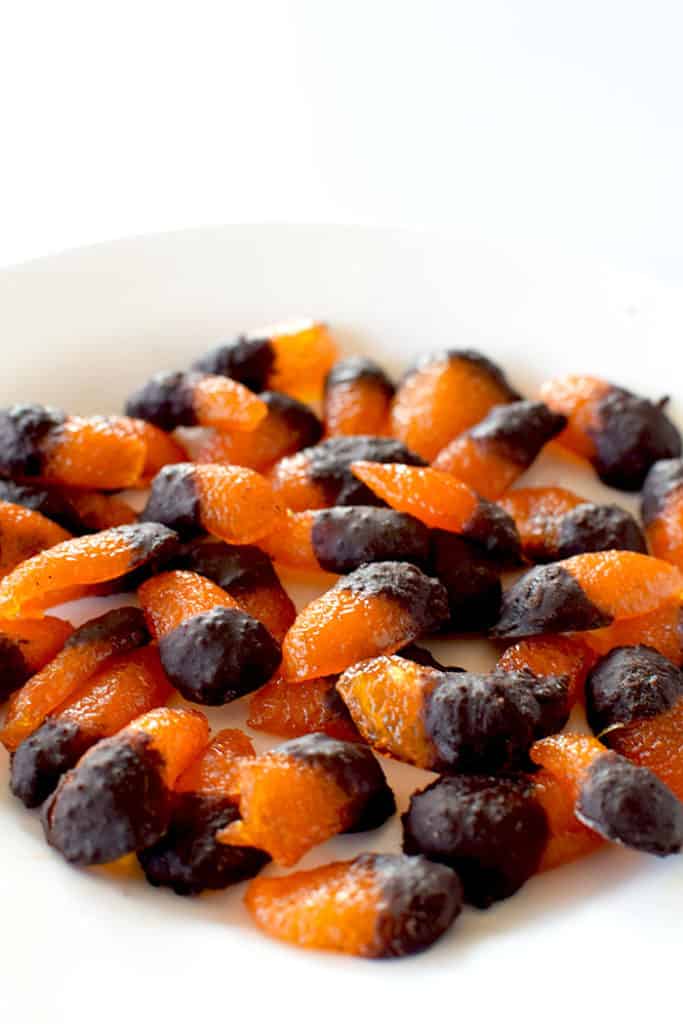 It is kumquat season and one of my neighbors was giving away the small little fruit from her tree.
I've been seeing kumquat trees everywhere and I was drawn to them. I couldn't wait to get my hands on some!
Needless to say I jumped at the opportunity for organic fruit right from the tree.
I admit I was a little over zealous and picked five pounds worth! But as luck would have it yesterday was Tu BiShvat.
In case you've never heard of Tu BiShvat, it is new years for the trees, so people often plant trees or flowers or eat dried and candied fruit and nuts.
So, in honor of this I decided to make these little treats.
To my surprise I found they tasted a lot like chocolate covered candied orange peals which I had been craving.
I'll be honest, this recipe takes a while but it is easy.
So, if you have some free time and love things sweet and sour, you should give these candied kumquats a try!
If you've never heard of kumquats you are not alone!
The first time I ever tasted a kumquat was last winter.
I was surprised to find that it has a sweet skin but a super sour inside and I figured I had just never noticed them.
Then this week I showed a friend all of my fresh picked kumquats and she didn't know what they were either. So I decided to do a little research.
Apparently Kumquat's are from Asian, which explains why most of the recipes I found were in Chinese, Japanese, and Vietnamese.
This also explains the unusual name which comes from gām-gwāt, which is Cantonese for golden orange.
Fun fact: the Hebrew term for kumquat is תפוז סיני (tapouz sini) meaning Chinese orange!
Chocolate Dipped Candied Kumquats Tip:
Save the simple syrup left from the kumquats. It is great to sweeten tea, flavor sparkling water, drizzled on cake, and mixed into dressings and marinades.