Israeli bean soup is filling and perfect for chilly fall nights and cold winter days to warm you up from the inside out.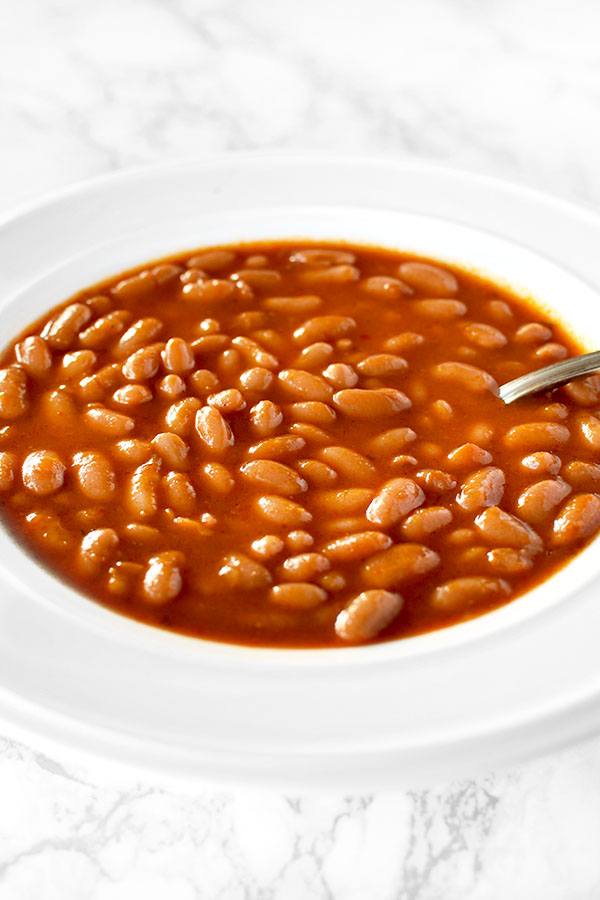 Bean soup is a favorite in Israel.
You won't find it much in restaurants or bargain priced food shops in Israel, but it is commonly made in homes during the winter.
Come to think of it, I have seen bean soup regularly on menus in Israeli restaurants in New York.
I always find New York Israeli restaurants funny because they serve what would would mostly be considered street food here.
Shawarma is a good example of this.
This soup is versatile because it can either be served in a bowl or over rice.
Personally, I prefer it over rice making Israeli rice and beans, but there is no denying that this soup warms you up and fills you up in the winter.
Sort Beans
Sorting beans is a good way to make sure that there aren't any pebbles mixed in. While I've yet to find any, my friend has. Better safe than sorry.
Do you need to soak the beans
The short answer is, for this recipe, yes.
Not all beans need to be soaked.
Smaller ones with thinner skins, like black beans, lentils, and black-eyed peas, can usually skip the soaking step.
At most, you'll have a slightly longer cooking time.
Heftier beans like chickpeas, navy beans, pinto beans, and more, on the other hand, do need to be soaked.
You can sometimes get away with not soaking those beans, but not always.
The older they are the more likely they will need to be soak.
However, since we rarely know how old our dried beans are soaking them almost always a smart move.
Floating Beans
It's been held for centuries that floating beans are a sign that bugs may have burrowed a hole in it. I always remove floating beans.
Do you really need baking soda?
Again, the short answer is yes. There are two reasons for this.
The first is that baking soda softens beans by creating an alkaline environment that helps speed the breakdown of pectin.
Pectin is used by beans and other plans to keep them strong.
Another reason is that areas with hard water are high in calcium and magnesium which slowing and even preventing softening of beans.
Baking soda adjusts the pH level of the water fixing this problem.
All you need is a pinch of baking for a pound of beans.
Adding Salt
Salt not only adds flavor but helps beans keep their shape.
Bullion powder usually has plenty of salt so I just add a pinch extra.
I also generally believe in adding salt the finished product or letting each person add their own salt.
As my friend Shosh says, it's much easier to add salt than take it away.
Pressure Cooker
I love using my pressure cooker. It cuts the cooking time of whatever I'm making down drastically.
Also, if you don't release the pressure vulvae and let it decompress on it's own, you'll end up with a nicer end product.
I use a pressure cooker for Israeli bean soup, Israeli rice and beans, chicken soup, stews, and more with great results.
How to store
When cool, place in an airtight container. Store in the fridge for 3 to 5 days.
How to Freeze
Let the soup cool completely. Store in an airtight container or a resealable freezer storage bag. Store for up to 3 months.
After that the soup is still safe to eat but the quality begins to degrade.
It's best to defrost overnight in the fridge before reheating or in a pot of cold water.