Shawarma seasoning is easy to make at home bringing Middle Eastern flavors right to your kitchen. Use it on chicken, turkey, and lamb.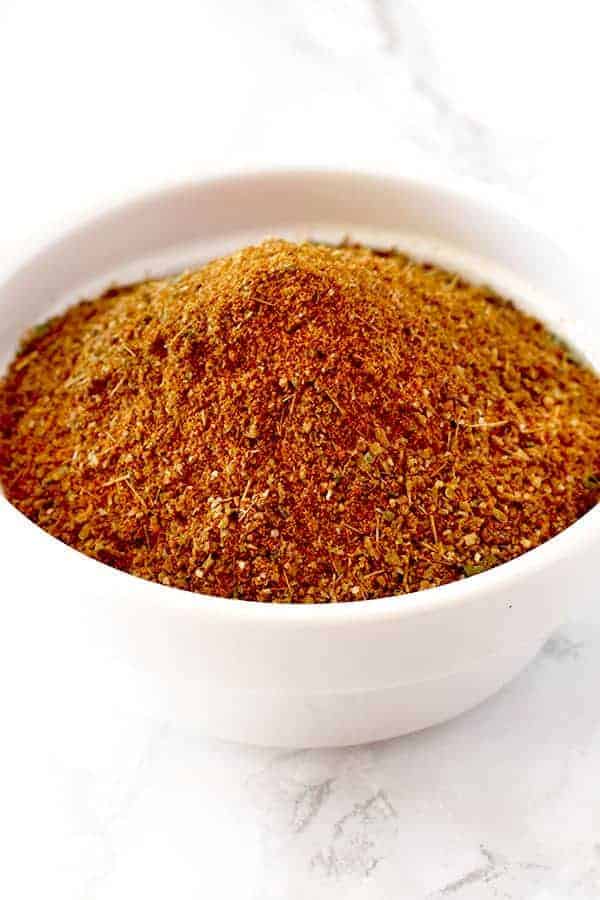 Shawarma is Israel's most popular street food.
In fact, turkey shawarma is so popular that Israel eats the most amount of turkey in the world per capita.
Which by the way, happens to be double what America, the second largest consumer per capita, eats.
Shawarma was made popular across the Western World, especially America, after the day after Avengers parmired.
This is due to Iron Man mentioning during a battle that he wants one and the after credit scene shows the group of heros eating it.
Following this sales skyrocketed by 80% and now the world has fallen in love with one of my favorite foods.

What is shawarma?
Shawarma an incredibly popular street food in Israel and other countries in the Middle East.
It is made by thin slices of meat cuts rubbed with shawarma seasoning, stacked in a cone-like shape, and roasted on a slowly-turning vertical rotisserie or spit.
Thin slices are shaved off the cooked surface as it continuously rotates.
Is this seasoning the type used in Israeli restaurants?
Yes. My seasoning recipe tastes exactly like one of the most popular blends in Israel.
While I've season recipes that call for cinnamon, hot paprika, and even cyan pepper – which is not found in Israel, I've never tasted those flavor notes in shawarma.
Aside from the flavor given by the lamb fat which is usually added on top of the rotisserie for extra flavor, this seasoning it tastes exactly like shawarma I've had at street food vendors.
What do you use shawarma seasoning with?
Originally, shawarma was used on lamb and mutton, now it is also used on turkey, chicken, and even goat.
Each one I've eaten all these forms of shawarma and I can honestly say they are all delicious. Each one brings their own flavor to the table.
Personally though, like most Israelis, I like and eat turkey and chicken shawarma the most.
What it is not ever put on is pork.
This is because due to the Middle East being a primarily Muslim area, pork is not popular.
Even Israel, the only non-predominantly Muslim country is predominantly Jewish which is another religion that forbids the consumption of pork.
How to use shawarma seasoning?
Just sprinkle it on your meat of choice.
If you are roasting, you'll want to rub it around to make sure it is evenly coated.
If you are pan-frying it will coat as you mix the meat around.