Dairy Free Rice Krispie Treats are a fun and easy dessert to make. This have been an American classic since the 1930s.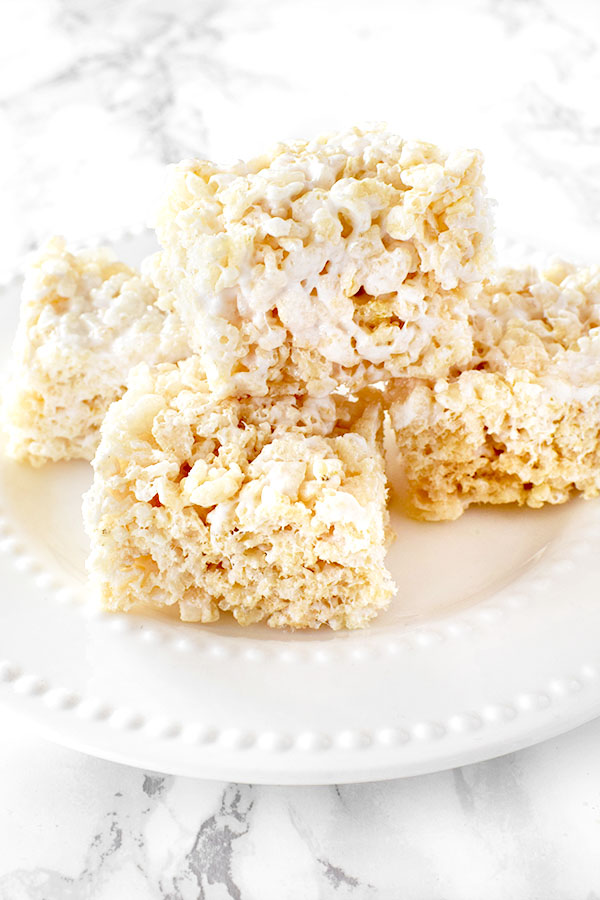 Rice Krispies Treats were invented in 1939 by two women at Kellogg as a fund raiser for Camp Fire Girls.
However, the first time I ever had Dairy Free Rice Krispie Treats was when a neighbor brought a stay over after one of my little brothers were born.
I have five younger brothers, and if it was the brother I think it was, I was 12 at the time.
Mostly, what I remember was coming back to the tray over and over because I liked this new thing so much.
Seeing that we liked it, my Mom started making them too.
Now I make them, however, I'm sure both my Mom's recipe and the neighbors recipe use margarine and I use oil.
Why use Marshmallow Fluff
While many recipes call for marshmallows, my Mom always used marshmallow fluff growing up.
When asked her why she choose marshmallow fluff over marshmallows my Mom's response was "because I'm lazy."
This would sound funny to anyone who knows her because she is the hardest working person I've ever met.
However, when it comes to cooking, she really is lazy because she never enjoyed doing it and was too busy to fuss around.
Marshmallow fluff melts easier and more quickly and is easier to stir and spread into a pan.
What Kind of Oil to Use for Dairy Free Rice Krispie Treats
I use a neutral oil like canola oil or safflower oil. However, you can use coconut oil if you want.