Scrambled eggs with mayonnaise is an easy way to make perfect creamy scrambled eggs! These scrambled eggs are rich, luxurious, and effortless.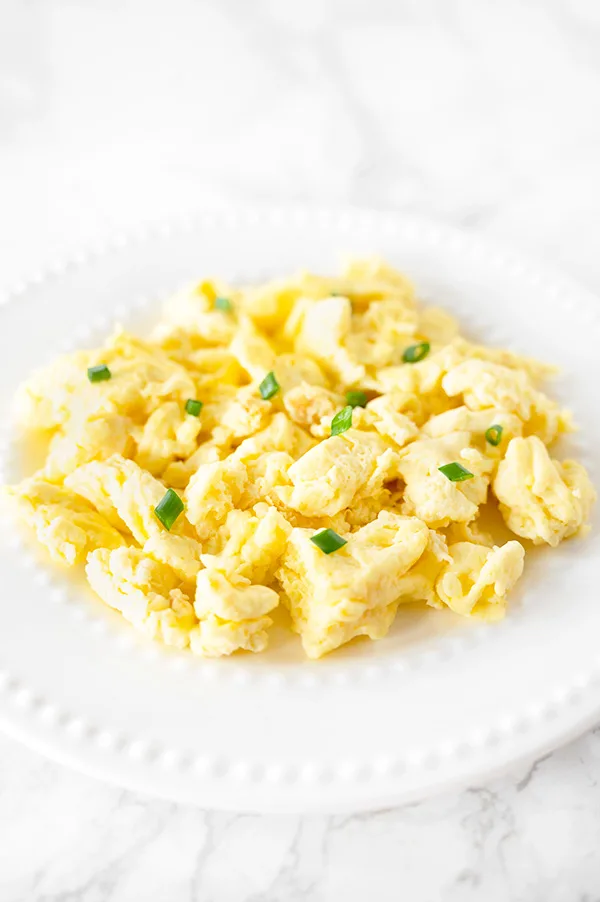 Scrambled eggs with mayonnaise is one of those things that you don't know you were missing your whole life until you discover it.
Mayonnaise is actually a very easy way to create richer, fluffier eggs.
In fact, best foods advertised a recipe in 1972 claiming that using 1 tablespoon of their mayonnaise used to make scrambled eggs gave it a creamy texture.
Of course, the more fat you add to your eggs (whether it's oil, butter, or mayonnaise), the richer and tastier they're going to be. I'm pretty sure I once saw my aunt put something like a quarter of a cup of oil into her perfect scrambled eggs!
Some people don't like mayonnaise, and mayonnaise may seem like an odd thing to put in scrambled eggs. However, since mayonnaise is mostly just eggs and oil, it actually makes perfect sense.
While these scrambled eggs are made with mayonnaise, they do not have have a strong mayonnaise flavor. They do, on the other hand, taste rich and luxurious!
Also, these eggs happen to be dairy free since they are made without milk and without butter.
If you like these scrambled eggs, you may also like my scrambled eggs without milk.
INTERNATIONAL VARIATIONS of Scrambled Eggs
Scrambled eggs are eaten all over the world, and each culture has their own unique version of this simple dish.
HUEVOS A LA MEXICANA
Huevos A La Mexicana are Mexican scrambled eggs. They are made with onions, hot peppers, and tomatoes.
To make it, saute before adding the eggs:
4 tablespoons white onion, chopped
1 Serrano pepper, finely diced
2 Plum tomato, diced
HUEVOS EN SALSITA
Another Mexican variation is scrambled eggs with salsa.
To make this dish, heat 2 cups of mild salsa and add the scrambled eggs to it.
HUEVOS PERICOS
Huevos Pericos, or parrot eggs, are popular in Colombia and Venezuela.
This dish is made with sautéed diced onions, bell pepper, and tomatoes. Scallions are a common substitute or addition to the onions in Colombia.
To make it, saute before adding the eggs:
1 tomato, diced
1 tablespoon onions or scallions, diced
POQUI POQUI
Poqui poqui is a Filipino eggplant and scrambled eggs dish. To make this, you need:
2 eggplant, grilled and shredded
1 small onion, sliced thinly
2 cloves of garlic, minced
2 large Roma tomatoes, diced
Saute the onion and garlic. Then, add tomatoes and cook until soft. When ready, add eggplant. Finally, add the eggs and scramble.
ISRAELI BREAKFAST STYLED SCRAMBLED EGGS
While there is no unique way Israelis make scrambled eggs, it is often served with Israeli salad on the side. Alternatively, it is served with slices of cucumbers and tomatoes.
JAPANESE STYLED SCRAMBLED EGGS
In Japan, soy sauce is added to scrambled eggs to enrich their flavor.
To make this style of eggs, add two teaspoons of soy sauce to the beaten eggs.
STIR-FRIED TOMATO AND SCRAMBLED EGGS
This scrambled egg dish is popular in China. To make it, you need:
3 ripe tomatoes, chopped
3 cloves garlic, minced
1 pinch sugar
Once the scrambled eggs are prepared, sauté the tomatoes and garlic until the tomatoes are mushy. Add the scrambled eggs to the tomato mixture and sprinkle with sugar.
POPULAR ADDITIONS TO SCRAMBLED EGGS
People put all sorts of vegetables and herbs in eggs.
Most common additions are mushrooms, peppers, and spinach – not all at once.