This Apple Spinach Salad is perfect for any autumn day and especially Thanksgiving! Serve on its own or as a starter to your Thanksgiving feast.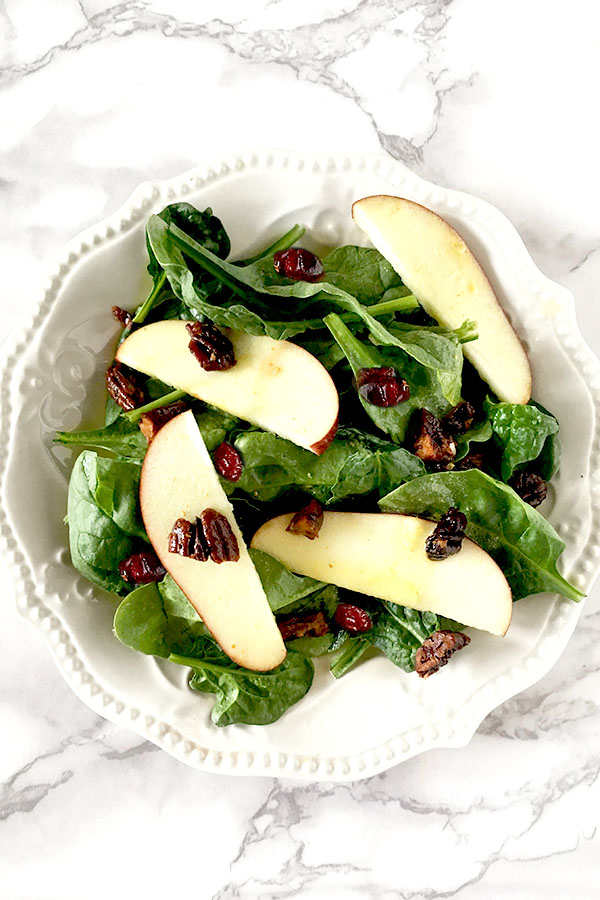 Apples are both an iconic part of American culture and the fall.
While only crab apples are originally native to America soon after settlers planted seeds they brought with them of hundreds of new native varieties emerged.
Then, John Chapman, better known as Johnny Appleseed, furthered the spread of apple trees from the East Coast and into the Midwest.
Today the United States is one of the largest apple producers in the world.
I always loved the idea of doing a four course Thanksgiving dinner consisting of a soup, salad, main, and dessert.
While that hasn't happened just yet, this apple Spinach salad is perfect for it!
Between the apples and Thanksgiving's classic cranberries making a sweet appearance can you imagine a more perfect salad for it?
Of course, you don't need to wait until Thanksgiving to enjoy it!
The first time I made it was at the beginning of September when the weather was just starting to become crisp and the leaves were just starting to change colors.
I used candied pecans when photographing this recipe but you can just as easily use plain walnuts.
While I love candied pecans walnuts add another layer of color that the pecans don't.
They also add a different flavor to the already sweet dish. So, the choice is yours.