Learn how to make apple cider vinegar at home with this easy recipe. All you need are apple cores or scraps, water, sugar, and a clean jar. When it's ready you can use it for recipes or it's many health benefits.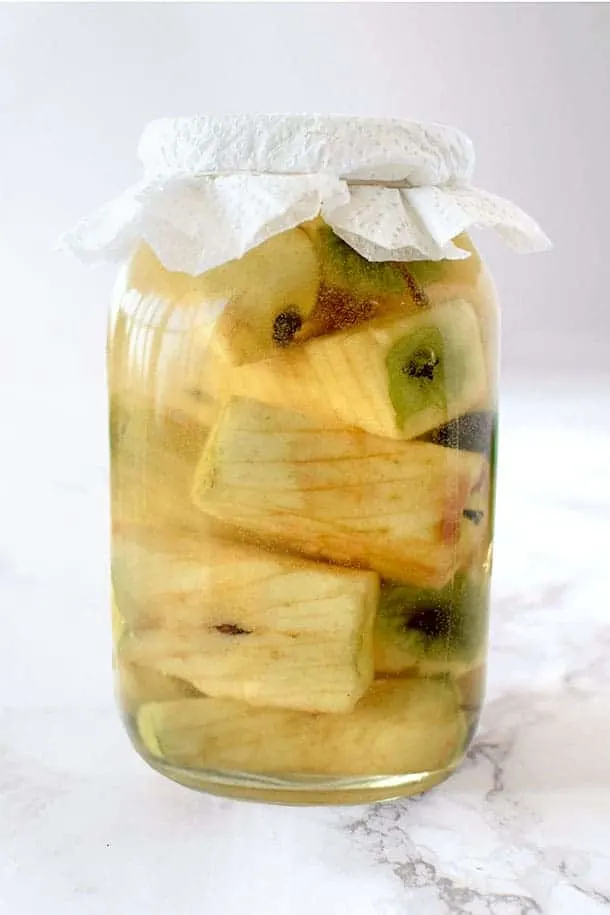 Apple cider vinegar is known for it's abundance of health benefits and uses.
It's been known to lowers blood sugar level to help fight diabetes, lead to lose weight, lower cholesterol, and improve heart health.
Whether used for medicinal purposes, to aid in weight loss, or in a vinaigrette, this is great to keep around.
This easy to make recipe uses scraps leftover from apple pie and apple cobbler so nothing goes to waste.
I only use the apple cores so I can make apple simple syrup with the peels. However, if you prefer you can use the peels too.
Some people recommend not using peels unless they are organic.
Other things you can easily make at home are:
Recipe Tip:
You can use this batch to start another which will help it ferment more quickly. Do so by saving "the mother" that has floated to the top.
Or, alternatively, use a small amount of this finished apple cider vinegar to start a new batch.