Whether you're making dairy free apple pie for the 4th of July, Thanksgiving, or just because, this dairy free dessert couldn't be easier. Serve with a scoop of ice cream on the side.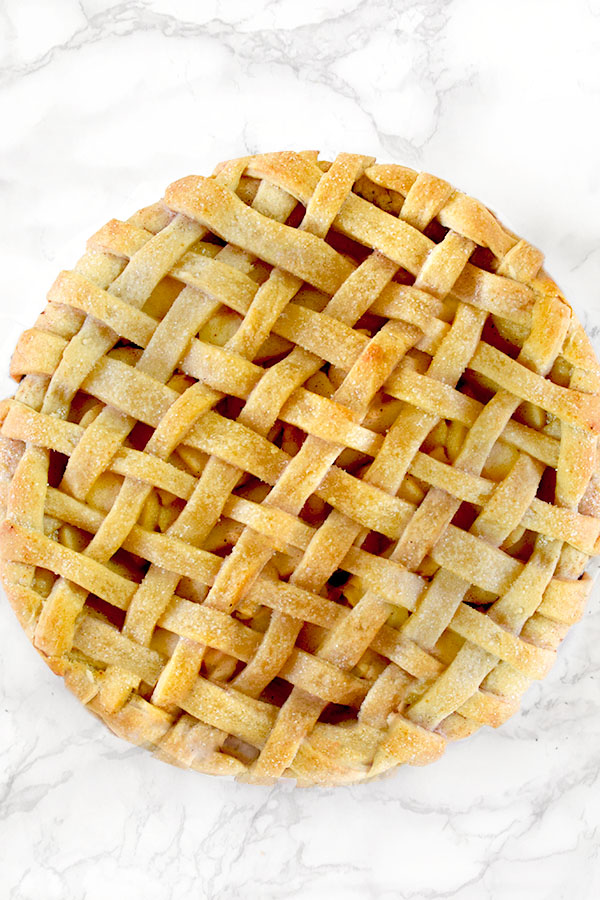 While the earliest known apple pie recipe is from England dating back to 1381, it wasn't what we'd think of as apple pie today. It included not only apples and spices but also figs, raisins and pears.
The Doutch style was in some ways more similar to the American apple pie we know today. It often only used apples in its pie, it did call for cream, a laundry list of spices, and was often topped with a crumb topping.
However, apple pie has been a cornerstone of American culture since English and Dutch settlers came to the New World.
Since the only native apple is the crab apple Eurpoeans had to wait for the varieties they brought with them to grow into trees and bear fruit. However, these trees quickly led to the development of hundreds of new native varieties.
The truth is, even after the settlers had apples they mainly used it for cider. It only started to really gain popularity around the time colonists declared their independence.
While apple pie was particularly common in 18th-century Delaware and American apple pie recipes, both manuscript and printed, from throughout the young country.
Then, in the 1920s, the phrase as American as apple pie started to appear in print. By World War II, soldiers declared that they were fighting "for mom and apple pie."
What type of apples are used
Usually tart apples like Granny Smith apples are used because they hold their shape better than sweet apples. Other apples include Braeburn, Gala, Cortland, Bramley, Empire, Northern Spy, and McIntosh.
How thin to slice apples
Apples should be cut as thin as a quarter to half inch slices. I really like using a peeler and corer machine for this because it gets the slices just right and saves loads of time.
Why pre-cook the apples
By pre-cooking the apples before baking them they actually stay firmer. I know it sounds counterintuitive but trust me it works. This is because an enzyme naturally present in the apples will convert the pectin in the cell walls into a heat-stable form.
You do this on the stovetop but you risk over-heating them and turning them into apple sauce. Or in the microwave, but its a bit of a hassle. Sous-vide is a great option but it takes an hour.
So, I recommend using the hot water method which is pretty much you pouring boiling hot water over the apples and letting them sit covered for 10 minutes.
Why add lemon juice
Lemon juice helps prevent the apples from browning. If you don't have it, it's not the end of the world. I don't always use it but apples here in Israel also don't seem to brown as quickly either.
WHY IS IT TAKING LONGER THAN DESCRIBED TO BAKE?
Over time the thermostat on ovens gets a little off causing some ovens to run hot and others to run cool. This is why recipes tend to say things like "10 to 15 minutes or until golden brown."
So, if it takes you longer than expected that's fine, don't worry about it, just keep baking until ready.
Make ahead of time
A freshly baked pie can stay fresh on the counter for up to two days and in the fridge for up to five days. Covering it loosely with plastic wrap will help it stay fresh as long as possible.
How to store
Wait until the pie as fully cooled – about two hours. Loosely covered with foil or plastic wrap and store in the fridge for up to five days.