Roasted beets and carrots recipe is an easy and healthy side dish that adds color and a sweet touch to your fall and Thanksgiving table.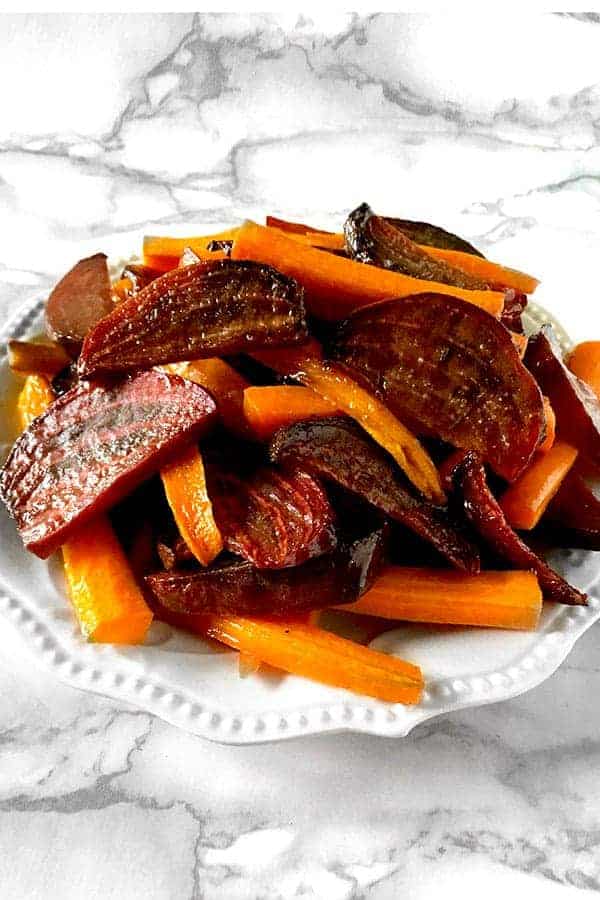 When I think of autumn my mind fills with memories of the leaves turning in New York and New England.
Every October and November I became obsessed with the colors I'd see while walking, on a bus, driving, or outside a subway window.
I loved admiring the deep reds, bright oranges, vibrant yellows, and even the occasion purples.
My last autumn living in New York was an extremely long one.
The leaves started to turn in August and stayed until December.
I saw it as a goodbye gift.
When I moved to Israel the first thing I missed terribly were summer rains, but come October, I became desperate for color.
As I rode buses or walked through Jerusalem I'd keep a sharp eye out for any change in the leaves.
I saw some red leaves on bushes here and there and occasional colorful leaves but not quite as vibrant.
Years later, come fall, I still look for changing leaves, though not quite as desperately as before.
I still ache for the colors, even more than my skin craves the summer rains, but I make do in other ways.
Mostly, by having vibrant fall foods on my table not the least of which are these burgundy color roasted beets and bright orange roasted carrots.
I think this is a particularly nice side dish to have as part of a Thanksgiving spread due to the colors.
Make ahead of time
You can make this dish a few days in advance and store them in an airtight container or resealable bag for a few days.
Then when ready them out on a baking sheet, drizzle with olive oil, and bake at 450 degrees for 4 or 5 minutes.
Or, if you you can prep them ahead of time by cutting them up a day or two before. Then roasting as directed shortly before you are ready to serve them.
WHY IS IT TAKING LONGER THAN DESCRIBED TO Roast?
Over time the thermostat on ovens gets a little off causing some ovens to run hot and others to run cool.
This is why recipes tend to say things like "10 to 15 minutes or until golden brown."
So, if it takes you longer than expected that's fine, don't worry about it, just keep baking until ready.
HOW TO STORE
Let cool. Then place in an air tight container or resealable plastic bag. Refrigerate for up to 3 to 5 days.