Cinnamon and Brown Sugar Roasted Butternut Squash is quick and easy to make. Filled with autumn flavor it makes a wonderful addition to your fall and Thanksgiving table.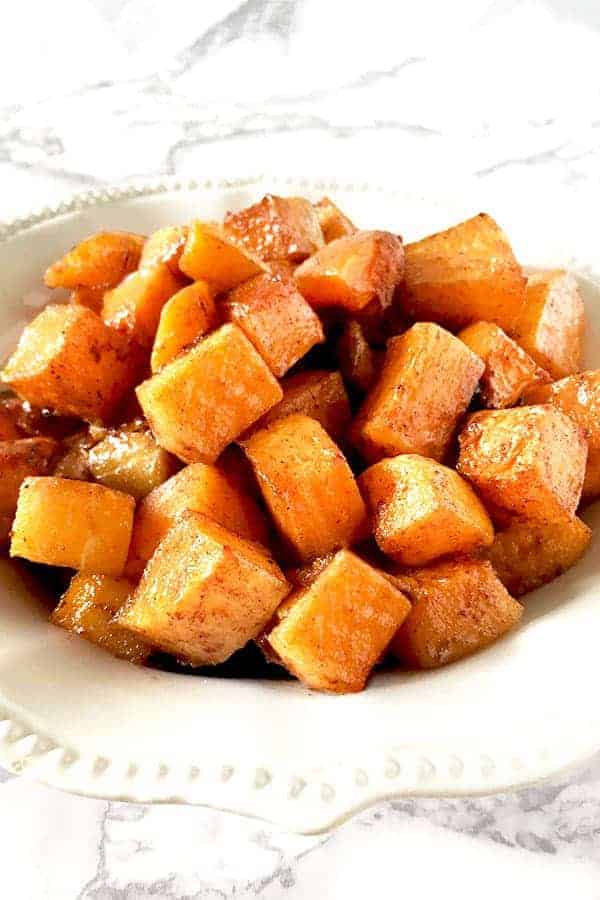 Butternut squash is my favorite winter squash.
I have no idea why it's called butternut squash but I love its sweet flavor when roasted.
I also adore how versatile it is since you can roast it, puree it, or make butternut squash soup.
With the puree you can make butternut squash muffins, butternut squash bread, and butternut squash pie!
Also, since its native to Massachusetts I think it makes the perfect addition to the Thanksgiving table.
Since I love themes I try to keep all my Thanksgiving foods native the Americas and the closer to Plymouth the better!
Turkeys, butternut squash, and cranberries are all native to Massachusetts.
In fact, Plymouth Country still has wild turkeys and cranberry bogs.
On my last visit I even picked a cranberry straight out of the water and ate it fresh. It was surprisingly tart.
This roasted butternut squash on the other hand is sweet without being too sweet.
It's also filled with classic fall flavors like brown sugar and cinnamon.
Not to mention is beautiful orange color is a lovely addition to any meal.
Make ahead
The best way to make this recipe ahead of time is to prep by peeling and cutting the squash up to a few days before hand.
Store in an air tight container or resealable plastic bag.
When ready to use remove and cook as directed.
WHY IS IT TAKING LONGER THAN DESCRIBED TO Roast?
Over time the thermostat on ovens gets a little off causing some ovens to run hot and others to run cool.
This is why recipes tend to say things like "10 to 15 minutes or until golden brown."
So, if it takes you longer than expected that's fine, don't worry about it, just keep baking until ready.
How to store
Place cooled squash in an air tight container or resealable plastic bag. Refrigerate for up to 3 to 5 days.
how to freeze
Place cool cooked squash airtight container or heavy-duty freezer bags. Store for 10 to 12 months for best quality.
After that will remain safe to eat but the quality will begin to degrade.