This butternut squash pie is as smooth and flavorful as pumpkin pie but with the addition of brown sugar and vanilla it brings something different to the table.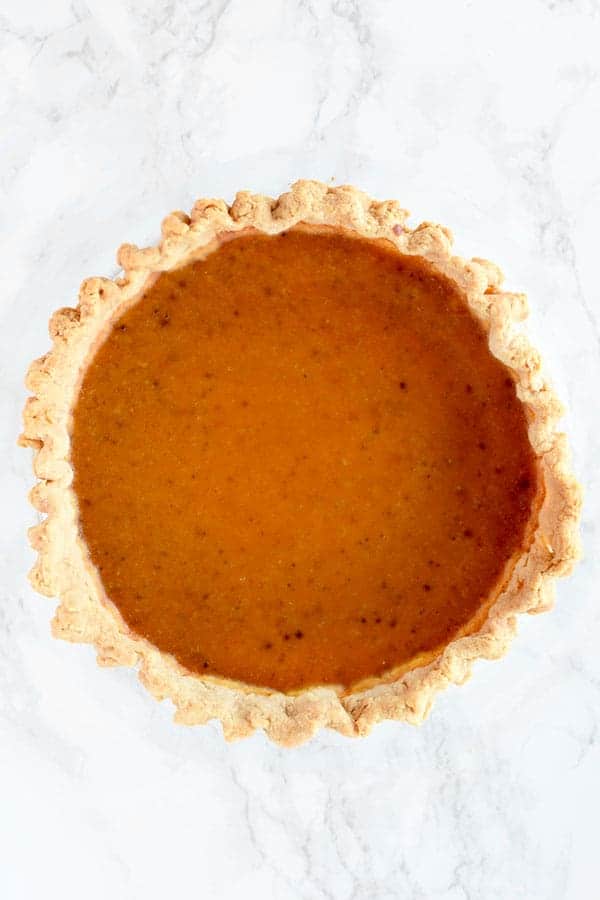 I started making butternut squash pie after moving to Israel when I was desperate for a replacement to canned pumpkin pie filling. After some research I discovered butternut squash was my best alternative and the pie came out perfect.
However, I got to thinking. If I was going to already make a pie with butternut squash instead of pumpkin, maybe I could try tweaking the recipe a little too. No surprise, the pie came out great!
Don't forget to checkout these other dairy free desserts!
WHY MAKE BUTTERNUT SQUASH PIE
The main benefit to making butternut squash pie instead of canned pumpkin pie filling is that it's more natural. You don't need to worry about the metal cans or preservatives.
The other benefit is that it's something a little different. If you've ever read my pumpkin pie post, you know that you can make a great pumpkin pie by using butternut squash.
The reason for this is because the Dickinson pumpkin used for fillings is very genetically similar to a butternut squash. They have the same smooth orange flesh and creamy texture when roasted.
So, to make this pie a little different I added brown sugar and vanilla.
This pie makes a very nice addition to Thanksgiving spreads and to Thanksgiving Recipes in your collection.
THE FILLING
Like a pumpkin pie, the hardest part of making a butternut squash pie is the custard filling.
A custard is defined as a "milk or cream cooked with egg yolk to thicken it" and it can be a little tricky to make.
If you've ever tried to make pumpkin pie before you may have gotten cracks in it or served it fallen and maybe even a little wet.
The first step, to avoiding extra liquid on top, is to make sure the custard isn't too thin. To do this I add a little bit of corn or potato starch.
Next, make sure to bake it at a low temperature.
The pie usually falls because it rises too high when baking, due to the higher temperature, then as it cools, it falls.
By baking it on a lower temperature it stays more even and doesn't fall.
Lastly, cracks are due to over-baking or baking too close to the heat source.
To avoid this, bake on the middle rack and turn off the heat as soon as the pie has set in the middle.
THE CRUST
Another problem a pies can have is that it's prone to having is a soggy crust. One technique used to have a perfect crust is blind baking it.
Do this by first covering the crust with baking paper or tin foil and filling it with pie weights, sugar, beans, or pennies and bake at 375°F or 190°C30 minutes.
Then remove the filling and bake for another 10 minutes to brown the bottom.
While the crust is still hot, you can brush it lightly with egg whites.
Let them set and do not add the filling until the crust has cooled completely.
Doing this creates a barrier for the filling.
DAIRY FREE Butternut Squash PIE
As mentioned above, a custard requires milk or cream. Usually pumpkin pie calls for evaporated milk. Clearly, this is not possible when making a dairy free pumpkin pie.
A good substitute is coconut milk due to its cream like consistency. Other milks alternatives are too thin. Don't worry though, you cannot taste the coconut at all.
If you do not want to use coconut milk you can use a dairy free whipping cream.
My Mom made her pumpkin pie this way long before I heard of coconut milk.
However, since dairy free whipping cream is sweetened, cut the sugar by half a cup.
Can It Be Stored at room temperature?
No. It has a custard filling, so it needs to be refrigerated.
HOW TO STORE
Let cool to room temperature. Cover loosely with plastic wrap or foil. Refrigerate for up to 3 to 4 days.
How to Freeze
Let cool Let cool to room temperature. Wrap in plastic wrap until tightly sealed. Then wrap in a layer of aluminum foil.
If you do not have plastic wrap and aluminum foil, place it in a resealable freezer bag.
Place on a level freezer shelf and freeze for up to 1 to 2 months. After this, the pie is still safe to eat but the quality begins to degrade.
Defrost
When you are ready to defrost the pie, transfer it to the refrigerator. Let thaw for at least 12 hours.