Whether you're making pecan pie for Thanksgiving or just because you're craving some, this recipe couldn't be any easier! Serve as a dessert, alone or with a big scoop of vanilla ice cream.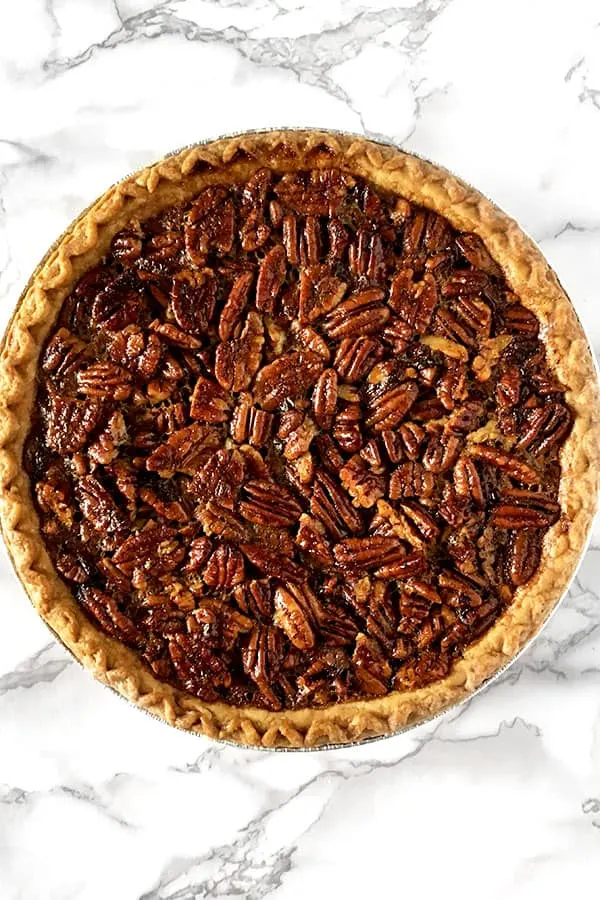 Surprisingly, there isn't much known history about this southern classic. The earliest found recorded recipe wasin Mary Randolph's The Virginia Housewife published in 1824 for a pecan custard pie.
However, pecan pie did not truly popular until the 1930s. It's rise to fame was due to Karo corn syrup printing a recipe on their labels.
Karo claimed that the dish was created by corporate sales executive's wife as a "new use for corn syrup." While she may have been the first to make pecan pie with corn syrup, there are older recipes for pecan pie that call for darker sugar-based syrup or molasses.
The Pecan pie came to be closely associated with the culture of the Southern United States in the 1940s and 1950s. No one seems to know why, but my guess would be that it's because pecans are native to the South.
Today it is eaten year-round but like sweet potato pie, it is especially popular in the South around Thanksgiving.
Pecan pie can certainly be found in the North, pumpkin pie is our classic Thanksgiving dessert.
Why not use corn syrup?
There are three reasons that I can think of as to why someone would not use corn syrup.
First, you don't have it on hand. Maybe you ran out or maybe you just don't use it enough to buy it. Living in Israel I never have corn syrup on hand because it is hard to find and over priced.
Second, some people prefer not to use corn syrup because of claims that it even less healthy than syrup. This claim actually doesn't have any scientific foundation. They are both pretty equally unhealthy for you.
Third, some prefer not use corn syrup because corn is more often than not genetically modified. According to Medical News Today since GMO's are so new, little is known about the long-term effects and safety.
TYPES OF SUGAR
There are many different types of sugar, including white sugar, brown sugar, vanilla sugar, powdered sugar, and demerara sugar.
When a recipe (any recipe, not just mine) says "sugar" without specifying anything else, it is regular white sugar.
WHITE SUGAR
White sugar (sometimes called granulated sugar, table sugar, or white granulated sugar) is made of either beet sugar or cane sugar, which has undergone a refining process. It is the easiest to find and
most commonly used.
BROWN SUGAR
Brown sugar is white sugar with molasses added to it. It is commonly used in chocolate chip cookie recipes, and it's rare for a recipe that calls for brown sugar not to also call for white sugar as well.
When a recipe calls for "brown sugar" but doesn't specify what type (light or dark), it is referring to light brown sugar.
In my recipes, you can use whatever type of brown sugar you have on hand whether it is dark brown sugar, light brown sugar, or demerara sugar – which is very common in Israel. Just keep in mind that the flavor and color will be slightly different depending on what you choose to use.
VANILLA SUGAR
Vanilla sugar is not very common in the States. However, it is common in Israel and parts of Europe. This is sugar that sat for an extended period of time with vanilla beans, giving it a vanilla flavor.
POWDERED SUGAR
Powdered sugar, sometimes known as confectioners' sugar, is a sugar with a powdered texture. This sugar is rarely, if ever, used for baking. Instead, it is used for dusting desserts and making frosting and icings.
In some countries, you can also find powdered vanilla sugar. It is made the exact same way regular vanilla sugar is made. However, the sugar used is powdered instead of granulated.
VANILLA EXTRACT VS VANILLA SUGAR
In my recipes, I don't specify what kind of vanilla to use. The reason for this is that in the States, vanilla extract is exclusively used while in Israel along with many European countries, vanilla sugar is common.
THE CRUST
Pecan pie is prone to having is a soggy crust. One technique used prevent this is blind baking it. Do this by first covering the crust with baking paper or tin foil. Then, fill the crust with pie weights, sugar, beans, or pennies and bake at 375°F or 190°C 30 minutes. Next remove the filling and bake for another 10 minutes to brown the bottom.
While the crust is still hot, you can brush it lightly with egg whites. Let them set and do not add the filling until the crust has cooled completely. Doing this creates a barrier for the filling.
Adjusting for a Convection Oven
An ordinary oven cooks by enveloping food in hot, dry air. This air heats the outside of the food, and then slowly penetrates to the inside of the food until it's cooked all the way.
Now, in a convection oven, the fan produces extra energy. It takes the hot air and blows it around, producing around 25 to 30 percent more energy, depending on the fan's power.
Regular ovens also can have hot spots, but the fan in a convection oven will circulate the air to help even out the temperature variances.
Since convection ovens produce more heat, you need either lowering the temperature or shortening the cooking time to compensate.
When recipes specify temperatures and cooking times, it's for conventional ovens. Of course, this is unless the recipe is specifically for convection ovens.
The simplest method is to set the oven 25ºF to 50ºF lower than the recipe says.
A simple rule to follow is to lower the temperature by 25ºF when baking cookies and pies, but 50ºF when roasting meats. Some convection ovens offer separate settings for baking and for roasting.
You can also leave the temperature the same and instead shorten the cooking time by 25 percent. For example, if your recipe calls for 60 minutes in the oven, check the food after 45 minutes instead.
However, keep in mind, some convection ovens actually make a heat adjustment for you. That is, if you set a convection oven for 350ºF, it might actually set itself to 325ºF to compensate. So, check your manual before making adjustments.
WHY IS IT TAKING LONGER THAN DESCRIBED TO BAKE?
Over time the thermostat on ovens gets a little off causing some ovens to run hot and others to run cool. This is why recipes tend to say things like "10 to 15 minutes or until golden brown." So, if it takes you longer than expected that's fine, don't worry about it, just keep baking until ready.
Can it be left out at room temperature?
Pecan pie can be for a day or so at room temperature. So, if you you are serving the pie the same day or the day after you make it there is no need to refrigerate it.
Make ahead
Yes. You can make this pie 1 to 4 days in advance. After baking allow it to completely cool, then cover tightly. If you are making it more than one day ahead chill it in the fridge and bring to room temperature before serving.
How to store
After baking allow it to completely cool. Then cover tightly with plastic wrap or aluminum foil and place in the fridge. The pie will keep for up to 4 days. After that it is still safe to eat but the quality will begin to degrade.
How to freeze
After baking allow it to completely cool. Then cover tightly with plastic freezer wrap, aluminum foil, or place in heavy-duty freezer bag. The pie will keep for 2 or 3 months. After that it is still safe to eat but the quality will begin to degrade.