Dairy Free Pecan Pie is perfect for the holidays and year-round. This recipe is simple to make and even has a very easy dairy free pie crust to go with it.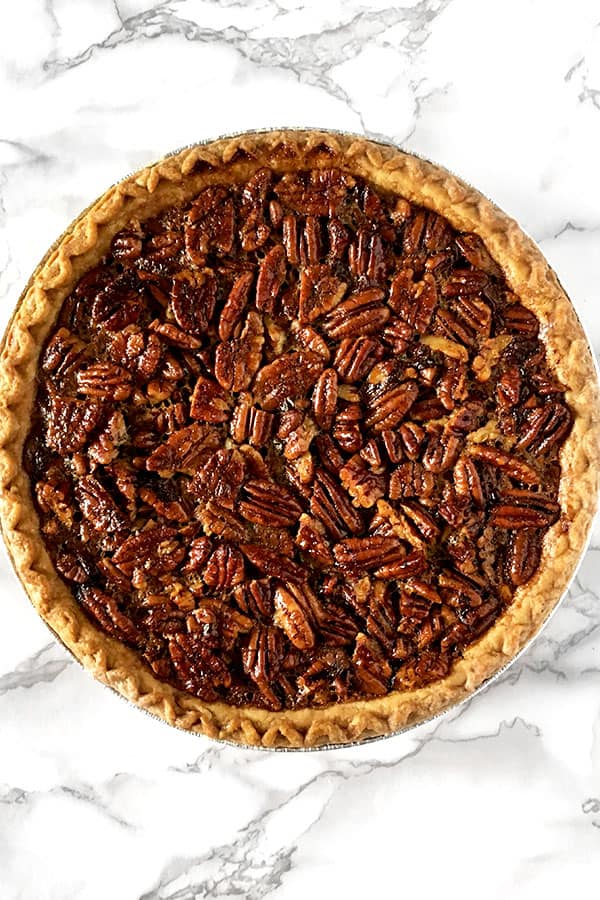 Dairy free pecan pie is one of my favorite fall desserts. I also love how easy it is to make and has less things likely to go wrong than other pies.
Surprisingly, there isn't much known history about this southern classic. The earliest found recorded recipe was in Mary Randolph's The Virginia Housewife published in 1824 for a pecan custard pie.
Karo claimed that the dish was created by corporate sales executive's wife as a "new use for corn syrup."
While she may have been the first to make pecan pie with corn syrup, there are older recipes for pecan pie that call for darker sugar-based syrup or molasses.
The Pecan pie came to be closely associated with the culture of the Southern United States in the 1940s and 1950s.
No one seems to know why, but my guess would be that it's because pecans are native to the South.
Today it is eaten year-round but like sweet potato pie, it is especially popular in the South around Thanksgiving.
Pecan pie can certainly be found in the North, pumpkin pie is our classic Thanksgiving dessert.
If you don't have corn syrup make sure to check out my dairy free recipe for pecan pie without corn syrup.
THE CRUST
Pecan pie is prone to having is a soggy crust. One technique used prevent this is blind baking it.
Do this by first covering the crust with baking paper or tin foil. Then, fill the crust with pie weights, sugar, beans, or pennies and bake at 375°F or 190°C 30 minutes.
Next remove the filling and bake for another 10 minutes to brown the bottom.
While the crust is still hot, you can brush it lightly with egg whites. Let them set and do not add the filling until the crust has cooled completely.
Doing this creates a barrier for the filling.
CAN IT BE LEFT OUT AT ROOM TEMPERATURE?
Pecan pie can be for a day or so at room temperature.
So, if you you are serving the pie the same day or the day after you make it there is no need to refrigerate it.
MAKE AHEAD
Yes. You can make this pie 1 to 4 days in advance.
After baking allow it to completely cool, then cover tightly.
If you are making it more than one day ahead chill it in the fridge and bring to room temperature before serving.
HOW TO STORE
After baking allow it to completely cool. Then cover tightly with plastic wrap or aluminum foil and place in the fridge.
The pie will keep for up to 4 days. After that it is still safe to eat but the quality will begin to degrade.
HOW TO FREEZE
After baking allow it to completely cool.
Then cover tightly with plastic freezer wrap, aluminum foil, or place in heavy-duty freezer bag.
The pie will keep for 2 or 3 months. After that it is still safe to eat but the quality will begin to degrade.