Dairy free sweet potato pie is not only a perfect dessert for a dairy free Thanksgiving but also year-round. This one bowl recipe couldn't be easier and is more likely to come out picture perfect than most.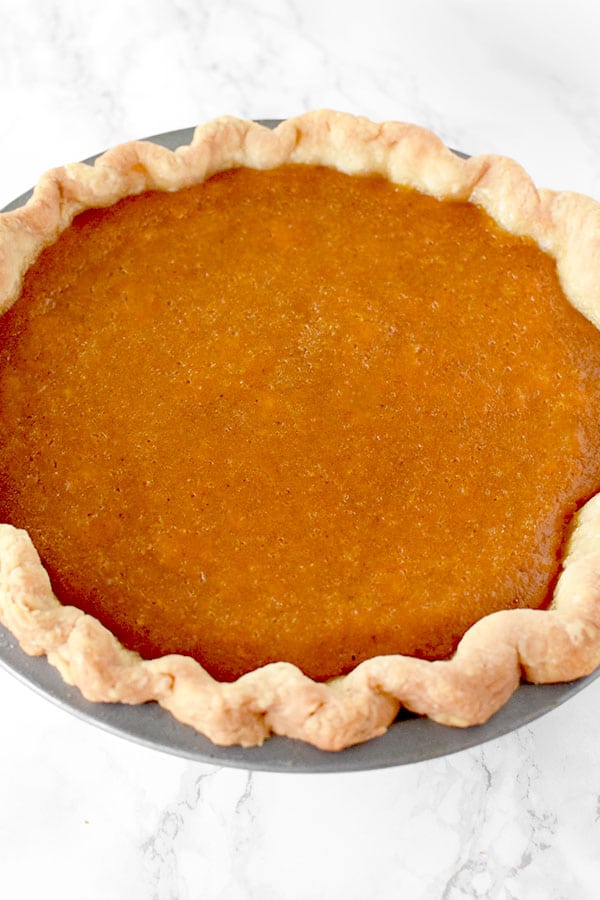 Sweet potato pie is popular in the South and is the counterpart to the North Pumpkin Pie.
They both share a similar autumn flavor but they each have their own unique flavor.
Sweet potato pie became popular on Thanksgiving since it became a national holiday during the Civil War.
While the North and South were at war one thing they could agree on was their love and pride of America.
Since pumpkins were common in the North and not in the South, the South rejected the dessert.
Instead, they made sweet potato pie their holiday dessert.
Sweet potato pie recipes first appeared in printed cookbooks in the 1700's as a savory vegetable dishes.
However, 1800's it was more commonly classified as a dessert. Then it wasn't long until it was adopted as a popular Thanksgiving dessert.
THE CRUST
A problem a sweet potato pie can have is that it's prone to having is a soggy crust. One technique used to have a perfect crust is blind baking it.
Do this by first covering the crust with baking paper or tin foil and filling it with pie weights, sugar, beans, or pennies and bake at 375°F or 190°C 30 minutes.
Then remove the filling and bake for another 10 minutes to brown the bottom.
While the crust is still hot, you can brush it lightly with egg whites. Let them set and do not add the filling until the crust has cooled completely.
Doing this creates a barrier for the filling.
DAIRY FREE SWEET POTATO PIE
Like pumpkin pie, sweet potato pie is a custard and requires milk or cream. Clearly, this is not possible when making a dairy free sweet potato pie.
A good dairy free substitute is coconut milk due to its cream like consistency. Other milks alternatives are too thin.
Don't worry though, you cannot taste the coconut at all.
Microwaving The Sweet Potato
To save a lot of time you can microwave the sweet potato instead of boiling it.
Wash sweet potatoes thoroughly, pat dry, and poke 3 or 4 times with a fork. Then microwave 5 minutes.
If your potato isn't fork tender after 5 minutes, continue microwaving in 30 second increments until done.
WHY USE AN ELECTRIC MIXER
Using an electric mixer will help you get a smoother filling by breaking up the clumps. It also helps catch the little fibrous strings that must be removed through a blending process.
MAKING AHEAD OF TIME
The filling can be made a day in advanced. In fact, doing so allows the flavor of the spices to develop.
Freshly baked sweet potato pie, will keep for about 3 to 4 days if covered and refrigerated.
CAN IT BE STORED AT ROOM TEMPERATURE?
No. It has a custard filling, so it needs to be refrigerated.
HOW TO STORE
Let cool to room temperature. Cover loosely with plastic wrap or foil. Refrigerate for up to 3 to 4 days.
HOW TO FREEZE
Let cool Let cool to room temperature. Wrap in plastic wrap until tightly sealed. Then wrap in a layer of aluminum foil.
If you do not have plastic wrap and aluminum foil, place it in a resealable freezer bag.
Place on a level freezer shelf and freeze for up to 1 to 2 months. After this, the pie is still safe to eat but the quality begins to degrade.
DEFROST
When you are ready to defrost the pie, transfer it to the refrigerator. Let thaw for at least 12 hours.