This dairy free sweet potato pie is made with almond milk, but you'd never taste the difference. It is perfect year-around and is a favorite in the south for Thanksgiving.
Being a one bowl recipe, it couldn't be easier and is more likely to come out picture perfect than most.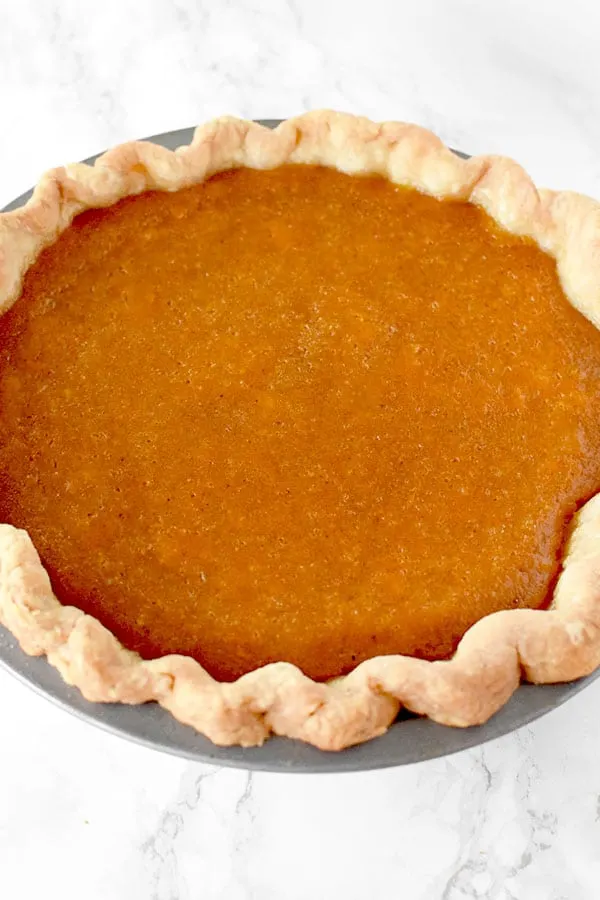 While pumpkin pie is popular in the North, sweet potato pie is a Thanksgiving favorite in the South.
They both share a similar autumn flavor, but they each have their own unique flavor.
Sweet potato pie became popular on Thanksgiving since it became a national holiday during the Civil War.
While the North and South were at war, one thing they could agree on was their love and pride of America.
Since pumpkins were common in the North and not in the South, the South rejected the dessert.
Instead, they made sweet potato pie their holiday dessert.
Sweet potato pie recipes first appeared in printed cookbooks in the 1700s as a savory vegetable dish.
However, in the 1800s, it was more commonly classified as a dessert. Then, it wasn't long until it was adopted as a popular Thanksgiving dessert.
This sweet potato pie is made with almond milk, and if you like it, you will probably like my pumpkin pie with almond milk.
You may also like my sweet potato pie with coconut milk and my sweet potato pie with oat milk.
THE CRUST
A problem a sweet potato pie can have is that it's prone to having a soggy crust. One technique used to have a perfect crust is blind baking it.
Do this by first covering the crust with baking paper or tin foil and filling it with pie weights, sugar, beans, or pennies and bake at 375°F or 190°C for 30 minutes.
Then, remove the filling and bake for another 10 minutes to brown the bottom.
While the crust is still hot, you can brush it lightly with egg whites. Let them set and do not add the filling until the crust has cooled completely.
Doing this creates a barrier for the filling.
DAIRY FREE SWEET POTATO PIE
Like pumpkin pie, sweet potato pie is a custard and requires milk or cream. Clearly, this is not possible when making a dairy free sweet potato pie.
A good dairy free substitute is coconut milk, due to its cream-like consistency. Other milk alternatives are too thin.
Don't worry though, you cannot taste the coconut at all.
Microwaving The Sweet Potato
To save a lot of time, you can microwave the sweet potato instead of boiling it.
Wash sweet potatoes thoroughly, pat dry, and poke 3 or 4 times with a fork. Then, microwave 5 minutes.
If your potato isn't fork tender after 5 minutes, continue microwaving in 30 second increments until done.
WHY USE AN ELECTRIC MIXER
Using an electric mixer will help you get a smoother filling by breaking up the clumps. It also helps catch the little fibrous strings that must be removed through a blending process.
Types of Vanilla
Vanilla comes from a pod commonly known as a "vanilla bean", which comes from the vanilla orchids.
Vanilla pod has been used for flavoring since the Aztecs, and was introduced to Europe by a Spanish conquistador, along with cocoa.
Vanilla Extract
Vanilla extract is created by soaking vanilla beans in alcohol for some time. This is the most commonly used type of vanilla.
Vanilla Sugar
Vanilla sugar is common in Europe and some parts of the Middle East, like Israel.
It is made from vanilla beans sitting in sugar, vanilla bean powder mixed with sugar, or sugar mixed with vanilla extract.
In some countries, like Italy, you can also find vanilla powdered sugar, which is used for confections.
Vanilla Paste
Vanilla paste is generally a specialty item. It is a thick paste that contains a blend of the scraped-out vanilla pod seeds and vanilla extract.
You can use it as you do vanilla extract and it will leave flakes of vanilla bean like you see in vanilla bean ice cream.
Imitation Vanilla
Imitation Vanilla, otherwise known as artificial vanilla or vanilla essence, is made from synthetic vanilla.
This is the compound that naturally occurs in vanilla beans and gives it its flavor.
Can I use imitation vanilla?
Many will tell you that you should use high quality vanilla, just like they say you should use the best cocoa.
However, most of us will probably not be willing to pay the hefty price that comes with exceptionally high-quality ingredients.
Overall, vanilla is very expensive, so the extract is as well.
So, if you're not going to get regular quality vanilla extract, you might as well use imitation vanilla.
ARE EGGS DAIRY?
No, eggs are not dairy. Dairy is milk and any food products made from milk, including cheese, cream, butter, and yogurt.
So, while eggs are an animal product, they are not dairy. In fact, eggs fall under the protein food group.
What are Eggs used for?
Eggs do three things in most recipes: they help bind the ingredients together, act as a mild leavening agent, and they add moisture.
EGG FREE OPTION
To replace the eggs in this pie, substitute each egg with 2 tablespoons cornstarch and 3 tablespoons water.
That would be a total of 1/4 cup of corn starch and 6 tablespoons of water.
Understanding Sugar
Sugar may seem very basic if you've baked before, but I've been asked about it in the past – so I'll explain.
There are many different types of sugar, including white sugar, brown sugar, vanilla sugar, powdered sugar, turbinado sugar, and demerara sugar.
When a recipe (any recipe, not just mine) says "sugar" without specifying anything else, it is regular white sugar.
White Sugar
White sugar (sometimes called granulated sugar, table sugar, or white granulated sugar) is made of either beet sugar or cane sugar, which has undergone a refining process.
It is the easiest to find and most commonly used.
Brown Sugar
Brown sugar is white sugar with molasses added to it.
It is commonly used in chocolate chip cookie recipes, and it's rare for a recipe that calls for brown sugar not to also call for white sugar as well.
When a recipe calls for "brown sugar" but doesn't specify what type (light or dark), it is referring to light brown sugar.
In my recipes, you can use whatever type of brown sugar you have on hand, whether it is dark brown sugar, light brown sugar, or demerara sugar – which is very common in Israel.
Just keep in mind that the flavor and color will be slightly different, depending on what you choose to use.
Turbinado Sugar
Turbinado sugar is better known as "raw sugar". But, despite this name, the sugar is not really "raw."
Instead, it's partially refined sugar that retains some of the original molasses.
The term "raw sugar" may also give off the impression that it is somehow healthier.
In reality, turbinado sugar is nutritionally similar to white sugar.
Demerara Sugar
Demerara sugar is very popular in Israel and is especially delicious in tea, but is also used for baking.
Unlike white sugar, demerara sugar undergoes minimal processing and retains some vitamins and mineral.
However, it is still not much healthier than white sugar.
Vanilla Sugar
Vanilla sugar is not very common in the States. However, it is common in Israel and parts of Europe.
This is sugar that sat for an extended period of time with vanilla beans, giving it a vanilla flavor.
Caster Sugar
This type of sugar is common in the United Kingdom.
It has a grain finer than white (granulated) sugar and larger than powdered sugar.
Caster sugar is often called for in recipes for delicate baked goods like meringues, souffles, and sponge cakes.
You can use a 1:1 conversion rate between caster sugar and white (granulated) sugar.
Powdered sugar
Powdered sugar, sometimes known as confectioners' sugar, is a sugar with a powdered texture.
This sugar is rarely, if ever, used for baking. Instead, it is used for dusting desserts and making frosting and icings.
In some countries, you can also find powdered vanilla sugar.
It is made the exact same way regular vanilla sugar is made. However, the sugar used is powdered instead of granulated.
Vanilla Extract vs Vanilla sugar
In my recipes, I don't specify what kind of vanilla to use.
The reason for this is that in the States, vanilla extract is exclusively used.
Meanwhile in Israel, along with many European countries, vanilla sugar is common.
In most, if not all recipes, both vanilla extract and vanilla sugar can be used.
In recipes where vanilla sugar can be used instead of extract, you can replace them 1:1.
Adjusting for a Convection Oven
An ordinary oven cooks by enveloping food in hot, dry air. This air heats the outside of the food which and then slowly penetrates to the inside of the food until it's cooked all the way.
Now, in a convection oven, the fan produces extra energy. It takes the hot air and blows it around, producing around 25 to 30 percent more energy, depending on the fan's power.
Regular ovens also can have hot spots, but the fan in a convection oven will circulate the air to help even out the temperature variances.
Since convection ovens produce more heat, you need either lowering the temperature or shortening the cooking time to compensate.
When recipes specify temperatures and cooking times, it's for conventional ovens. Of course, this is unless the recipe is specifically for convection ovens.
The simplest method is to set the oven 25ºF to 50ºF lower than the recipe says.
A simple rule to follow is to lower the temperature by 25ºF when baking cookies and pies, but 50ºF when roasting meats. Some convection ovens offer separate settings for baking and for roasting.
You can also leave the temperature the same and instead shorten the cooking time by 25 percent. For example, if your recipe calls for 60 minutes in the oven, check the food after 45 minutes instead.
However, keep in mind, some convection ovens actually make a heat adjustment for you. That is, if you set a convection oven for 350ºF, it might actually set itself to 325ºF to compensate. So, check your manual before making adjustments.
MAKING AHEAD OF TIME
The filling can be made a day in advance. In fact, doing so allows the flavor of the spices to develop.
Freshly baked sweet potato pie will keep for about 3 to 4 days if covered and refrigerated.
CAN IT BE STORED AT ROOM TEMPERATURE?
No. It has a custard filling, so it needs to be refrigerated.
HOW TO STORE
Let cool to room temperature. Cover loosely with plastic wrap or foil. Refrigerate for up to 3 to 4 days.
HOW TO FREEZE
Let cool to room temperature. Wrap in plastic wrap until tightly sealed. Then, wrap in a layer of aluminum foil.
If you do not have plastic wrap and aluminum foil, place it in a resealable freezer bag.
Place on a level freezer shelf and freeze for up to 1 to 2 months. After this, the pie is still safe to eat, but the quality begins to degrade.
DEFROST
When you are ready to defrost the pie, transfer it to the refrigerator. Let thaw for at least 12 hours.