This Gluten Free Meatloaf is moist and delicious! Serve with mashed potatoes and green beans for an easy dinner!
One of the things I find most frustrating about special diets is that you often find yourself sacrificing flavor or texture.
I mean, is it really too much to ask to be able to eat your favorite foods and then to actually taste like your favorite foods?
And you know, it would be nice to not have to have your "special" dish while everyone else eats the regular version…
Or, not feeling like everyone else is accommodating you by eating a lesser version for your sake…
So, one rule I have when making foods is that no matter what, it has to taste as good, if not identical, to the original.
This gluten free meatloaf really is as good as my usual meatloaf, it just uses potato flakes instead of breadcrumbs but is in all ways your classic meatloaf.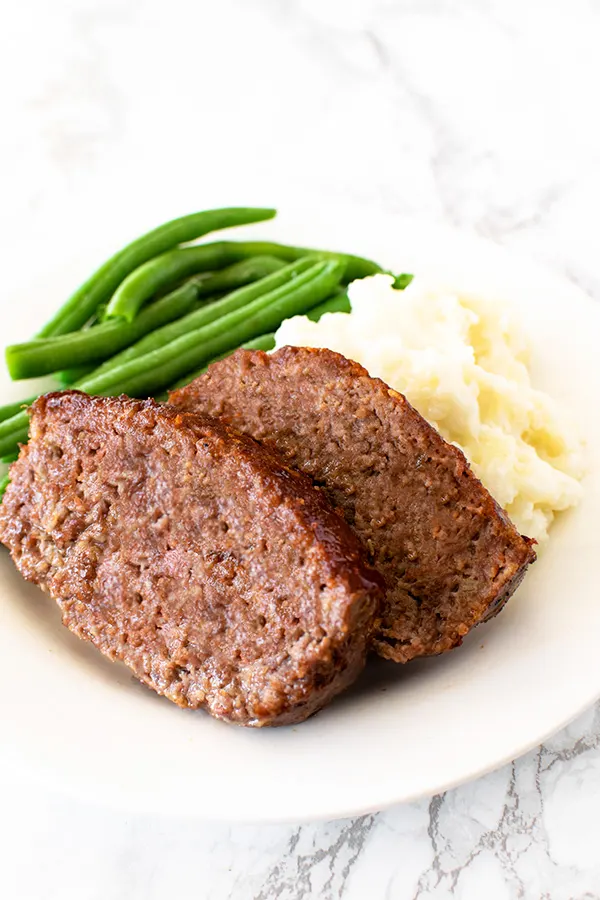 What I love about potato flakes is that they don't change the flavor, but they are a good binder to hold the meat together.
They also make for an extremely moist meatloaf because they hold the moisture in the liquid nicely as they rehydrate.
If you prefer another classic, meatloaf with oatmeal, my recipe is gluten free as long as you make sure all the ingredients you use are gluten free.
IS THIS MEATLOAF DAIRY FREE?
Since this meatloaf does not contain dairy, this is a dairy free meatloaf with oatmeal.
ARE EGGS DAIRY?
No, eggs are not dairy. Dairy is milk and any food products made from milk, including cheese, cream, butter, and yogurt.
So, while eggs are an animal product, they are not dairy. In fact, eggs fall under the protein food group.
WHAT ARE EGGS USED FOR?
Eggs do three things in most recipes: they help bind the ingredients together, act as a mild leavening agent, and they add moisture.
HOW TO REPLACE EGGS IN MEATLOAF?
There are a number of egg replacement options available, but my favorite is replacing each egg with 2 tablespoons of cornstarch and 3 tablespoons of water.
HOW TO DEFROST MEAT
IN THE FRIDGE
This method is the most highly recommended. Meat typically takes at least a full day to thaw. Once thawed, the meat can remain in the refrigerator for a day or two before cooking.
IN COLD WATER
This should take two to three hours. Submerge your sealed meat in a pot or bowl full of cold water. Change out the water every 30 minutes or so.
Do not use warm or hot water. It is unhealthy to do so, can start cooking your meat, and doesn't do so evenly.
IS IT SAFE TO REFREEZE RAW MEAT
If you have extra raw meat that you didn't use but want to refreeze, you can, as long as it was thawed in the fridge.
According to the USDA, "food thawed in the refrigerator is safe to refreeze without cooking." However, you do lose quality when refreezing previously defrosted meat.
Every time you defrost meat, it loses moisture through thawing, which also leads to a loss in flavor. To compensate for this, marinate the meat to add more flavor and juice."
The USDA also says not to "refreeze any foods left outside the refrigerator longer than 2 hours; 1 hour in temperatures above 90 °F."
HOW TO STORE
Once cooled, place in an airtight container and refrigerate. Store for 3 to 4 days.
HOW TO FREEZE
Freeze leftovers within 3-4 days. Place in an airtight container or resealable freezer bag.
Freeze for up to 6 months. After that, it is safe to eat. However, the quality begins to degrade.