This classic meatloaf is made without milk so it is completely dairy free. It is also extremely moist and juicy!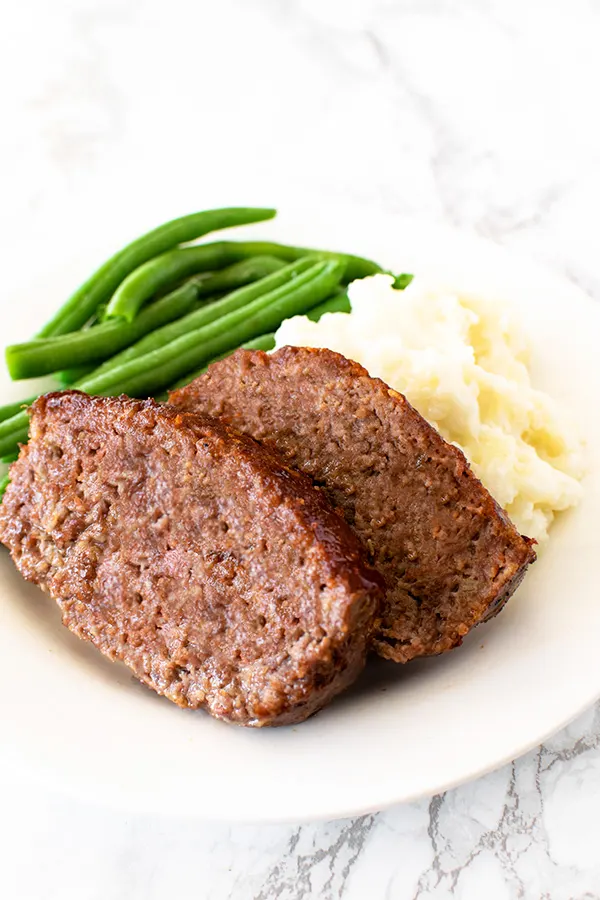 White meatloaf is a classic American dish to the point of jokes being made about eating it appearing in shows and movies. However, meatloaf actually dates all the way back to Ancient Rome.
Meatloaf only began appearing in American cookbooks at the end of the 1800s.
Then, during the Great Depression, it was a way for families to stretch the food budget by using an inexpensive type of meat and leftover ingredients.
To stretch the meat further, bread or saltine crackers were added to the meatloaf as well as spices for taste.
We continue to do this today in the version of breadcrumbs but for the purpose of moisture and binding.
This meatloaf is made without milk, which doesn't do much for anyone except add liquid which water can do.
Growing up, my mom's meatloaf (which is still my favorite) skipped most of the seasoning and used onion soup powder.
I was tempted to share that recipe here, but I figured if you're reading this recipe, you're looking for the classic version, so here it is!
If you're interested in another American classic made without milk, be sure to also check out my Southern Fried Chicken.
If you like this meatloaf, you may also like my dairy free meatloaf with oatmeal and my dairy free meatloaf with potato flakes.
Does meatloaf have dairy?
It usually does contain dairy unless specifically stated otherwise since it's typically made with milk. Milk hydrates the breadcrumbs and makes the meatloaf moist.
However, you can replace milk with another liquid. I generally recommend a neutral flavored oat milk or water.
If you are using a particularly fatty meat, then you probably don't have to use liquid at all.
ARE EGGS DAIRY?
No, eggs are not dairy. Dairy is milk and any food products made from milk, including cheese, cream, butter, and yogurt.
So, while eggs are an animal product, they are not dairy. In fact, eggs fall under the protein food group.
What are Eggs used for?
Eggs do three things in most recipes: they help bind the ingredients together, act as a mild leavening agent, and they add moisture.
How to replace eggs in meatloaf?
There are a number of egg replacement options available, but my favorite way to make meatloaf without eggs is by replacing the egg with 2 tablespoons of cornstarch and 3 tablespoons of water.
HOW TO DEFROST MEAT
IN THE FRIDGE
This method is the most highly recommended. Meat typically takes at least a full day to thaw. Once thawed, the poultry can remain in the refrigerator for a day or two before cooking.
IN COLD WATER
This should take two to three hours. Submerge your sealed meat in a pot or bowl full of cold water. Change out the water every 30 minutes or so.
Do not use warm or hot water. It is unhealthy to do so, can start cooking your meat, and doesn't do so evenly.
COOK IT FROZEN
According to the USDA, you can cook frozen meat. It will take 50% longer to cook, but it's an option. You should also cook it on a roasting rack or over vegetables so the heat can circulate around the meat.
IS IT SAFE TO REFREEZE RAW MEAT
If you have extra raw meat that you didn't use but want to refreeze, you can, as long as it was thawed in the fridge.
According to the USDA, "food thawed in the refrigerator is safe to refreeze without cooking." However, you do lose quality when refreezing previously defrosted meat.
Every time you defrost meat, it loses moisture through thawing, which also leads to a loss in flavor. To compensate for this, marinate the meat to add more flavor and juice."
The USDA also says not to "refreeze any foods left outside the refrigerator longer than 2 hours; 1 hour in temperatures above 90 °F."
Adjusting for a Convection Oven
An ordinary oven cooks by enveloping food in hot, dry air. This air heats the outside of the food, which slowly penetrates to the inside of the food until it's cooked all the way.
Now, in a convection oven, the fan produces extra energy. It takes the hot air and blows it around, producing around 25 to 30 percent more energy, depending on the fan's power.
Regular ovens also can have hot spots, but the fan in a convection oven will circulate the air to help even out the temperature variances.
Since convection ovens produce more heat, you need either lowering the temperature or shortening the cooking time to compensate.
When recipes specify temperatures and cooking times, it's for conventional ovens. Of course, this is unless the recipe is specifically for convection ovens.
The simplest method is to set the oven 25ºF to 50ºF lower than the recipe says.
A simple rule to follow is to lower the temperature by 25ºF when baking cookies and pies, but 50ºF when roasting meats. Some convection ovens offer separate settings for baking and for roasting.
You can also leave the temperature the same and instead shorten the cooking time by 25 percent. For example, if your recipe calls for 60 minutes in the oven, check the food after 45 minutes instead.
However, keep in mind, some convection ovens actually make a heat adjustment for you. That is, if you set a convection oven for 350ºF, it might actually set itself to 325ºF to compensate. So, check your manual before making adjustments.
HOW TO STORE
Once cooled, place in an airtight container and refrigerate. Store for 3 to 4 days.
HOW TO FREEZE
Freeze leftovers within 3-4 days. Place in an airtight container or resealable freezer bag.
Freeze for up to 6 months. After that, it is safe to eat. However, the quality begins to degrade.