This classic meatloaf is made without eggs and is moist and delicious. Serve with mashed potatoes and green beans for an easy dinner!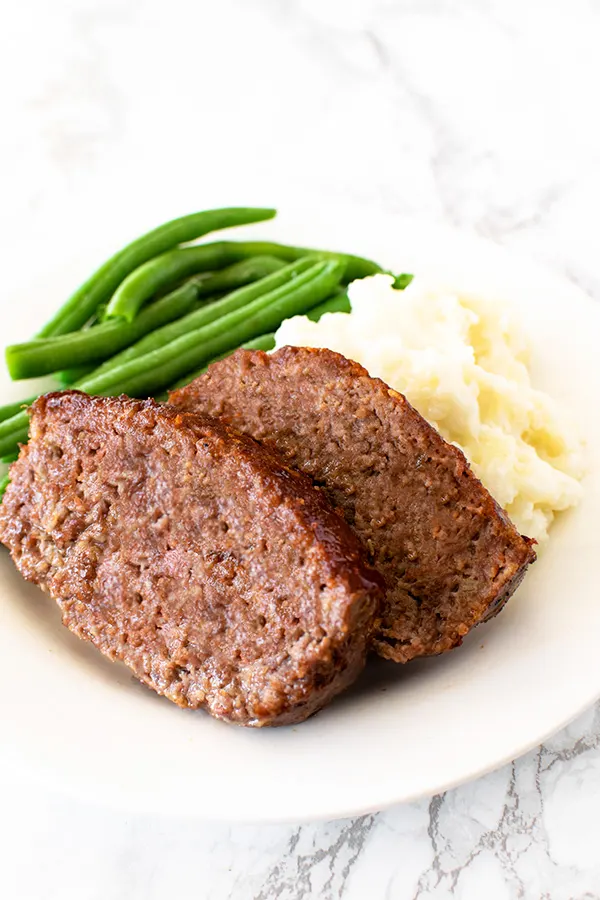 Making a delicious meatloaf without eggs is easier than you may expect.
Personally, I hate when I use substitutions and it changes the flavor or texture of a classic dish, so I made sure this meatloaf is identical in every way to a meatloaf that does use eggs.
While I always have egg-free recipes on hand in case I run out of eggs and need a quick alternative, I am not egg free myself.
Therefore, I am not a fan of using alternatives that aren't just as good as any of my versions that do include eggs.
This got me thinking, if I couldn't eat eggs, I certainly wouldn't want to sacrifice by having a lower quality dish.
So, that is why I started sharing recipes like my eggless cornbread and eggless brownies, and now this tasty meatloaf.
What are Eggs used for in Meatloaf?
Eggs do three things in most recipes: they help bind the ingredients together, act as a mild leavening agent, and they add moisture.
What can you use instead of eggs in meatloaf?
There are a number of egg replacement options available, but my favorite replacement for eggs, whether it is meatloaf or eggless pumpkin pie, is 2 tablespoons of cornstarch and 3 tablespoons of water per egg.
Is this meatloaf dairy free?
Since this meatloaf does not contain dairy, this is a dairy free meatloaf.
Can I make this meatloaf gluten free?
Yes, to make a gluten free meatloaf using this recipe, all you have to do is switch out the breadcrumbs for 1/2 cup of gluten free instant potato flakes and make sure all the other ingredients are labeled gluten free.
Can I use oatmeal instead of breadcrumbs?
Sure. To make this meatloaf with oatmeal, just replace the breadcrumbs with 2 1/2 cups of quick oats.
HOW TO DEFROST MEAT
IN THE FRIDGE
This method is the most highly recommended. Meat typically takes at least a full day to thaw. Once thawed, the poultry can remain in the refrigerator for a day or two before cooking.
IN COLD WATER
This should take two to three hours. Submerge your sealed meat in a pot or bowl full of cold water. Change out the water every 30 minutes or so.
Do not use warm or hot water. It is unhealthy to do so, can start cooking your meat, and doesn't do so evenly.
IS IT SAFE TO REFREEZE RAW MEAT
If you have extra raw meat that you didn't use but want to refreeze, you can, as long as it was thawed in the fridge.
According to the USDA, "food thawed in the refrigerator is safe to refreeze without cooking." However, you do lose quality when refreezing previously defrosted meat.
Every time you defrost meat, it loses moisture through thawing which also leads to a loss in flavor. To compensate for this, marinate the meat to add more flavor and juice."
The USDA also says not to "refreeze any foods left outside the refrigerator longer than 2 hours; 1 hour in temperatures above 90 °F."
HOW TO STORE
Once cooled, place in an airtight container and refrigerate. Store for 3 to 4 days.
HOW TO FREEZE
Freeze leftovers within 3-4 days. Place in an airtight container or resealable freezer bag.
Freeze for up to 6 months. After that, it is safe to eat. However, the quality begins to degrade.