This fried chicken strips recipe is made without buttermilk but is just as tender and delicious! Also, this recipe couldn't be simpler or easier so making them is a breeze.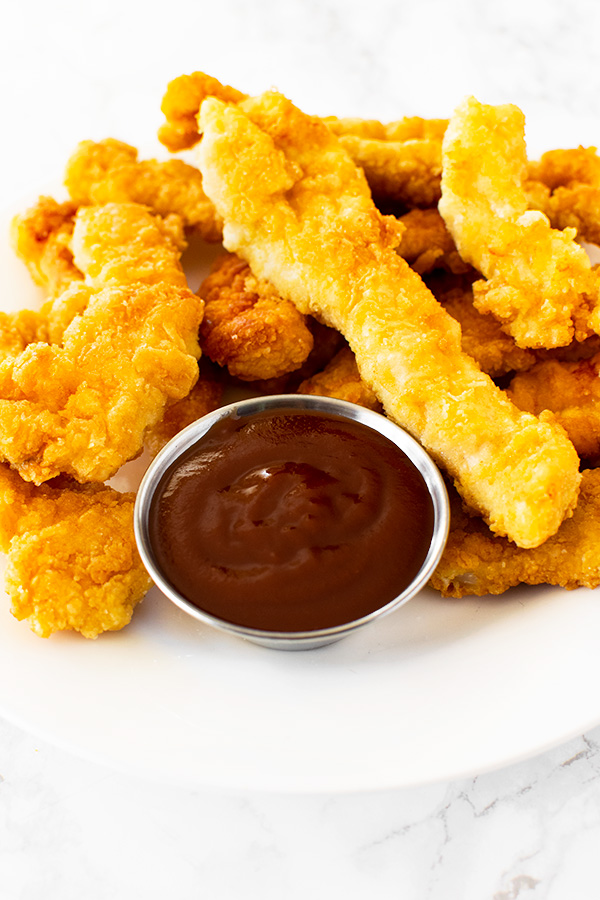 My Southern fried chicken without buttermilk (which I got from a very nice Georgian!) has always been one of my most popular recipes.
So, I figured why not share another one of my favorite recipes, fried chicken strips without buttermilk!
These are great for a fun yet easy dinner, a Super Bowl party, or an easy yet delicious snack.
Some of the links below are affiliate links, which means that if you choose to make a purchase, I will earn a small commission at no additional cost to you. 10% of all profits are donated to charity.
What you need
10 inch skillet – preferably cast iron
Dry measuring cups and spoons
Bowls
Tongs
Cooling rack
HOW TO DREDGE CHICKEN
The best way to dredge chicken is to use two hands, one hand to dip the chicken in the egg and the other to roll it in flour.
By using both hands, you avoid getting thick layers of batter on your fingers known as "club hand."
The worst part of it is when you touch the chicken, it will pull off the flour, leaving balled spots.
If you start to notice one of your hands getting a little tick with flour, press your hands together and rub it over the flour bowl.
The little bits of flour that fall off into the bowl add texture to the strips.
A WORD ON OIL
When frying chicken, the temperature of the oil is important. If it's too cold, the chicken will be oily.
On the other hand, if the oil is too hot, the crust will fall off. With a thermometer, it should be about 350°F or 175°C to 375°F or 190°C degrees.
If you don't have a thermometer, when the oil seems hot, drop a little flour into the oil. If the flour sizzles and floats on the top, it's hot enough.
IS KOSHER CHICKEN BETTER?
Yes and no. It is not necessarily healthier as far as bacteria is concerned, since bacteria can only safely be killed with heat.
What is better is that kosher animals are kept in better conditions than not kosher animals due to strict kosher health requirements of the animals. They are also killed in arguably more human conditions.
Also, the salting process used to remove blood from the animal is also believed to provide better quality meat.
Kosher poultry and meat are salted to remove blood which is forbidden to be consumed according to Jewish law. This is said to create a sort of quick dry brine.
While I've only eaten kosher meat so I cannot compare, I've been told by non-Jews who do not keep kosher that they've noticed that kosher chicken is of superior quality to cook with.
SHOULD YOU WASH CHICKEN?
No. According to the USDA washing meat or poultry in water spreads bacteria throughout the kitchen.
Water can splash bacteria up to 3 feet surrounding your sink, including onto countertops, other food, towels, and you (i.e. cross contamination).
A study done by Drexel University shows that it is best to move meat and poultry directly from package to pan. The heat from cooking will kill any bacteria that may be present.
One exception would be if there are bone fragments or residue from giblets, as in a roasting chicken. In that case, feel free to rinse if you like. However, make sure you wipe down your sink afterwards.
HOW TO DEFROST CHICKEN
IN THE FRIDGE
This method is the most highly recommended. Chicken typically takes a full day to thaw. Once thawed, the poultry can remain in the refrigerator for a day or two before cooking.
IN COLD WATER
This should take two to three hours. Submerge your sealed chicken in a pot or bowl full of cold water. Change out the water every 30 minutes or so.
Do not use warm or hot water. It is unhealthy to do so. It can start cooking your chicken, and doesn't evenly.
IS IT SAFE TO REFREEZE RAW CHICKEN
If you have extra raw chicken that you didn't use but want to refreeze, you can as long as it was thawed in the fridge.
According to the USDA, "food thawed in the refrigerator is safe to refreeze without cooking." However, you do lose quality when refreezing previously defrosted meat.
Every time you defrost meat, it loses moisture through thawing which also leads to a loss in flavor. To compensate for this, marinate the meat to add more flavor and juice."
The USDA also says not to "refreeze any foods left outside the refrigerator longer than 2 hours; 1 hour in temperatures above 90 °F."
HOW TO STORE CHICKEN
Place cooled chicken in an airtight container or wrap in heavy-duty aluminum foil or plastic wrap. Store in the fridge for up to 4 days.
HOW TO FREEZE CHICKEN
Freeze leftovers within 3-4 days. Place cooled chicken in an airtight container or resealable freezer bag.
Freeze for up to 4 months. After that, it is safe to eat. However, the quality begins to degrade.