This green bean casserole without cream of mushroom soup is an easy and dairy free Thanksgiving or holiday side dish. Best of all, it tastes better than the canned stuff!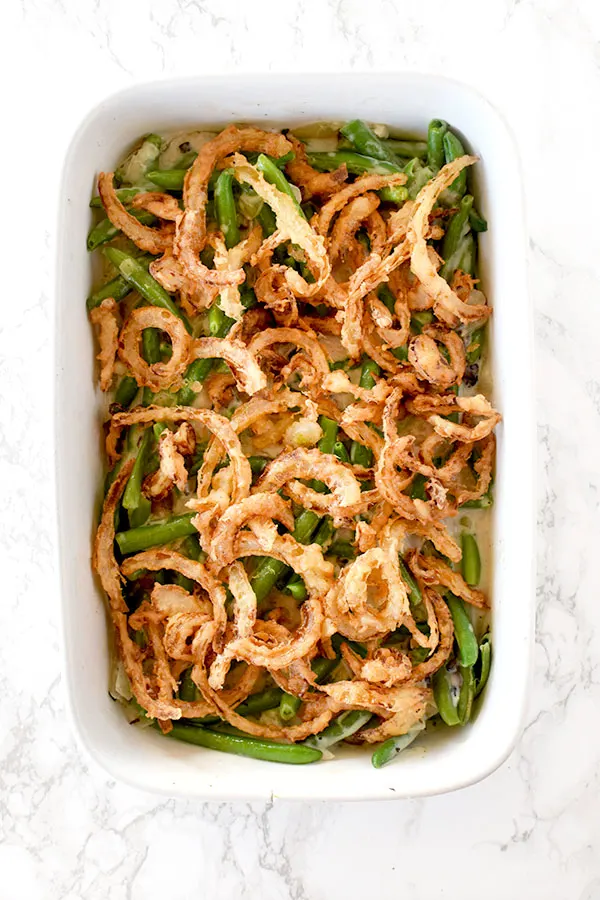 Green bean casserole was created in 1955 by the Campbell Soup Company and was originally called "Green Bean Bake."
The idea was "to create a quick and easy recipe around two things most Americans always had on hand in the 1950s: green beans and Campbell's Cream of Mushroom Soup."
I love green bean casserole, but personally, I like my green bean casserole made with fresh ingredients rather than from a can.
That is why I make my green bean casserole without cream of mushroom soup and using whole frozen green beans.
Does green bean casserole contain dairy?
Generally, yes. Green bean casserole often uses milk or cream for a creamy texture. However, you can use any of a variety of dairy free milks instead.
Personally, I like green bean casserole with oat milk best if you are using a neutral flavored full fat oat milk.
Do I have to use oat milk or can I use regular milk?
Since many people who don't want cream of mushroom soup are dairy free, I've made this recipe with oat milk because I find a good oat milk to be indistinguishable from real milk.
However, if you prefer to use real milk, just switch it out for the oat milk.
Can I use heavy cream?
If you have heavy cream, then yes, you can use it instead of the oat milk and the starch.
Can I use other dairy free milks?
Yes, but I find a mild flavored full fat oat milk, like Oatly and Alpro, to be the best alternative.
However, if you would rather use almond milk, an unsweetened barista almond milk will work well too. Alternatively, almond cooking milk would work well here also.
I've never used soy milk, but I believe it would work just fine as well.
You can use coconut milk, but unless you use a mild flavored one, I find it adds a slight coconut flavor to the green bean casserole.