These dairy free scalloped potatoes are made without cheese, milk and without butter but are filled with incredibly delicious flavor in every bite!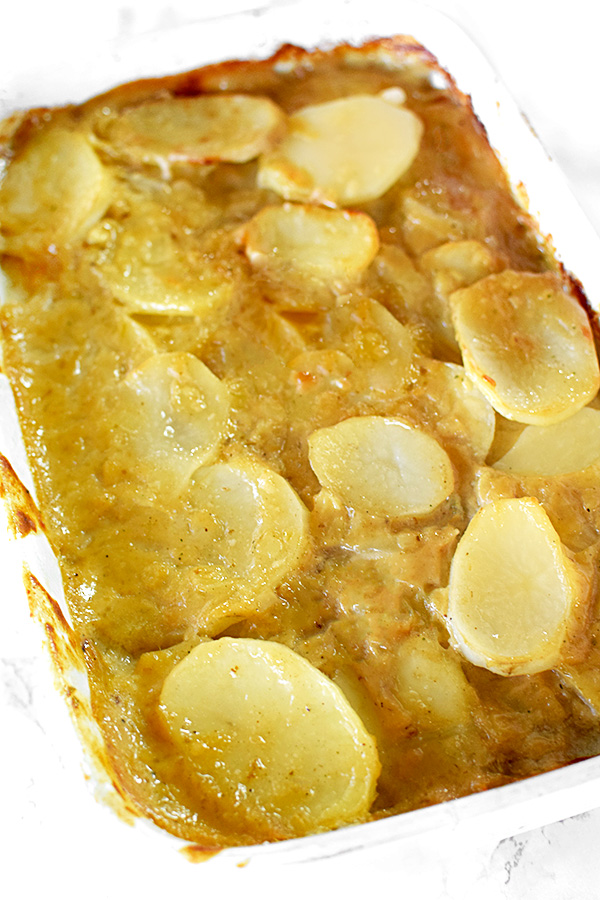 I am not lying to you when I say that the first time I made these dairy free scalloped potatoes I had the urge to eat half the dish myself!
Luckily for my family, I had already eaten two stuffed artichoke bottoms with Israeli white rice on the side so I didn't have much room left to indulge.
My favorite part is the sauce. I love creamy sauce and pretty much anything with onions and garlic is good in my book.
I have a feeling that from now on my Dairy Free Thanksgiving Spread will now include three types of potatoes: these scalloped potatoes, my insanely creamy mashed potatoes, and the roasted garlic potatoes I can never get enough of.
What's the Difference Between Scalloped and Au Gratin Potatoes?
It is easy to confuse scalloped potatoes and au gratin potatoes because they're both creamy and consist of rounds of sliced potatoes baked in a casserole dish.
The main distinguishing factor is that potatoes au gratin calls for cheese while scalloped potatoes do not.
Potatoes au gratin, on the other hand, has grated cheese sprinkled between the layers and breadcrumbs are often sprinkled on top of the dish.
Scalloped potatoes are made made without cheese and uses a white sauce between the layers of potatoes instead. The cream is often infused with an aromatic, such as garlic or fresh herbs.
Another difference is that the potatoes used in scalloped potatoes are often a bit thicker than those in au gratin potatoes.
Which Dairy Free Milk to Use
ALMOND COOKING MILK
This is a good option. Almond cooking milk has a thicker milk like texture, unlike regularly almond milk, and is still low in calories
COCONUT MILK
I really like coconut milk because it is so creamy. However, depending on the coconut milk you use, you may end up with a light coconut flavor.
OAT MILK
Oat milk can also be a good option. It is the most environmentally and ethically friendly of all the milks and unlike most dairy free milks, it has a creamy texture like actual milk.
MIX MILKS
Another option is to combine one part coconut cream and one part almond cooking milk or oat milk. I should keep the same creamy texture but water down the mild coconut flavor.
GLUTEN FREE OPTION
Gluten-free flour isn't known as a great option as a thickening agent. Instead, you can use gluten free potato starch or gluten free cornstarch.