Savory crepes are a French classic which is traditionally fill with eggs, cheese, vegetables, and more. These crepes can also be made gluten free by using buckwheat instead of wheat flour.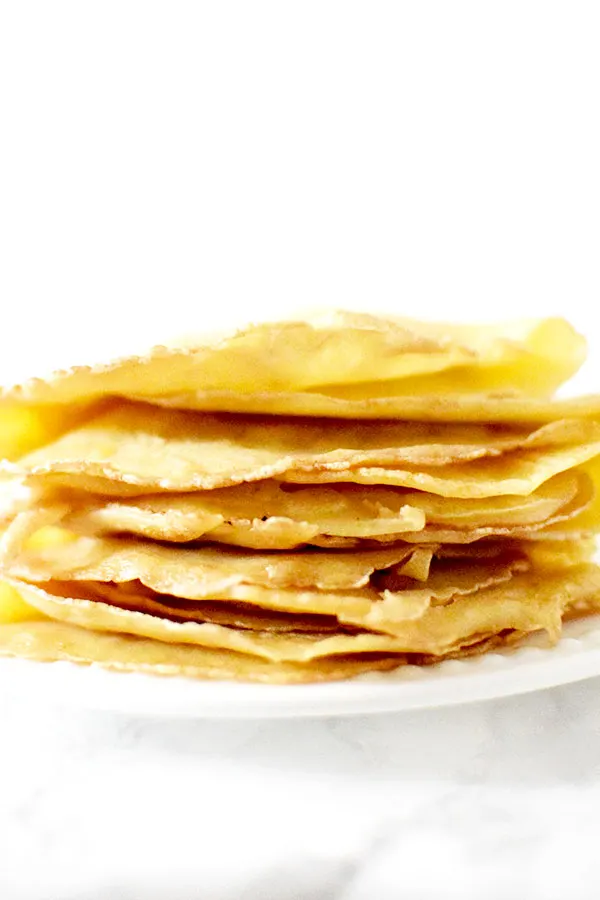 A French friend of mine once said to me "the perfect meal has both savory and sweet crepes" (i.e. savory crepes as the main course and sweet crepes for dessert).
While "crepe" literally translates as "pancake", I don't think anyone imagines a tall stack of flapjacks with maple syrup running down the sides.
Instead, they probably think of indulgent breakfast that feels more like dessert topped with berries, powdered sugar, and chocolate and/or creme.
In France, however, there are two types of crepes, and neither of them are the decadent ones we are used to.
Sweet crepes, or crêpes sucrées, are a dessert served with Nutella, cream, or jam.
Savory crepes, known as crêpes salées, are eaten as a main dish for lunch or dinner. A French friend of mine says a good meal should have both.
While sweet crepes are made with white flour, savory crepes are often made with buckwheat flour.
This is both a healthier alternative as well a gluten free option that adds a nutty earthy flavor.
Savory crepes are filled with cheese, eggs, mushrooms, vegetables, fish, or various meats.
Depending on the filling they are rolled, folded in half, or have the edges folded over, creating a square.
Meats, veggies, and fish tend to be rolled, cheese is usually folded in half like an omelette, and, more often than not, sunny side up eggs have the edges folded over.
Some of the links below are affiliate links, which means that if you choose to make a purchase, I will earn a small commission at no additional cost to you. 10% of all profits are donated to charity.
What you need
Dry measuring cups and spoons
Liquid measuring cup
Whisk
Ladle
Mixing bowl
Griddle pan
What is the difference between crepes and pancakes?
While pancakes are made with baking powder, crepes aren't and are therefore much thinner.
Do crepes contain dairy?
Yes, crepes are made with dairy products like milk and butter unless specifically stated otherwise.
However, you can make crepes without milk or butter.
All you have to do is replace the milk with another liquid like dairy free milk, such as almond milk or oat milk, or water or even orange juice.
HOW TO MEASURE FLOUR AND OTHER DRY INGREDIENTS
Using a dry measuring cup, scoop ingredients from the bag or spoon them into the cup.
Next, level off the ingredient by removing the excess with an upside-down butter knife.
The one exception to this is brown sugar. Brown sugar should be packed down, and then any excess should be scraped off as well.
DRY VS LIQUID MEASURING CUP
Ever wonder why measuring spoons often come with a set of measuring cups? I used to. I didn't see why we needed a set when we could have one large measuring cup.
After a quick search, I had my answer. I discovered that the large measuring cup is used for liquids, whereas the set is used for dry ingredients.
As it turns out, if you try to measure dry ingredients with a liquid cup, the measurements get messed up.
First, you pour the flour or cocoa in, next you shake it around to get it level, and then you add more.
By shaking it, you are causing the powder to settle, and when you add more, you end up using more than called for.
WHY SIFT FLOUR and Other Powder Ingredients
There are a number of benefits to sifting flour and other ingredients like cocoa:
It removes any unwanted debris and you can get a more accurate measurement than when packed tightly in a bag.
It also removes any lumps that can get into the batter and be hard to break up later, or be missed altogether before baking.
If you sift the powdered ingredients together, it helps combine them and mix more evenly with other dry ingredients like sugar.
WHICH TYPE OF OIL TO USE
I use neutral oils like canola oil, safflower oil, and vegetable oil. However, if preferred, oils with stronger flavors like coconut oil can be used.
ARE EGGS DAIRY?
No, eggs are not dairy. Dairy is milk and any food products made from milk, including cheese, cream, butter, and yogurt.
So, while eggs are an animal product, they are not dairy. In fact, eggs fall under the protein food group.
DO EGGS NEED TO BE AT ROOM TEMPERATURE?
No, especially not in recipes like crepes.
What are Eggs used for?
Eggs do three things in most recipes: they help bind the ingredients together, act as a mild leavening agent, and they add moisture.
Make ahead
Crepes are actually perfect to make ahead because the batter always cooks more evenly when it has rested overnight. Then, remove and let sit for an hour at room temperature for a lighter-than-air texture.
If you only want to make it a few hours ahead, that's fine too, but still make sure to let it sit for at least an hour at room temperature before cooking.
How to Store
Layer the crepes between parchment to avoid sticking. Then, store them in a resealable plastic bag. Keep in the fridge for up to five days.
How to Freeze
Layer the crepes between parchment to avoid sticking. Then store them in a resealable freezer bag. Freeze for up to 2 months.